Denver has no shortage of things to do. From dining at great restaurants and bars and visiting a variety of museums or art galleries to enjoying live entertainment and theatre, there is something for everyone. Regardless of the season, there is also likely a popular event or festival happening as well.
Keep in mind that dates, venues and other information about an event can change. Please check with the organizer's website for the most up-to-date information and more about rules, pricing, and parking.
Here is a look at Denver's most popular festivals and events throughout the year in order of occurrence:
National Western Stock Show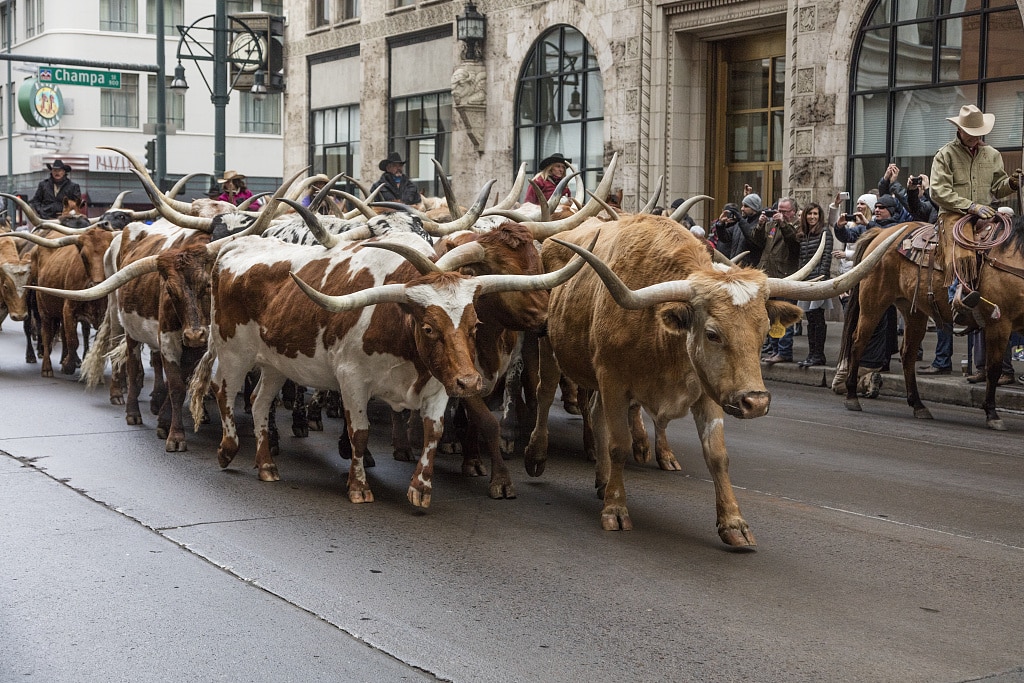 National Western Stock Show, Colorado. Photo: GPA Photo Archive
National Western Stock Show is a livestock, rodeo, and horse show that began in 1906. More than 700,000 visitors gather for this 16-day event that is held every January in Denver. Part of the experience features the Coors Western Art Exhibition.
It is produced by a 501(c)(3) charity, which helps provide college scholarships in veterinary medicine and agriculture for those practicing in rural areas. There are also activities for kids, including a youth art show that is free for Colorado students to enter and an educational program that gives a hands-on experience for those interested in becoming a vet.
January | nationalwestern.com
Denver Restaurant Week
Denver Restaurant Week is an annual celebration of the city's dining scene and encourages people to get out to support the restaurant industry. These festivities started in 2005 and has grown to feature hundreds of local spots throughout the city.
Each restaurant offers a specific menu for $25, $35, or $45. The menu includes a multi-course meal, such as an appetizer, meal, and dessert.
March | denver.org/denver-restaurant-week
Denver St. Patrick's Day Parade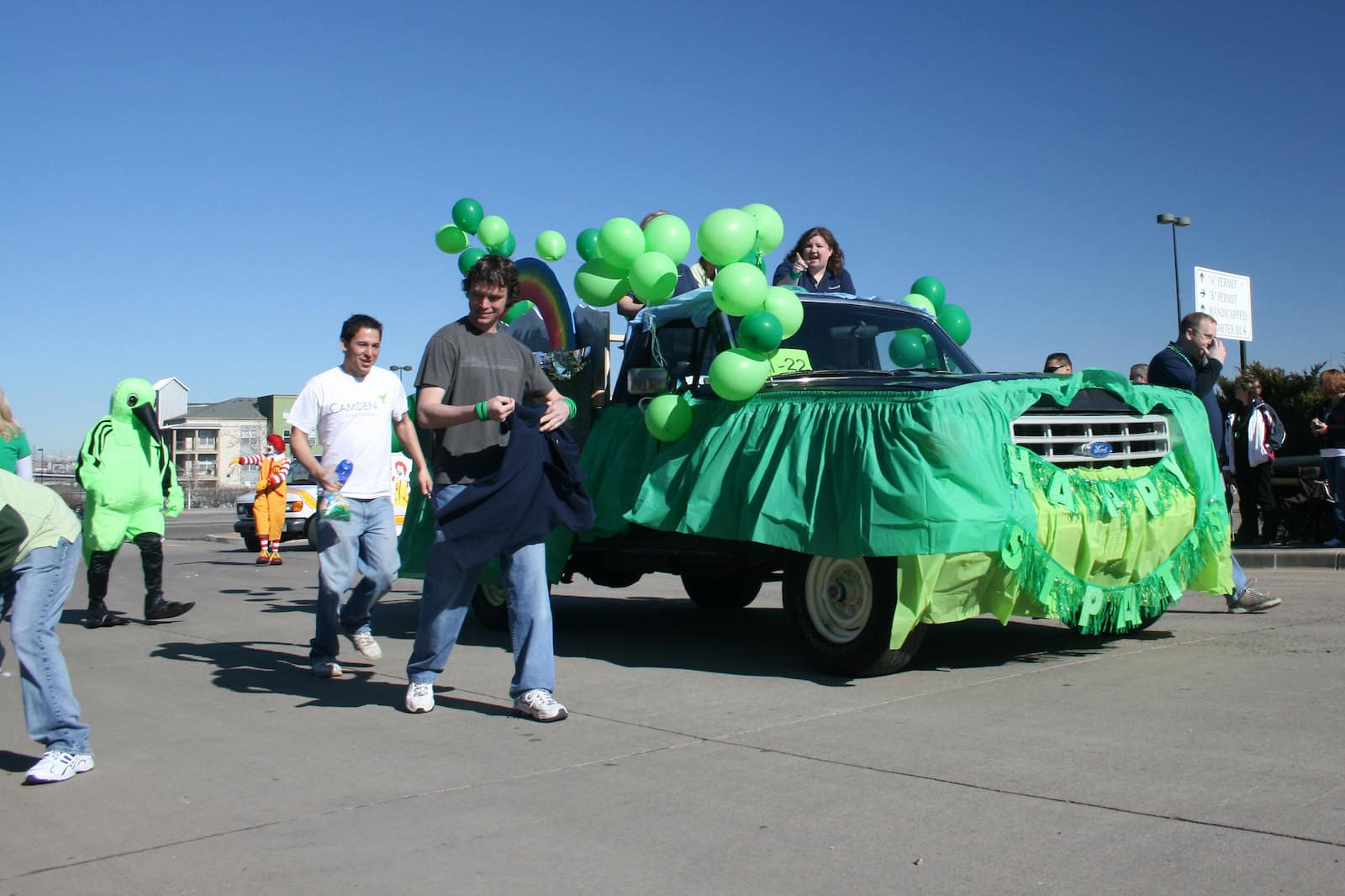 Denver St. Patrick's Day Parade, Colorado. Photo: Tim Jones
The Denver St. Patrick's Day Parade usually takes place the Saturday before St. Patrick's Day, and it is one of Colorado's largest celebrations in Downtown Denver. There's a long history of this celebration here, with the first parade taking place in 1889.
The duration of the parade is typically about four hours but depends on weather, number of entries, and performances. The parade route starts at 19th and Wynkoop, turning down 17th Street at Union Station, continues Northeast on Blake Street, proceeding to 27th Street. A full parade route map, rules, and parking information can be found on their website.
Mid-March | denverstpatricksdayparade.com
Cinco de Mayo Festival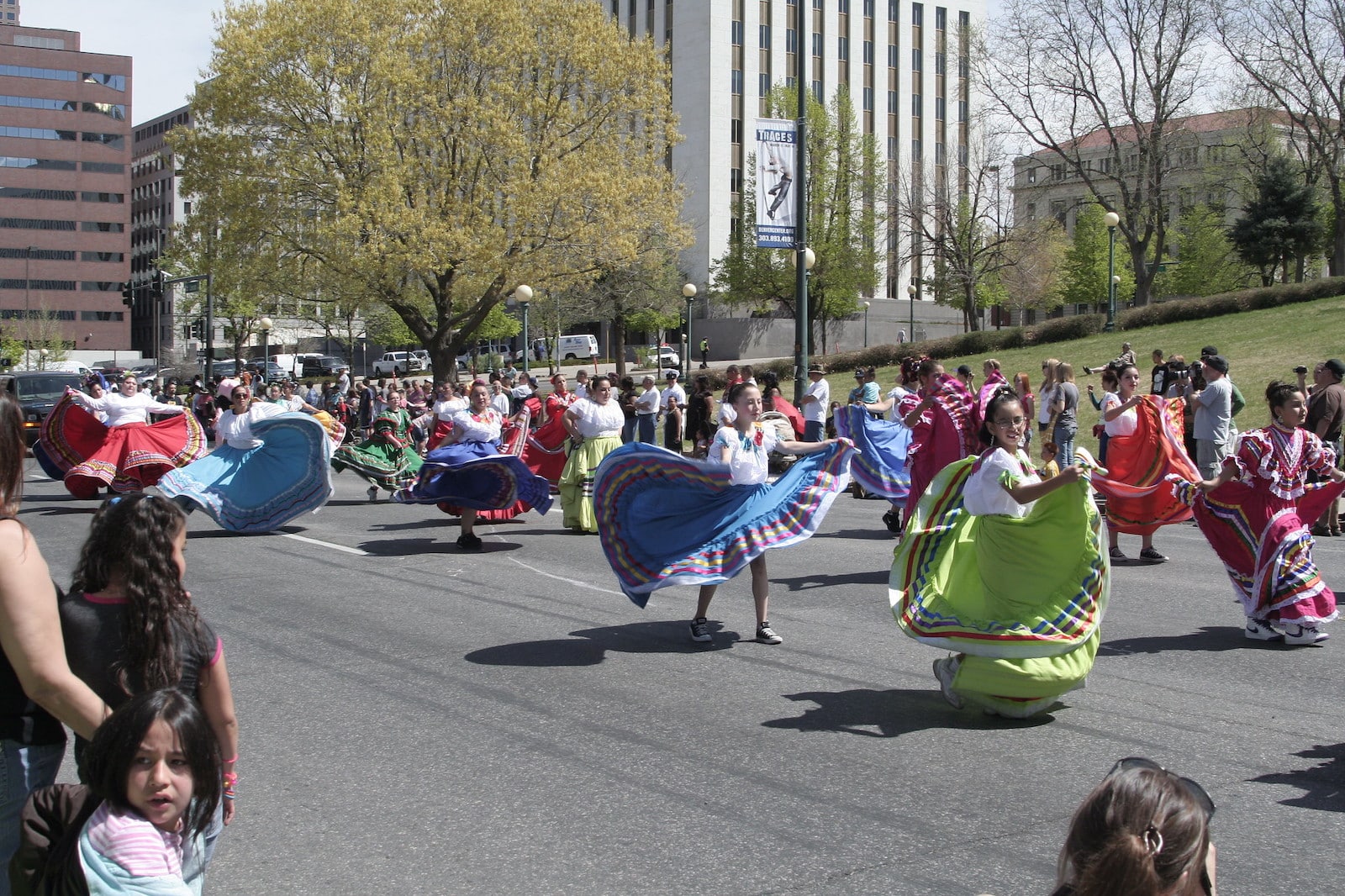 Cinco de Mayo Festival, Colorado. Photo: Amy the Nurse
The Cinco de Mayo Festival in Denver is a two-day party that has been taking place since 1988, when it was a neighborhood street fair. Now more than 400,000 attendees visit Civic Center Park to take part in the celebration.
Catch live entertainment on multiple stages, including salsa and mariachi. Attendees can also enjoy vendors displaying Mexican folk art, handcrafted goods, a lowrider car show, and even a taco eating contest. Admission is free.
May | cincodemayodenver.com
Denver Arts Festival
The Denver Arts Festival showcases artists during this fine arts and fine crafts festival. More than 50,000 people annually gather to enjoy work from Colorado artists as well as a group of national artists.
Every May, the event is held at Central Park's Conservatory Green. Fest goers may also find a kid's art zone, live music, and a wine, beer, and spirits garden. The website offers a list of the artists showcasing their work and a booth layout map.
May, Memorial Day Weekend | denverartsfestival.com
Denver Greek Festival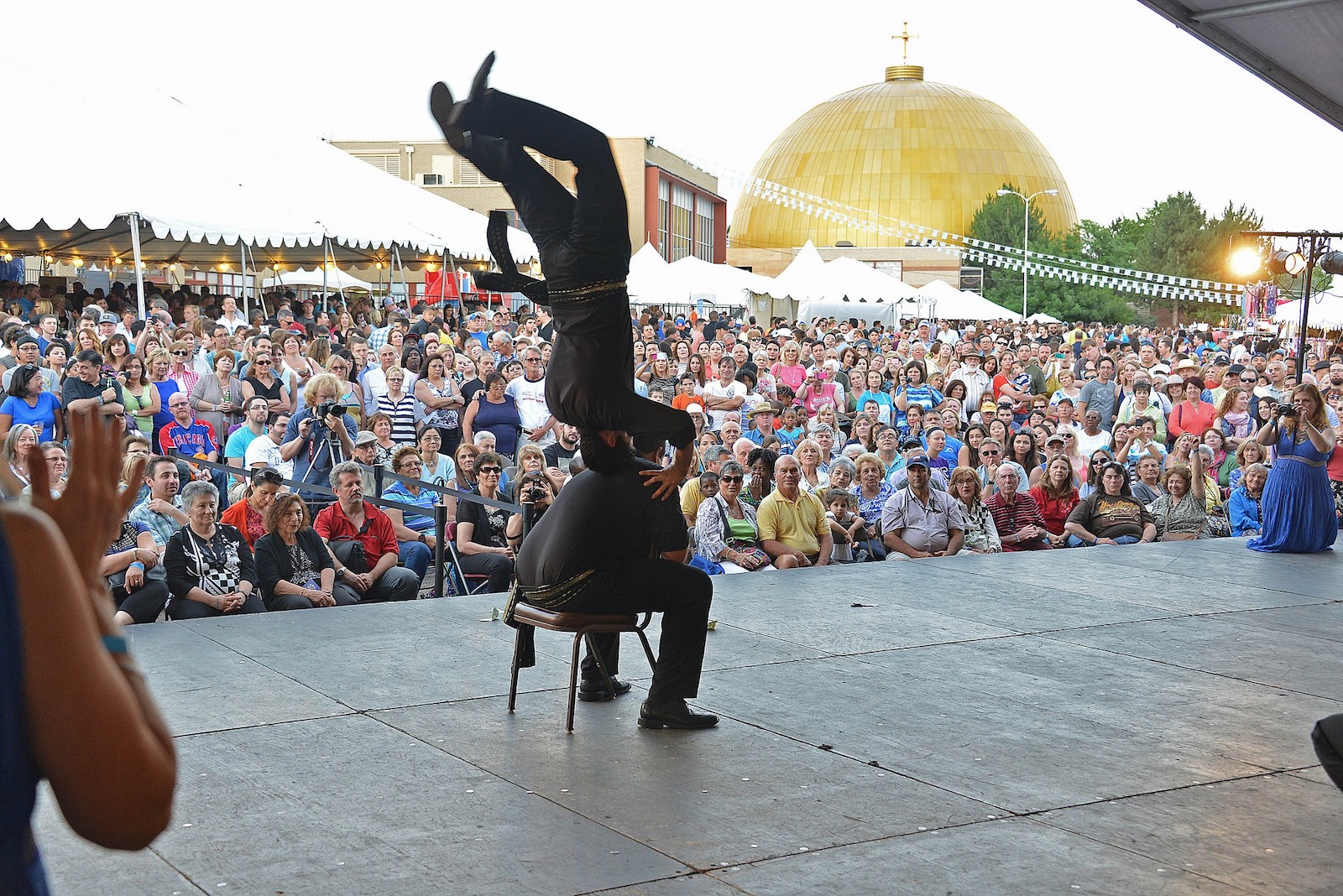 Denver Greek Festival, Colorado. Photo: facebook.com/denvergreekfestival
Denver Greek Festival has been an annual event in Colorado since 1967. This cultural celebration features authentic Greek food, music, and entertainment for an entire weekend in June. Some dishes you may find include gyro served on pita bread, Keftedes (Greek meatballs), Pastichio (Greek lasagna), and Baklava.
Attendees can take a tour of the church and hear choir performances. The vendors and shops have items from Greece, including jewelry, sculptures, cook books, clothing, and paintings.
June | thegreekfestival.com
Denver BBQ Festival
At the annual Denver BBQ festival in June, there are more than 30,000 pounds of meat smoked. The fest is held at Empower Field at Mile High and features a variety of BBQ, live music, and cooking demonstrations. Pit Masters come from around the country to serve their food, including Texas, Mississippi, Missouri, and Colorado.
Entry to the festival is free with food and beer available for purchase. Attendees must register for a free grounds pass, and there is also a Pit Pass (for an extra cost) that allows guests to have unlimited food.
June | denverbbqfest.com
Juneteenth Music Festival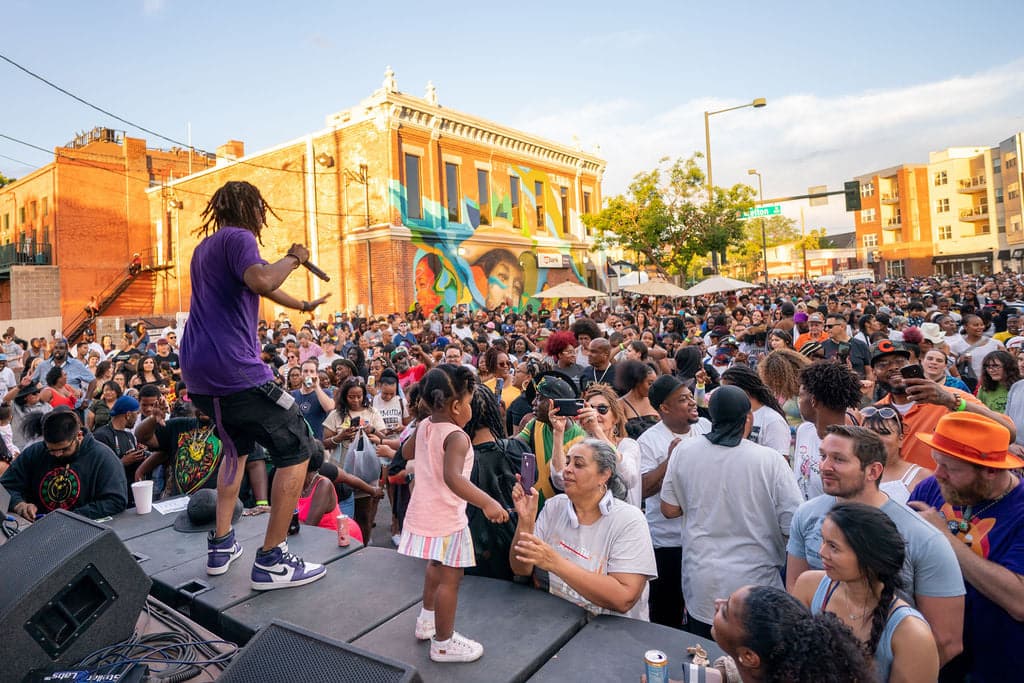 Juneteenth Music Festival, Colorado. Photo: facebook.com/JuneteenthMusicFestival
The Juneteenth Music Festival is a community event featuring live performances, concerts, a parade, and art and cultural exhibitions. This takes place on Welton Street, from 23rd Avenue to 28th Avenue.
This is one of the nation's largest Juneteenth events, attracting 50,000 people each year. In addition to the entertainment on multiple stages, there are many food vendors as well.
June | juneteenthmusicfestival.com
Denver Pride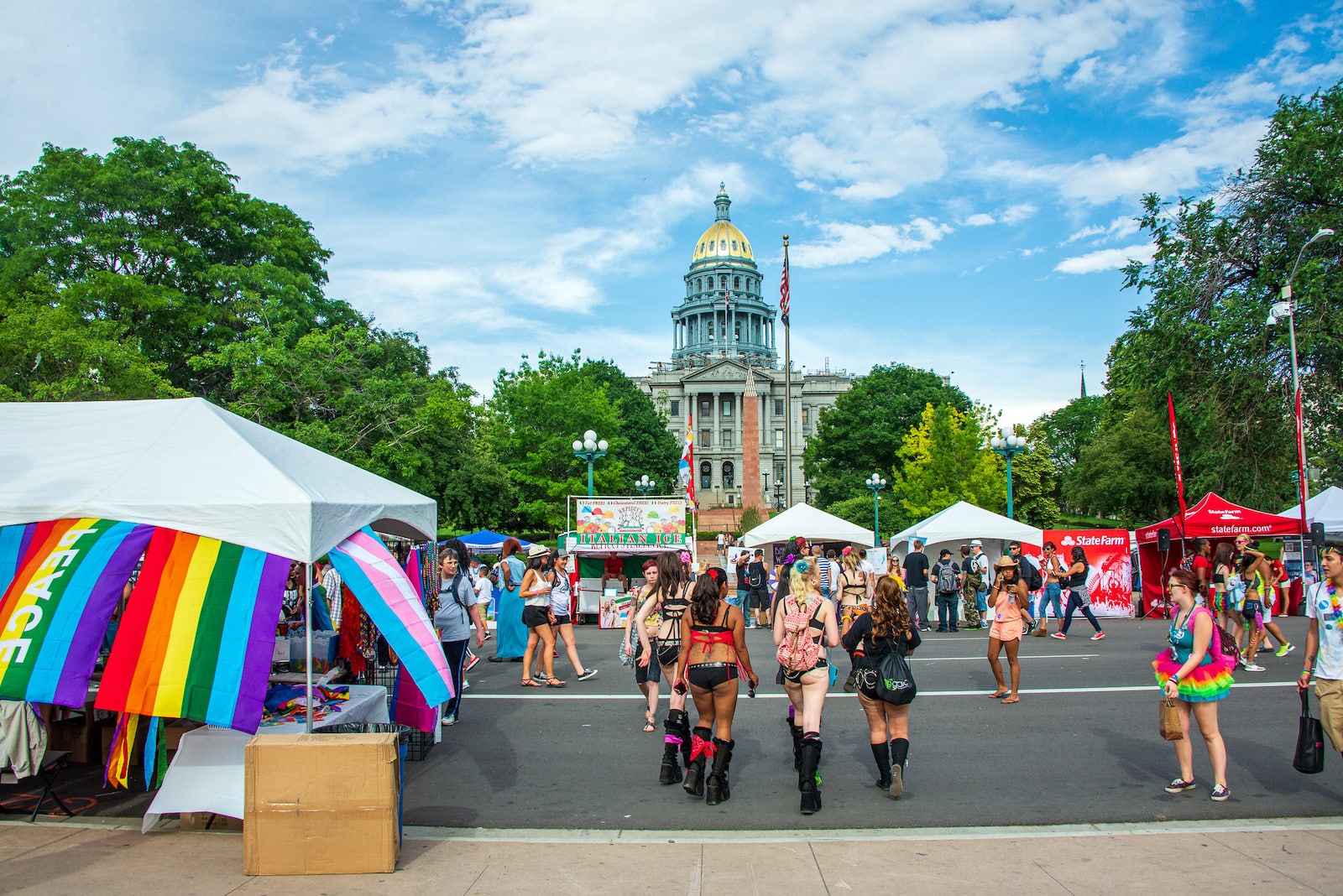 Denver Pride, Colorado. Photo: Kent Kanouse
Denver Pride Fest is a two-day festival that draws more than 525,000 guests to the city and is recognized as one of the top 10 Pride events in the US. It's produced by The Center on Colfax, which is a nonprofit providing services and programs to the LGBTQ community.
The event starts off with the Pride 5K. The festival then takes place at Civic Center Park with 30 food and beverage vendors, 250 exhibitors, and live performances. There is also an annual Coors Light PrideFest Parade that lines 14 blocks of Colfax Avenue.
June | denverpride.org/fest
Five Points Jazz Festival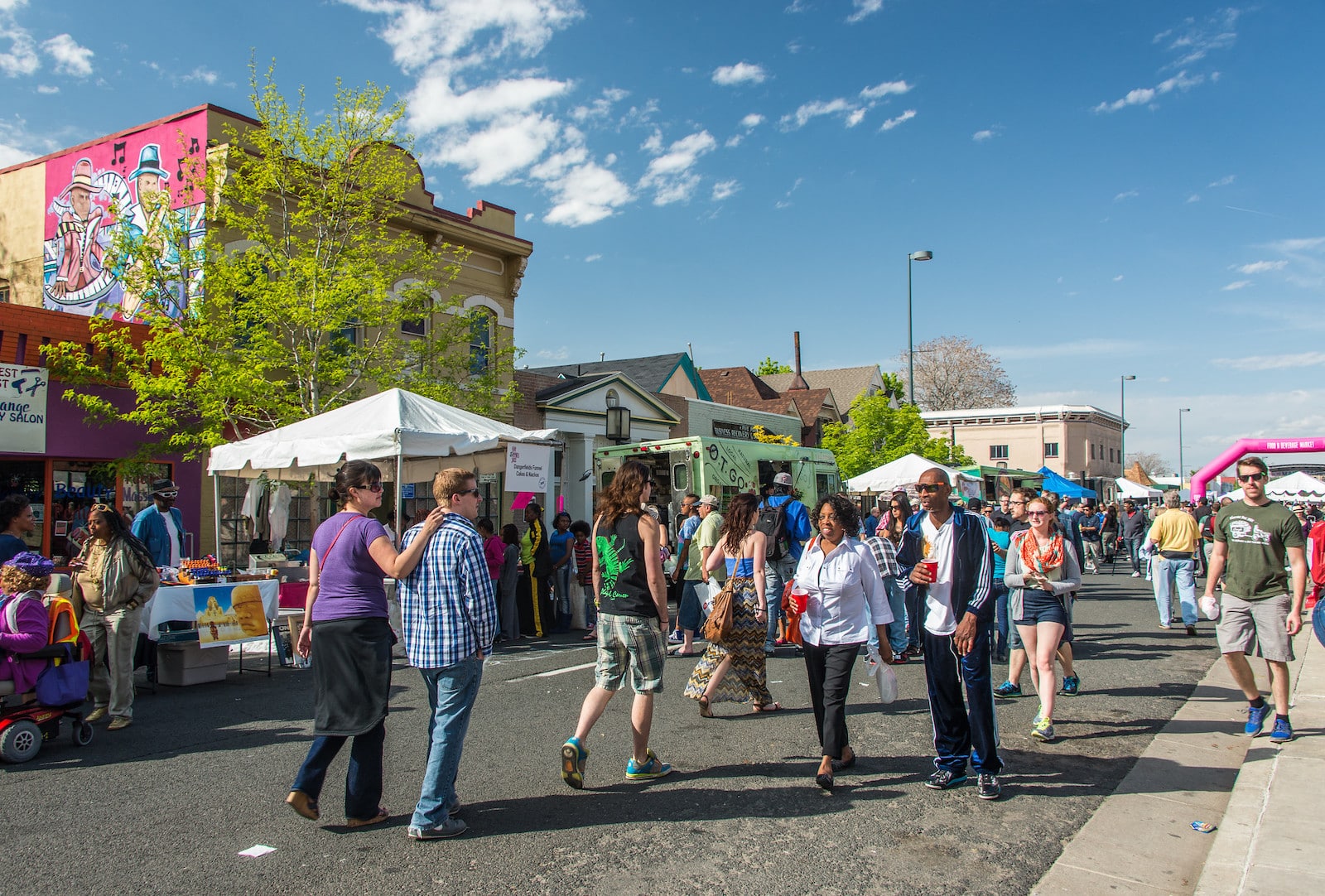 Five Points Jazz Festival, Colorado. Photo: Kent Kanouse
The Five Points Jazz Festival celebrates the history of Denver's Five Points neighborhood, which was once called the Harlem of the West. This annual event happens the first Saturday of June and is free and open to the public.
Hosted by the Denver Arts & Venues, attendees can hear jazz from various artists. Past performers have included the Colorado Mambo Orchestra, Bob Montgomery's Little Big Band, and Denver Jazz Trio.  It takes place on Welton Street between 25th and 29th Avenue.
June | artsandvenuesdenver.com
Colorado Dragon Boat Festival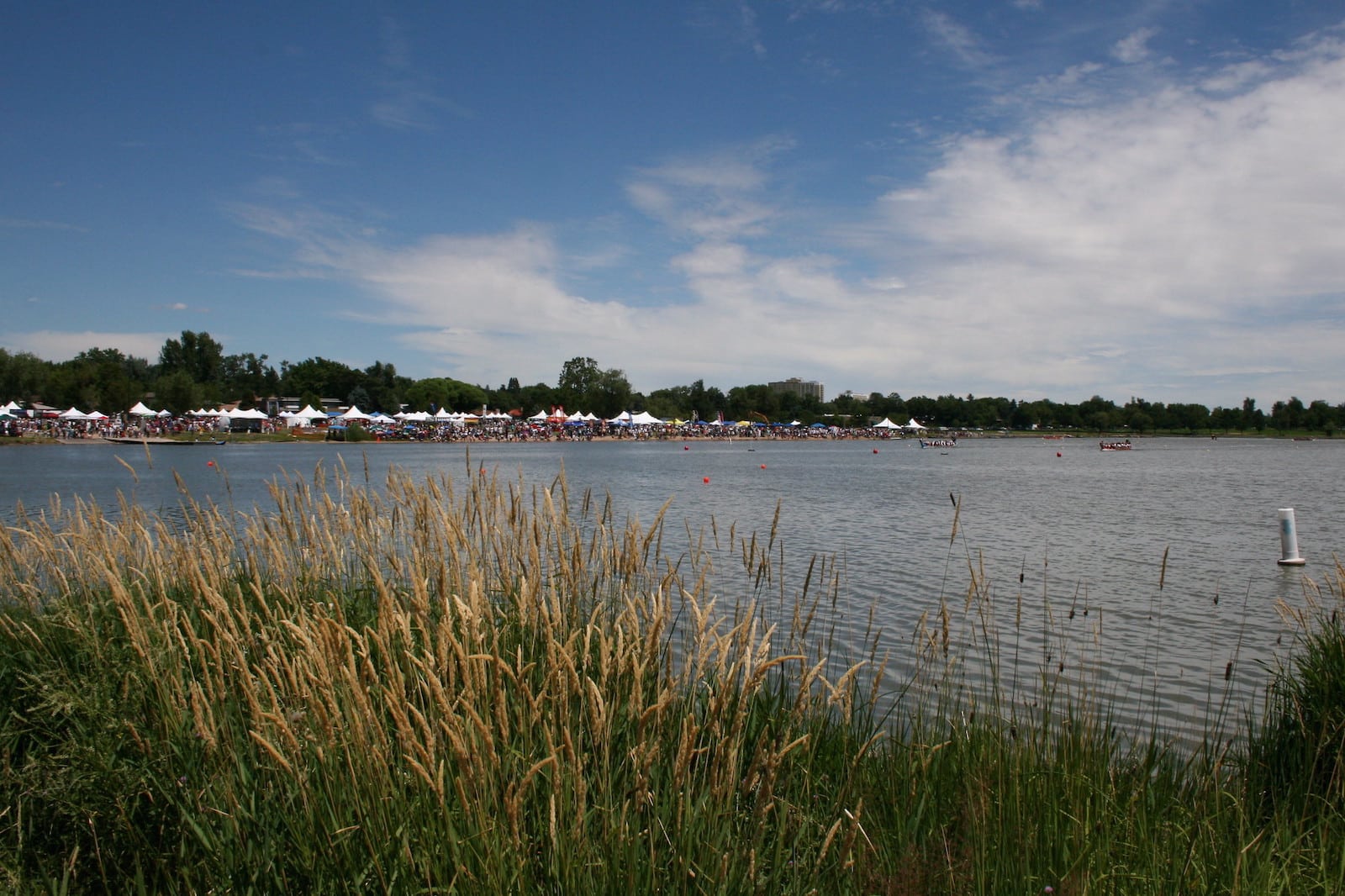 Colorado Dragon Boat Festival. Photo: Kari
The Colorado Dragon Boat Festival kicks off with a race and is then followed by a two-day festival on Saturday and Sunday in July. The festival began in 2001, and the goal is to celebrate and further the knowledge and awareness of Colorado's Asian American Pacific Islander (AAPI) communities.
More than 150,000 people attend, and there are more than 100 vendors and performances. In addition to the boat racing, there are many local performers, live art demonstrations, an Asian Marketplace, and various food vendors. All of the fun takes place at Sloan's Lake Park in Denver.
July | cdbf.org
Cherry Creek Arts Festival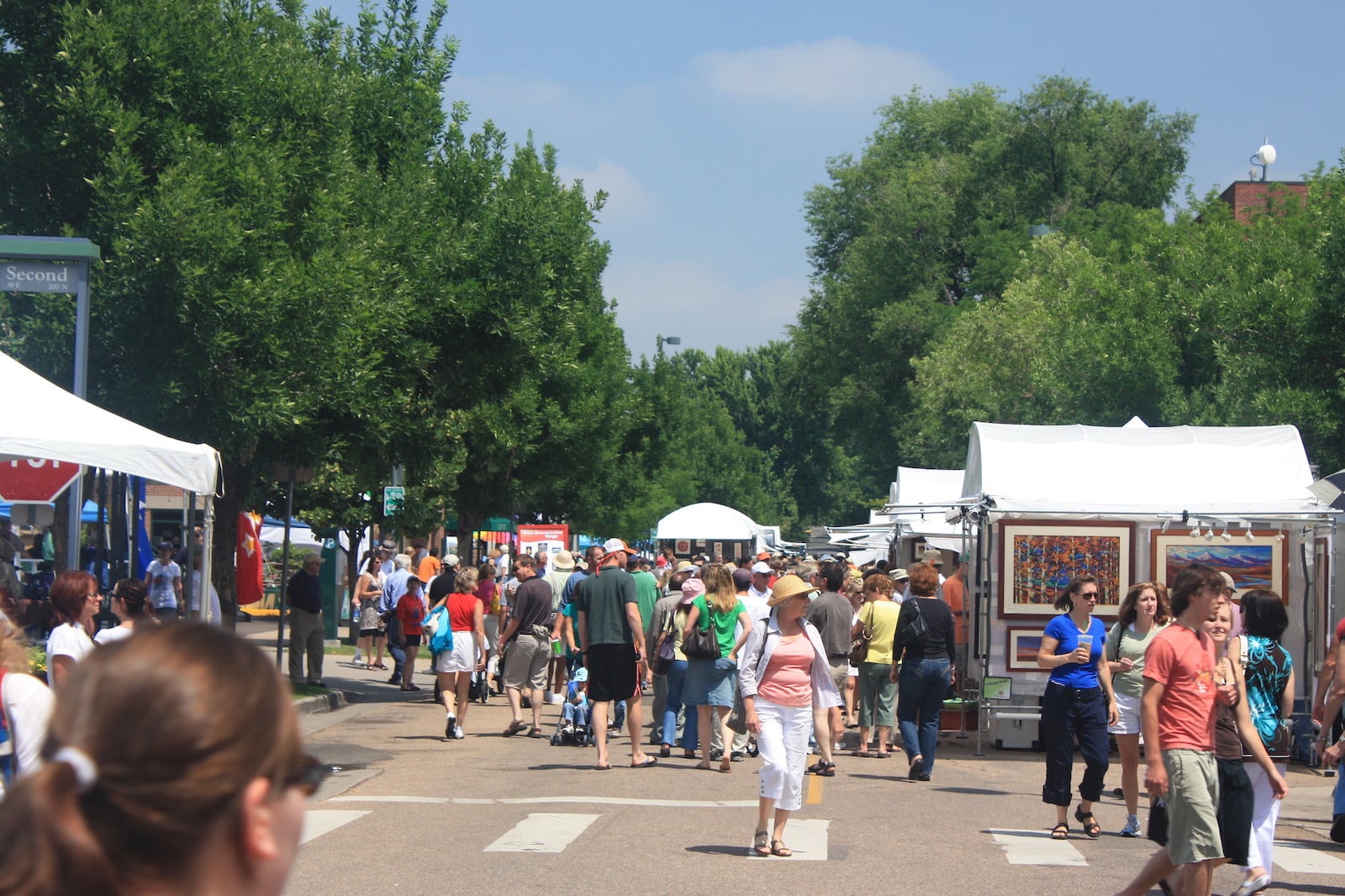 Cherry Creek Arts Festival, Colorado. Photo: Prizmatic
Cherry Creek Arts Festival brings hundreds of artists together to showcase their work at this outdoor art show. It's produced by CherryArts, a nonprofit organization that helps provide access to art education and experiences in Colorado.
Admission is free, and the event is open to the public. The Cherry Creek Arts Festival App has maps of the fest, schedules, featured programs, and lets users preview the artists and learn more about them. In addition to the art, there are food trucks and restaurants, family-friendly activities, a concert, and an auction that benefits arts education.
First weekend in July | cherrycreekartsfestival.org
Denver Underground Music Showcase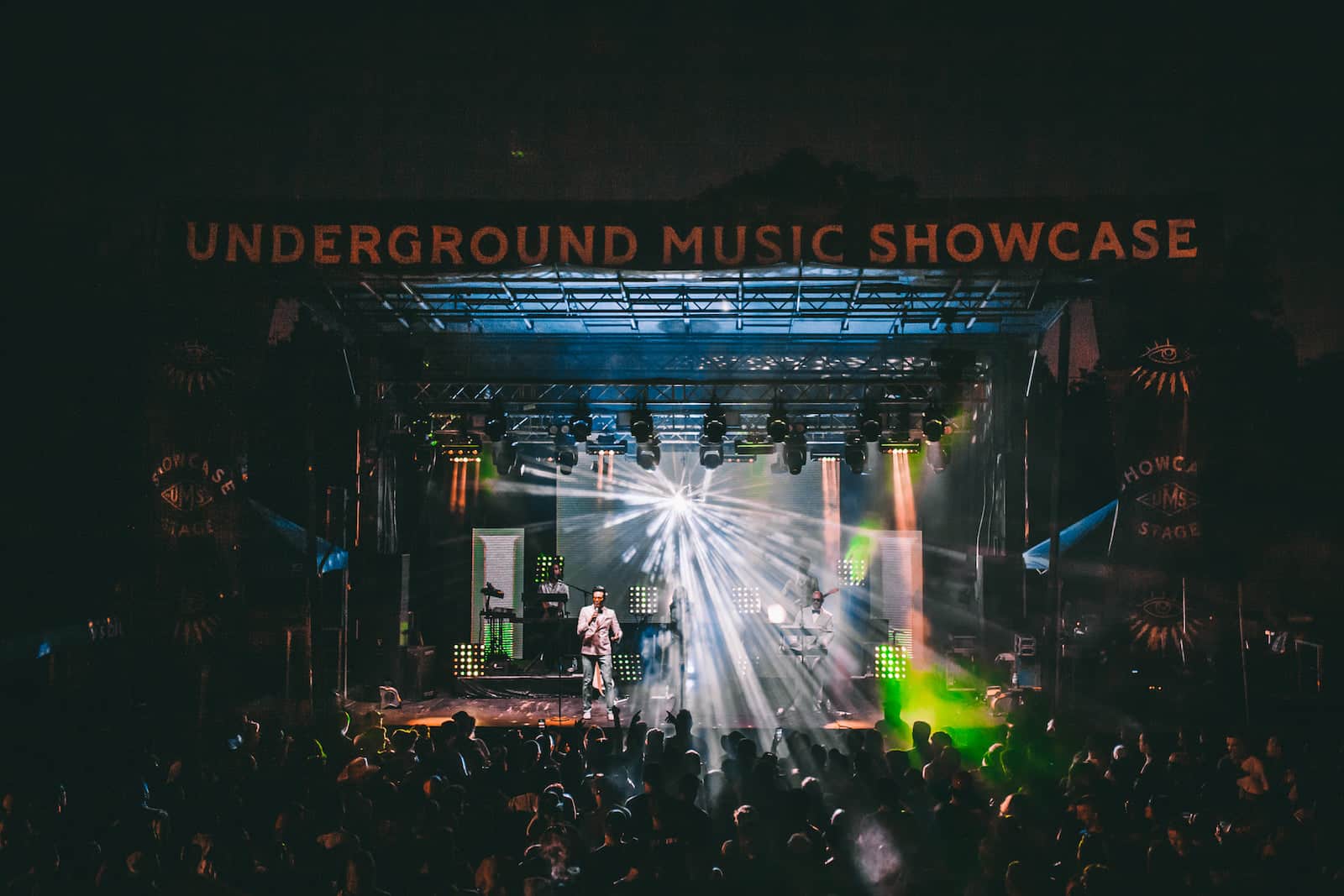 Denver Underground Music Showcase, Colorado. Photo: facebook.com/undergroundmusicshowcase
The Underground Music Showcase is Denver's longest-running music festival. It is a three-day event every July that brings thousands of music lovers to the area. What began in 2001 as a one-day concert has evolved into hundreds of back-to-back concerts.
The event is presented by the Denver-based organizations, Youth on Record, and Two Parts. It's the largest music event in Denver, bringing more than 10,000 attendees to the South Broadway music district.
July | undergroundmusicshowcase.com
Denver Burger Battle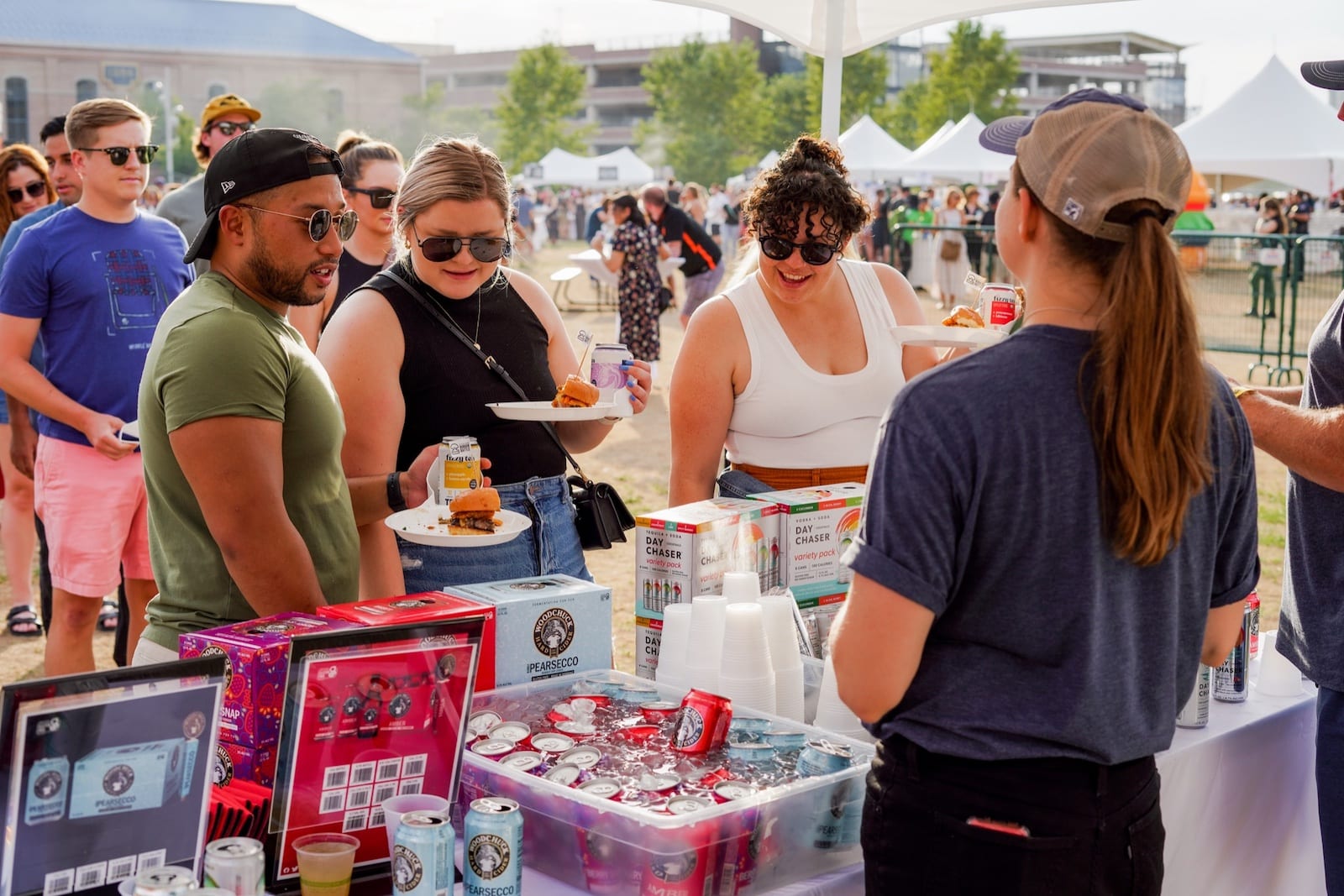 Denver Burger Battle, Colorado. Photo: facebook.com/denverburgerbattle
The Denver Burger Battle has been an annual must for burger lovers since 2010. Attendees taste unlimited burger samples from restaurants in Denver. Then, they vote for their favorite.
Some popular spots that have attended in the past include Snarfburger, Cherry Cricket, 5280 Burger Bar, Briar Common Brewery + Eatery, Hearth & Dram, Stanley Beer Hall, and TAG Burger Bar. Guests can wash down all the grub with unlimited samples of beer, wine and cocktail samples, or non-alcoholic options.
August | denverburgerbattle.com
High Plains Comedy Festival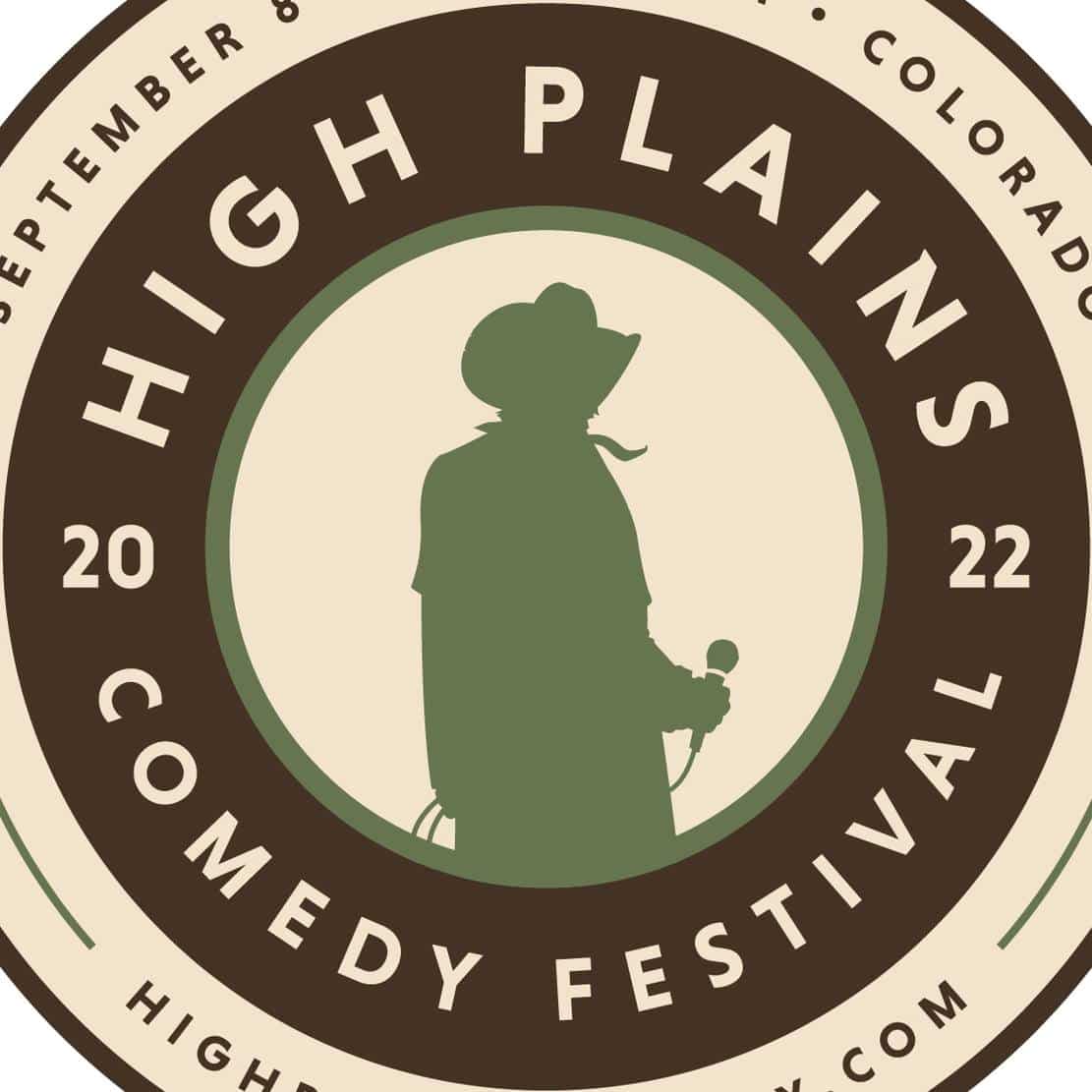 High Plains Comedy Festival, Denver. Photo: facebook.com/HighPlainsComedyFestival
The High Plains Comedy Festival features both local and national comics that perform throughout the city. It was founded in 2013 by Denver writer and comedian, Adam Cayton-Holland.
Attendees can purchase a fest pass or just buy tickets to individual shows. Most venues are throughout the Baker neighborhood surrounding South Broadway, including Bobcat Club at Skylark Lounge, Mutiny Information Café, Chaos Bloom Theater, HQ, and The Hi-Dive.
September | highplainscomedyfestival.com
A Taste of Colorado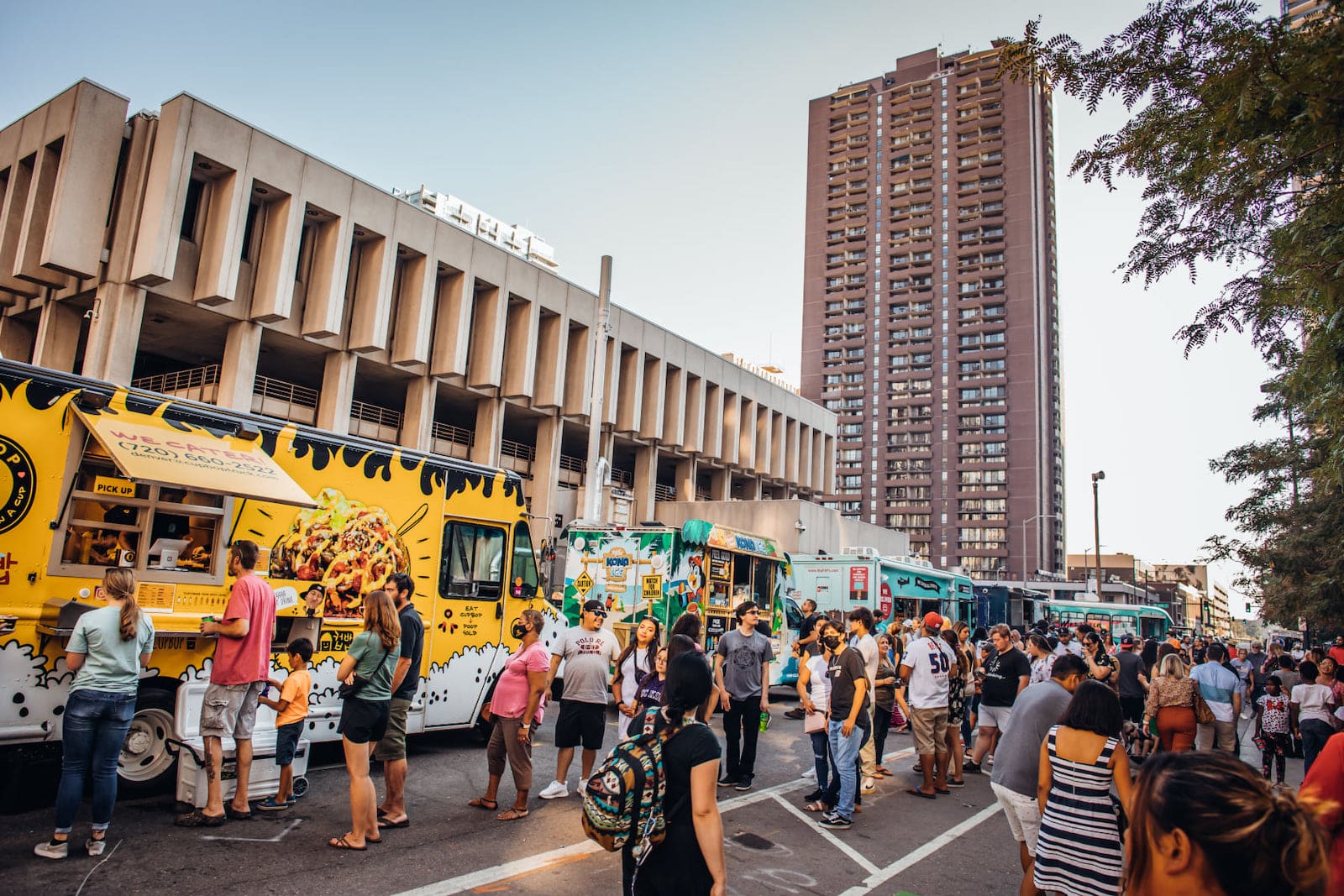 A Taste of Colorado, Denver. Photo: facebook.com/ATasteofColorado
A Taste of Colorado is Denver's end-of-summer celebration, happening every Labor Day weekend in Civic Center Park. The festival features dozens of local restaurants as well as food trucks. It debuted in 1895 and is produced by the Downtown Denver Partnership.
Various stages around the event host musicians for live performances. The Arts & Crafts Marketplace has more than 50 booths selling crafts, art work, furniture, and jewelry. The Kids Zone has activities for the whole family. Entry into the event is free.
Labor Day Weekend | atasteofcolorado.com
Denver Oktoberfest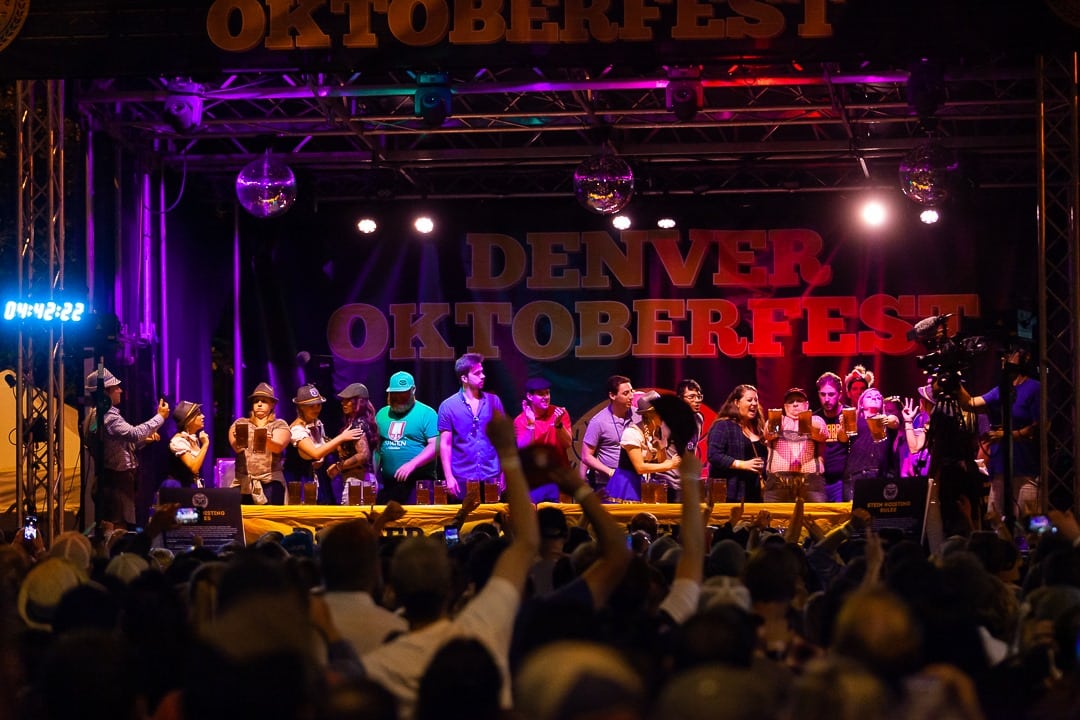 Denver Oktoberfest. Photo: facebook.com/DenverOktoberfest
The Denver Oktoberfest has been bringing this famous German fall festival to Denver since 1969. True to tradition, the event features beer and plenty of Bavarian staples, including pretzels and sausage. This is a two-weekend festival every year in September.
There are many unique activities going on here, such as a sausage eating contest, silent discos, live Polka music, a costume contest with plenty of lederhosen on display, and keg bowling. The stein hoisting competition gives people a chance to hold on to a beer-filled mug for a chance to win prizes.
September | thedenveroktoberfest.com
Denver Food + Wine Festival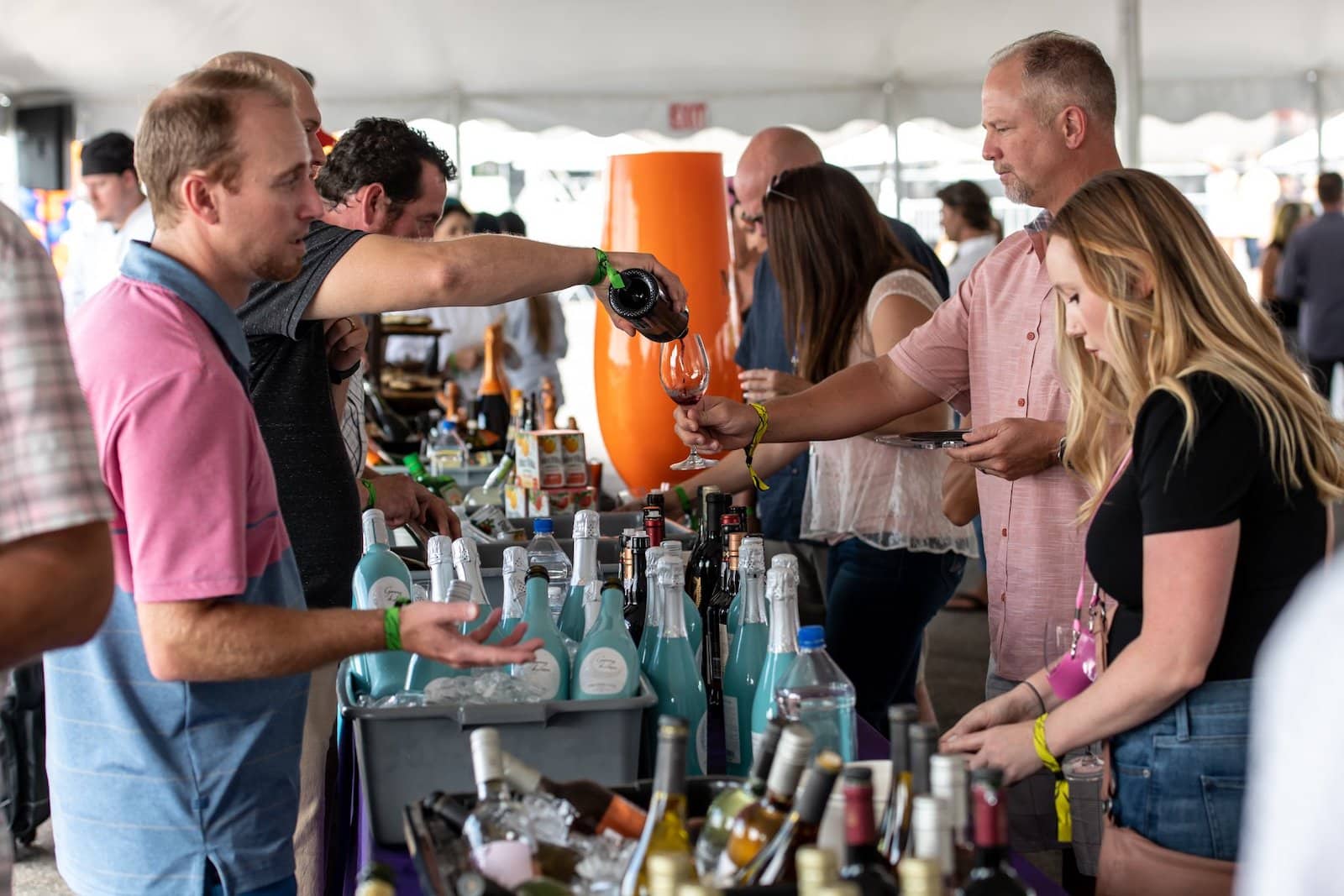 Denver Food + Wine Festival. Photo: facebook.com/foodwinedenver
Denver Food + Wine Festival is a multi-day experience, celebrating the city's food, wine, and spirits scene since 2006. The Grand Tasting event showcases more than 700 drink options and food from 40 local restaurants. Dinner Under the Stars is a five-course dinner with wine pairings and a live auction.
There's also a cocktail competition, a yoga and bubbles industry appreciation party, and a wine tasting. The event benefits the Colorado Restaurant Foundation and the Angel Relief Fund.
September | denverfoodandwine.com
Denver Beer Week
Denver Beer Week is all about celebrating The Mile High City's love for craft beer. After all, there are well over 100 breweries here. The week is actually nine days long and is filled with various beer-related events.
During the week, there are more than a hundred different events throughout the city. These include special beer releases, food and beer pairing events, tap takeovers, and opportunities to meet brewers.
September/October | denver.org/denver-beer-week
Great American Beer Festival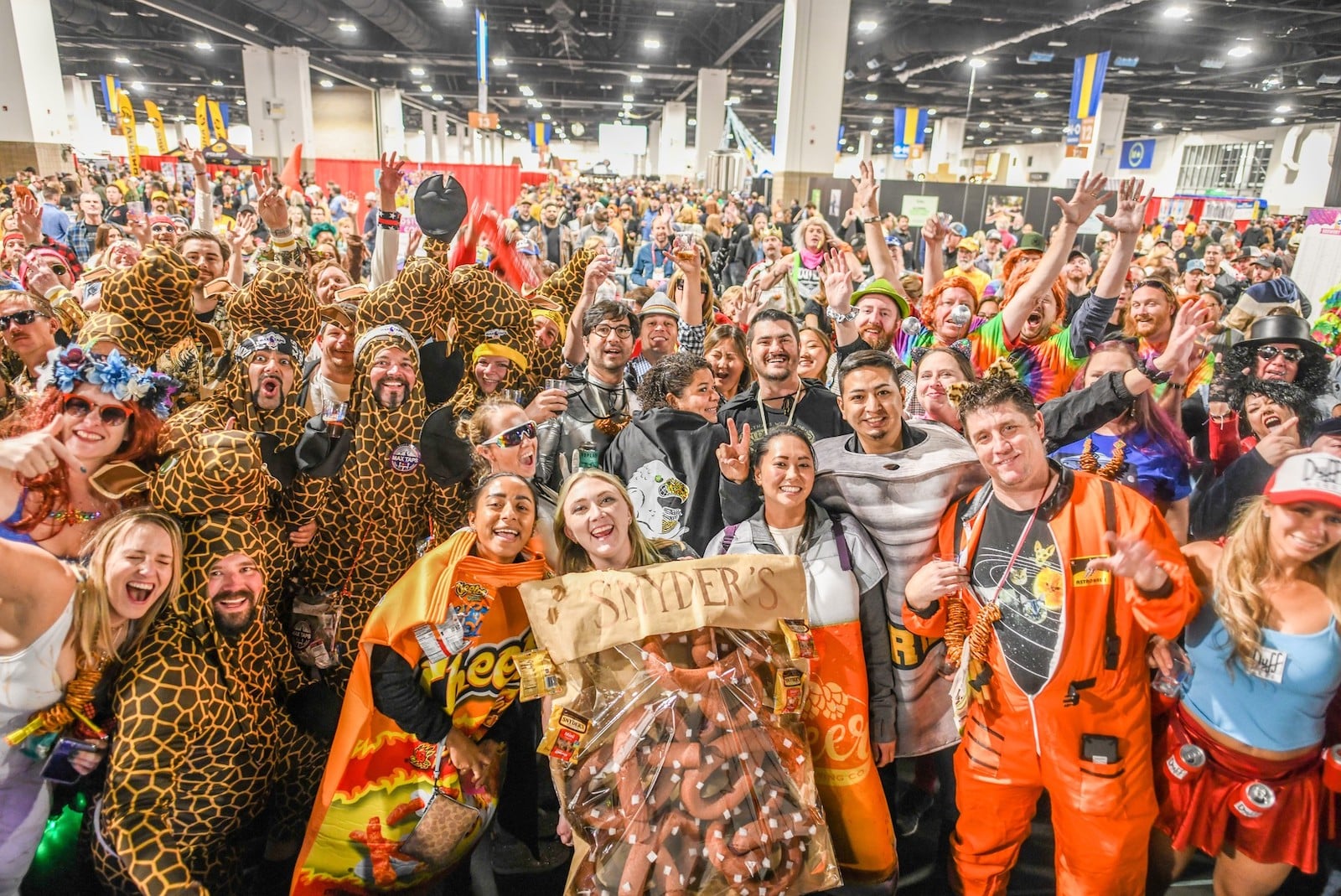 Great American Beer Festival, Denver. Photo: facebook.com/TheGreatAmericanBeerFestival
The Great American Beer Festival is held annually in late September or early October at the Colorado Convention Center. Hosted by the American Brewers Association, hundreds of breweries from across the country attend to pour samples of thousands of beers.
A big part of the festival, also known as GABF, is the competition aspect. Breweries can submit a beer for professional judging and a chance to win a gold, silver, or bronze award. Besides sampling beer, people can check out the silent disco, various tap rooms, and grab a bite at one of the food trucks.
Late September or Early October | greatamericanbeerfestival.com
Denver Film Festival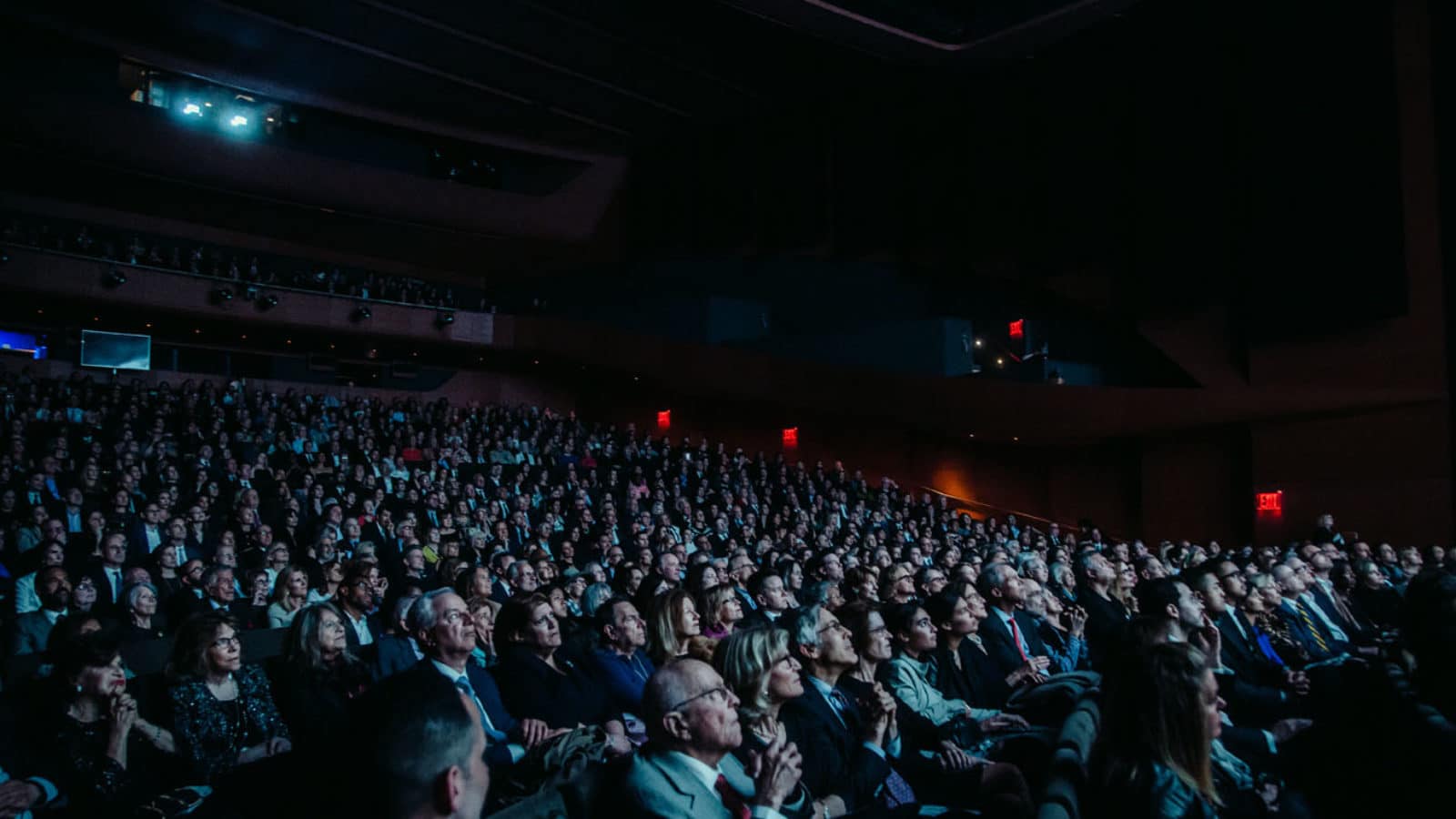 Denver Film Festival. Photo: facebook.com/DenverFilmFestival
The Denver Film Festival occurs every November and is the largest film festival in the Rocky Mountain region. For decades, the festival has featured acclaimed films from around the world and international guests.
As part of the festival, there are various community events, immersive experiences, and exhibitions for guests to enjoy. The Sie FilmCenter is the home of Denver Film, and other venues include Denver Botanic Gardens, Ellie Caulkins Opera House, AMC 9 + CO 10, and Tattered Cover.
Early November | denverfilm.org
Denver Arts Week
Denver Arts Week is a multi-day celebration that highlights the city's arts and culture scene. There are a large variety of art-related events happening throughout Denver during this week, including Denver Film Festival.
Some of the events may include Art Walks throughout Denver neighborhoods, free museum access, and live performances. Follow along on Facebook for the most up-to-date listings and news.
Early November | denver.org/denver-arts-week
Denver Christkindlmarket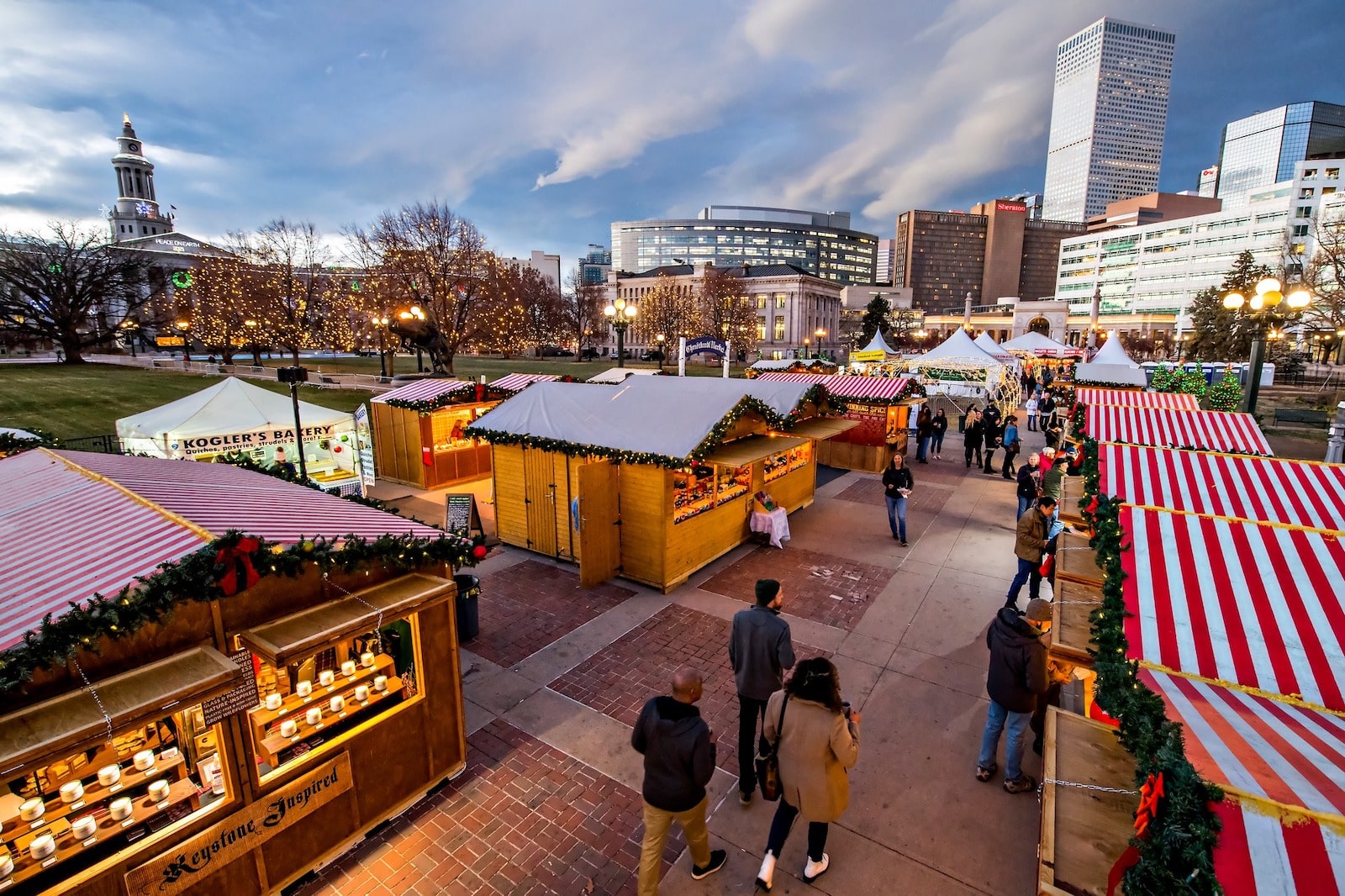 Denver Christkindlmarket. Photo: facebook.com/DenverChristkindlmarket
The Denver Christkindlmarket is Colorado's authentic German Holiday Market held every late November through December in Civic Center Park. Shop for artisan gifts, and taste a variety of food, both locally produced and internationally made. This festive experience gives attendees a peak into European traditions without leaving Denver.
You'll find German beer as well as traditional glühwein. The stage showcases live musical performances, and there are also other types of events, such as an Ugly Sweater Night. This event is free and open to the public.
November 18 – December 23, 2022| christkindlmarketdenver.com
Blossoms of Light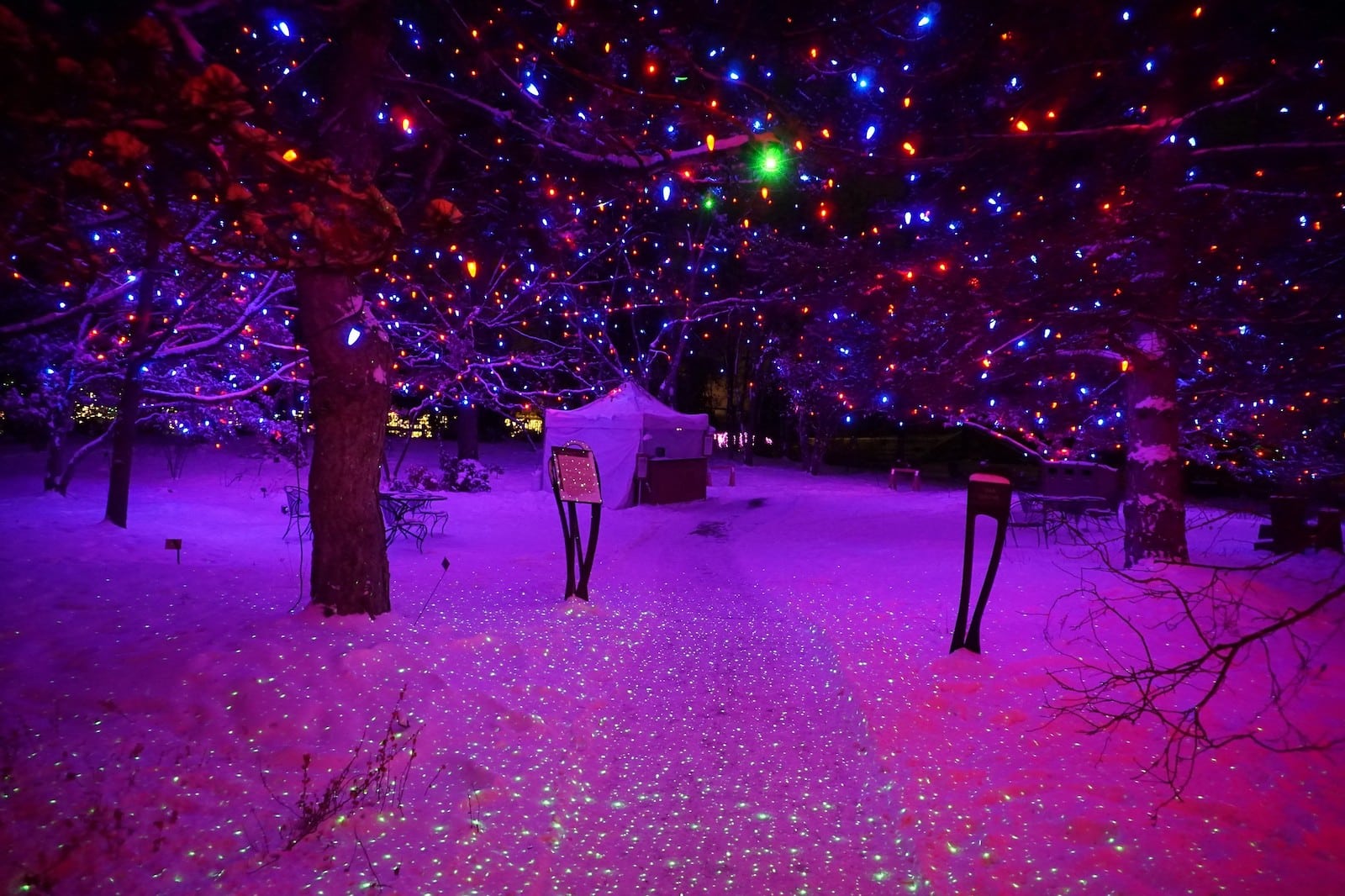 Blossoms of Light, Denver. Photo: Raymond Johnson
Blossoms of Light is the signature event at Denver Botanic Gardens, celebrating the holiday season with a beautiful light show. From late November through early January, the gardens are filled with twinkling LED lights at this family-friendly experience.
At the garden's Offshoots Café and Hive Garden Bistro, there are warm drinks and holiday treats available for purchase. Ticket prices vary whether you're a member or military, and timed tickets need to be purchased in advance. It is closed on Thanksgiving and Christmas.
mid November to early January | botanicgardens.org
Parade of Lights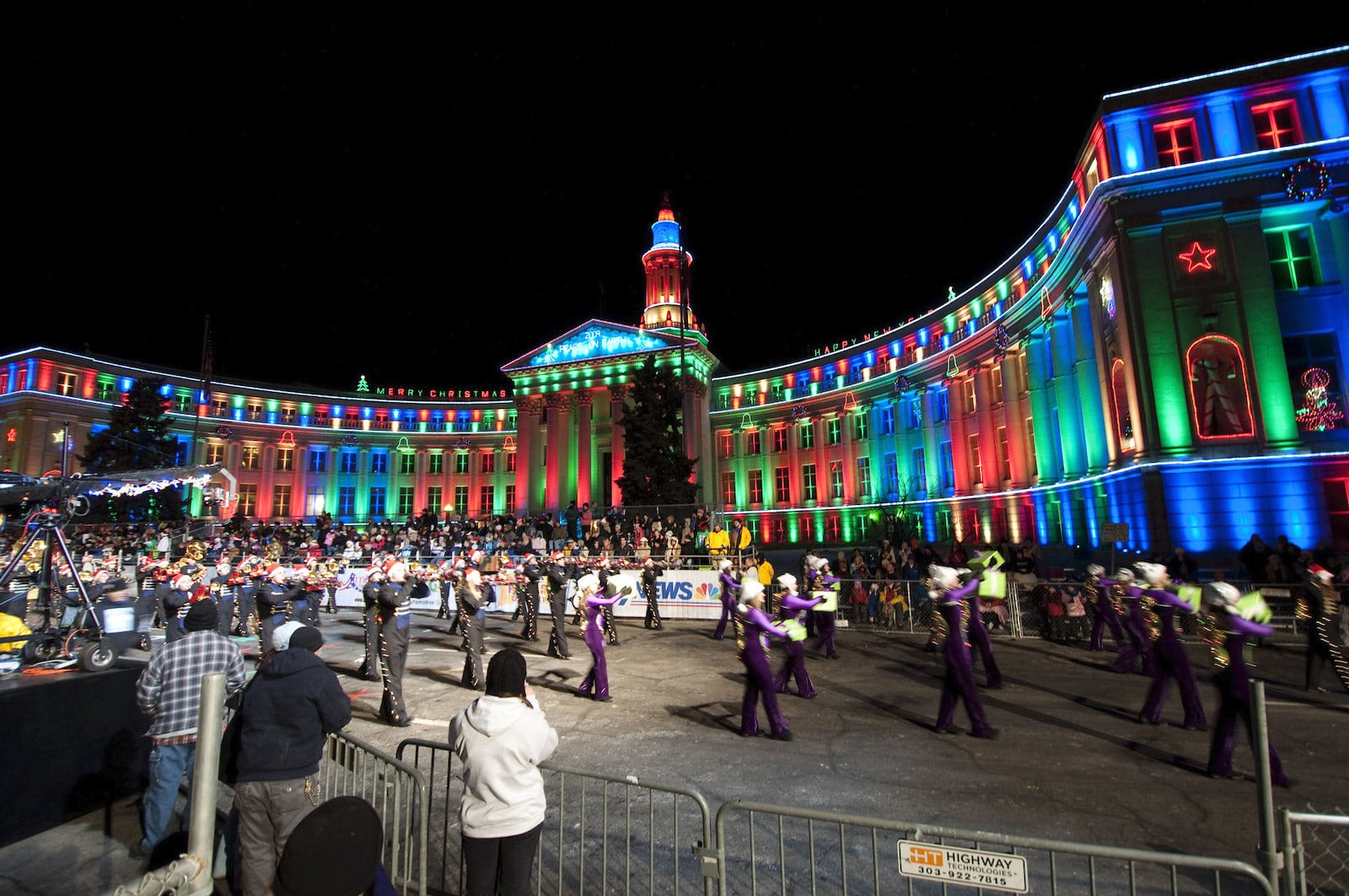 Parade of Lights, Denver. Photo: Brian Papantonio
The Parade of Lights is a two-mile holiday extravaganza with marching bands, illuminated floats, and cultural displays. The parade is free and open to the public and has been happening yearly in Denver since 1975.
During the evening, there is also an appearance by Santa and Major Waddles the Penguin. The parade is estimated to last about 60 minutes. For those that can't make it live downtown, the parade is aired on 9NEWS.
Early December | winterindenver.com
There is certainly plenty of fun events to attend throughout the year in Denver. Before you head out, check the website to learn more about attending the fest, including any costs, what you can and can't bring, if it's dog- or family-friendly, and where to park.