In Colorado's Rocky Mountains, hot springs go together with ski resorts like a cup of hot chocolate on a cold, snowy day. It's a match made in a winter wonderland! Luckily, there are usually some geothermal mineral water pools nearby most ski areas.
While there are some phenomenal, world-class ski resorts dotted around the Rockies, not all of the destinations are blessed with hot springs nearby. We'll keep the drive to under forty-five minutes, and start with the most relevant towns. The ones with hot springs in their mailing address.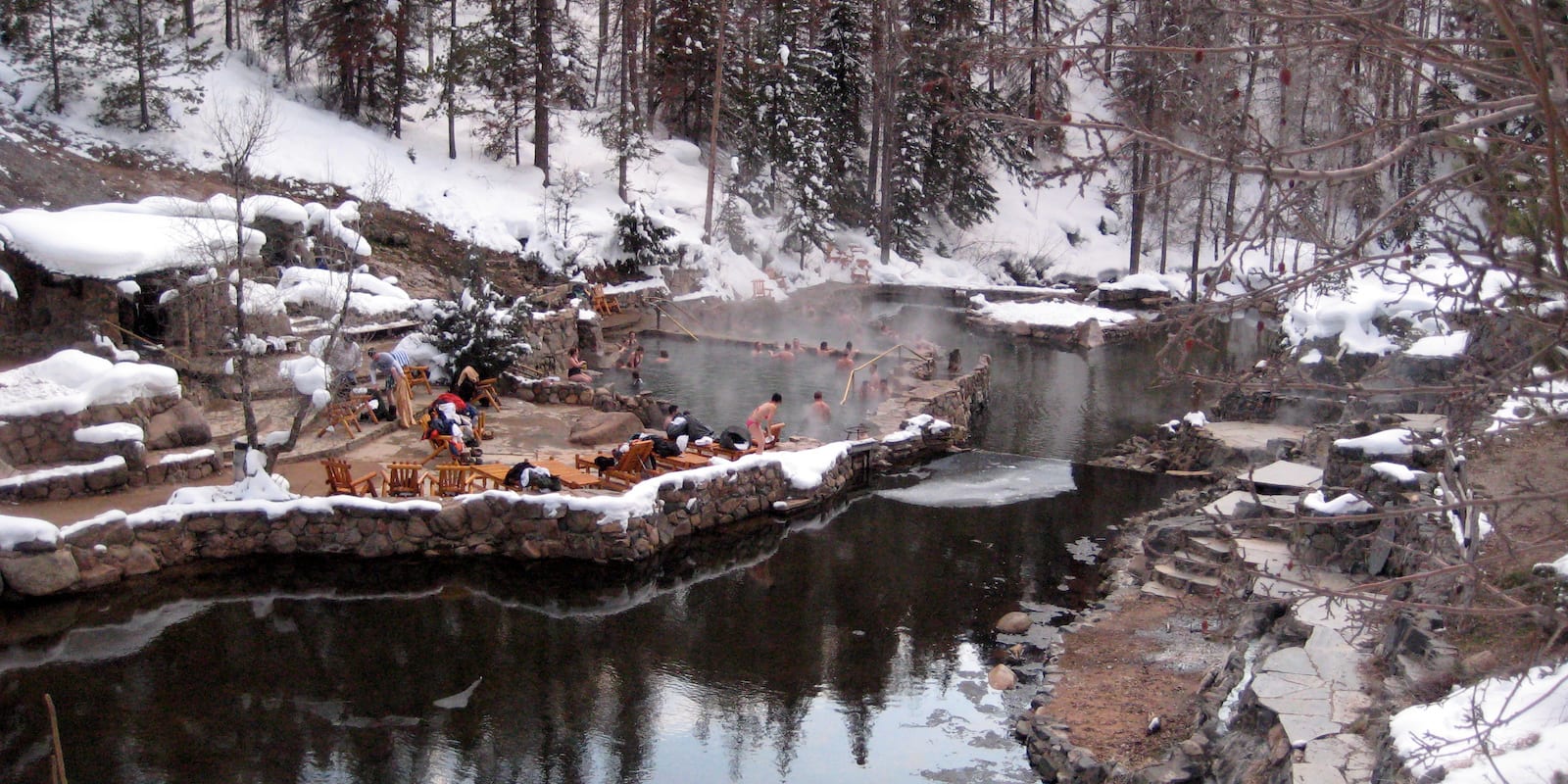 Strawberry Park Hot Springs near Steamboat Ski Resort. Photo: Frank DiBona
For those whose condos and hotels aren't blessed with a hot tub, or just prefer a much cleaner and more natural soak, plan a trip to one of these hot springs nearby Colorado ski resorts.
Also, consider checking out this list of hot springs in Colorado and this list of ski resorts and do some research and mapping yourself. You can always hit a hot spring on the way into town, or the way out, if you got the desire. You'll be much more relaxed on your drive home if you do, maybe too much.
Steamboat Ski Resort

Steamboat Ski Resort's Mount Werner. Photo: Murray Foubister
The name of the town says is it all, doesn't it? Steamboat Springs is a paradise for those who love champagne powder snow, plenty of it, and natural bubbling hot springs to rejuvenate in after. The Old West town of Steamboat is just icing on the cake. Its downtown is full of locally owned shops, restaurants, and tourist attractions.
Steamboat Ski Resort is one of the premier mountains in the state, and a sure hit for everybody, from families and beginners to seasoned pros. The light dry snow this region of Northwest Colorado produces is second to none. Steamboat is lower elevated than some other resorts, so this plays well in terms of better temperatures and long days on the hill. If you even remotely like tree skiing, go to Steamboat.
i. Old Town Hot Springs
There are two hot springs in town. The closest to the ski resort is Old Town Hot Springs. Located only 2.7 miles from the resort in Steamboat's welcoming downtown, Old Town is easy to reach with free buses running between downtown and the mountain village.
This is the family-favorite resort, with a myriad of pools and different features, it's a pleasure to explore. It's both indoors and outdoors and remains open year-round. There's also a full gym and spa service available.
ii. Strawberry Park Hot Springs
The fan favorite in Steamboat Springs, and much of Colorado, is Strawberry Park Hot Springs. This clothing-optional-after-dark hot spring is located 25 minutes from the base of the resort, a 10-mile drive. From downtown, it's about 6.5 miles and 15 minutes. Plus, they provide shuttles from town, for the car-less folks.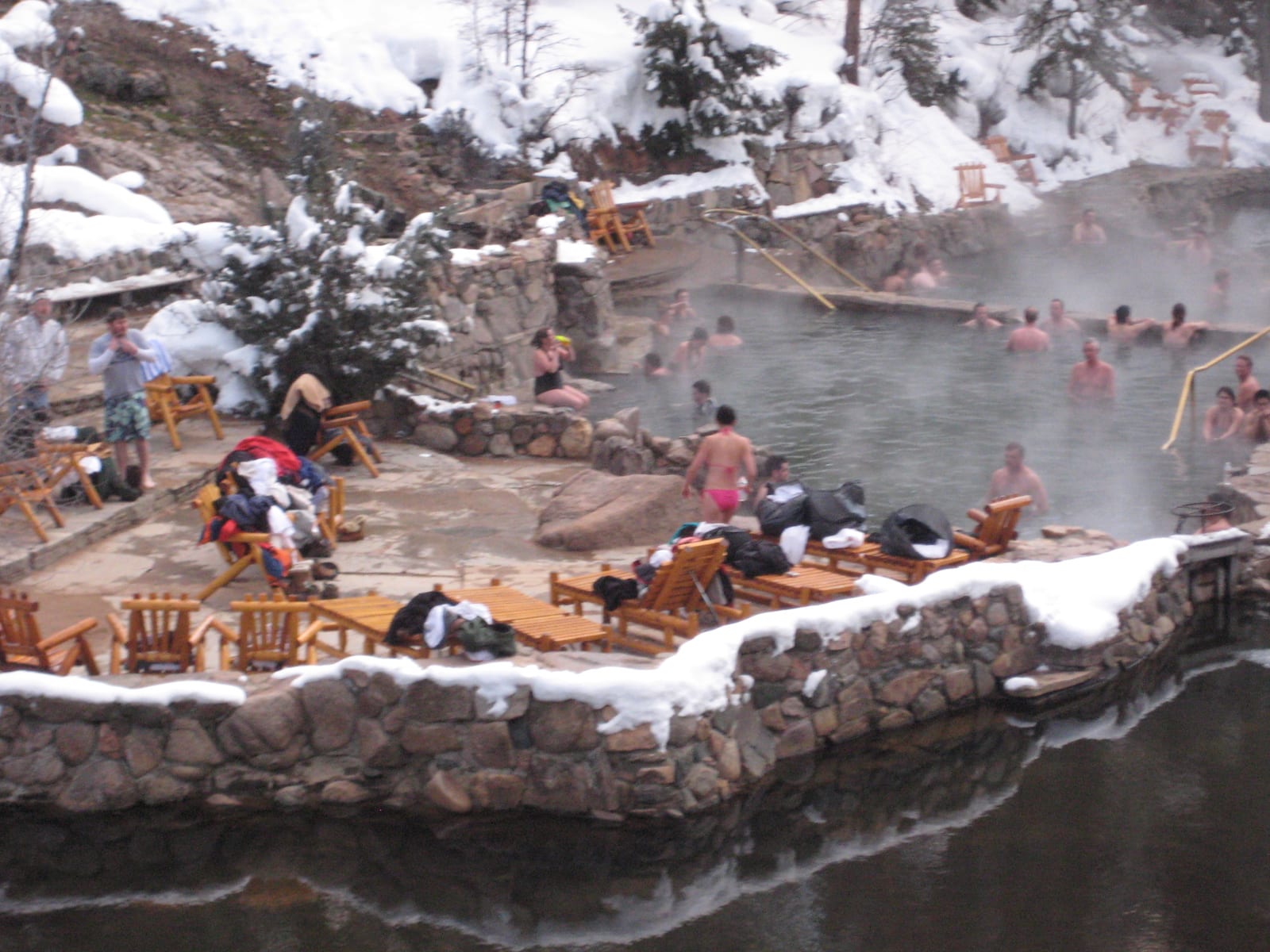 Wintertime in Strawberry Park Hot Springs. Photo: Frank DiBona
You'll need 4WD and/or good snow tires to reach Strawberry Park in the winter, tucked away back near the national forest. While Old Town Hot Springs is noticeably resort-like, Strawberry Park is much more primitive. The natural pools have a sandy bottom and the stars above are oh-so bright. There are several hot springs pools laid on the gentle hillside.
The walk down is steep and you'll want a flashlight if going after sunset. Bring a towel too and cash only. They will check you for beers, which aren't allowed. And they will keep them and drink them.
Wolf Creek Ski Area

Wolf Creek Ridge panorama. Photo: justinm
Nestled down in San Juan Mountains, Wolf Creek has several pluses going for it. The biggie is that it gets the most snow in Colorado. That's their motto! Other perks include fewer crowds, cheaper prices, and the nearby town of Pagosa Springs.
30 minutes from the hotel-less base of Wolf Creek, Pa-goh-sa is home to three hot spring resorts, two of which have lodging on-site! Nestled beside the scenic San Juan River, the downtown section of Pagosa Springs has just enough to keep you entertained and well-fed.
The slopes of Wolf Creek are located 23 miles northeast of the town of Pagosa Springs, but it's worth the trip every time. This big resort is located on the continental divide, providing a diverse terrain, including glades, cruisers, and bowl skiing.
i. The Springs Resort
This is the talk of the town, the place to see and be seen. Maybe not all that but it's the nicest resort in Pagosa and one of the best and most developed in the state. There are more than twenty hot spring pools laid alongside the San Juan River in downtown.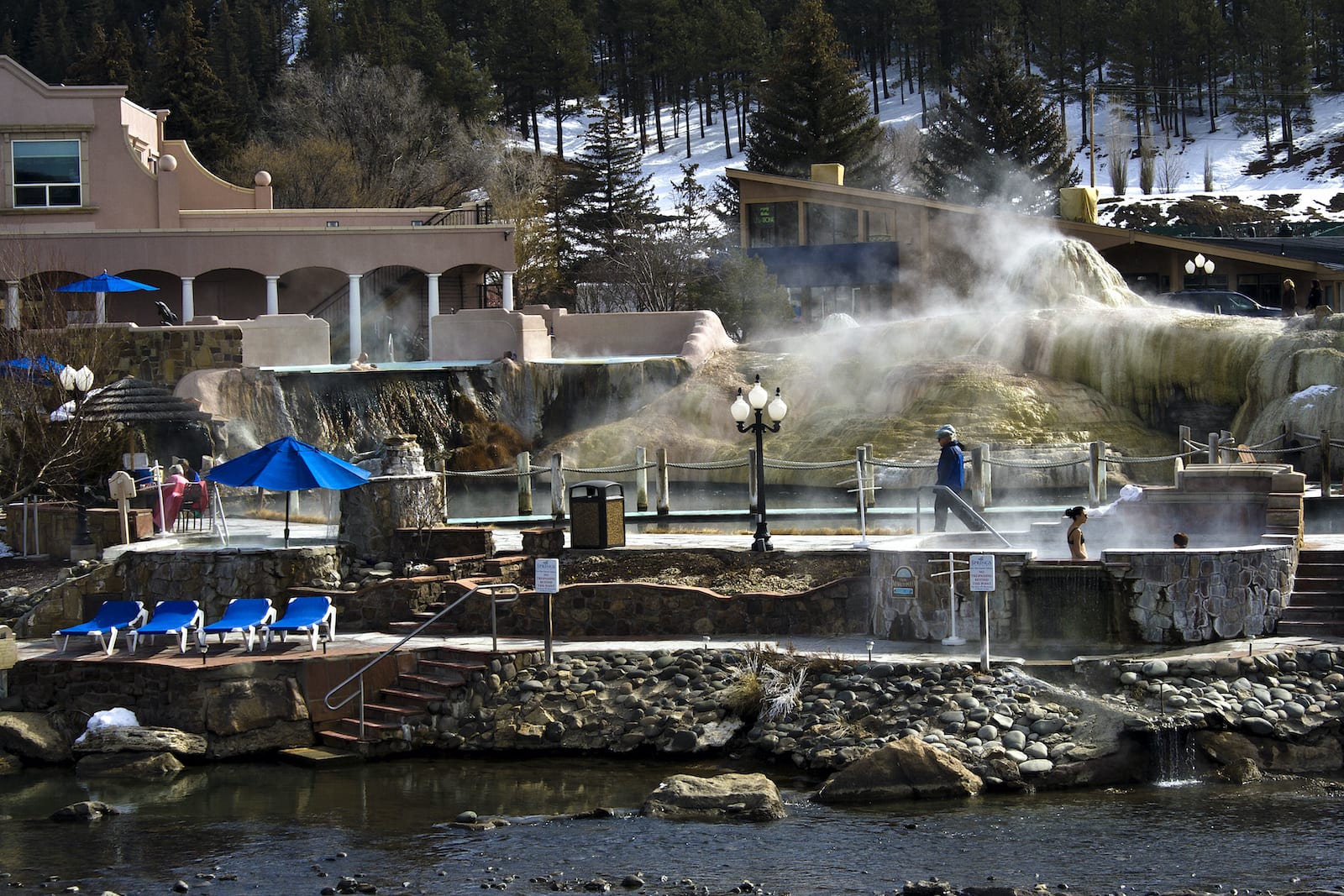 The Springs overlooks the San Juan River near Wolf Creek. Photo: Will Keightley
The sheer choice of pools makes this one a winner. You can also get a massage or body treatment at The Springs Resort, and stay the night at the upscale hotel. Walk to get dinner somewhere before and/or after your soak. There's another ski day atop Wolf Creek Pass you have to prep for.
ii. Overlook Hot Springs Spa
The locals' favorite for its affordable pricing and reliable hot mineral water soaks is Overlook. This smaller hot springs resort got its name from the view it affords you from the rooftop pools. They overlook downtown Pagosa Springs and the San Juan River.
While there is no lodging on-site, the vibe is chill. There are both indoor and outdoor soaking options. They also sell beers on-site if you care to imbibe. No glass of course. And you can reserve spa services too.
iii. Healing Waters Resort and Spa
This hotel hot springs is tucked away downtown, but just off the strip on the other side of the San Juan River. Healing Waters Resort boasts "warm waters, warm welcomes, and comfy rooms." Whether you prefer to escape the commotion of The Springs Resort, or just want a simpler soaking experience, Healing Waters Resort will welcome you warmly into their comfortable abode.
There's a hot springs swimming pool, hot tub, and bathhouse. Their spa on-site offers a wide array of treatments and massages. Another cool feature is the water aerobic classes in their swimming pool. These are a valuable form of low-impact exercise. For accommodations, choose between rooms, suites, and cabins. Sorry, no pets.
Purgatory Mountain Resort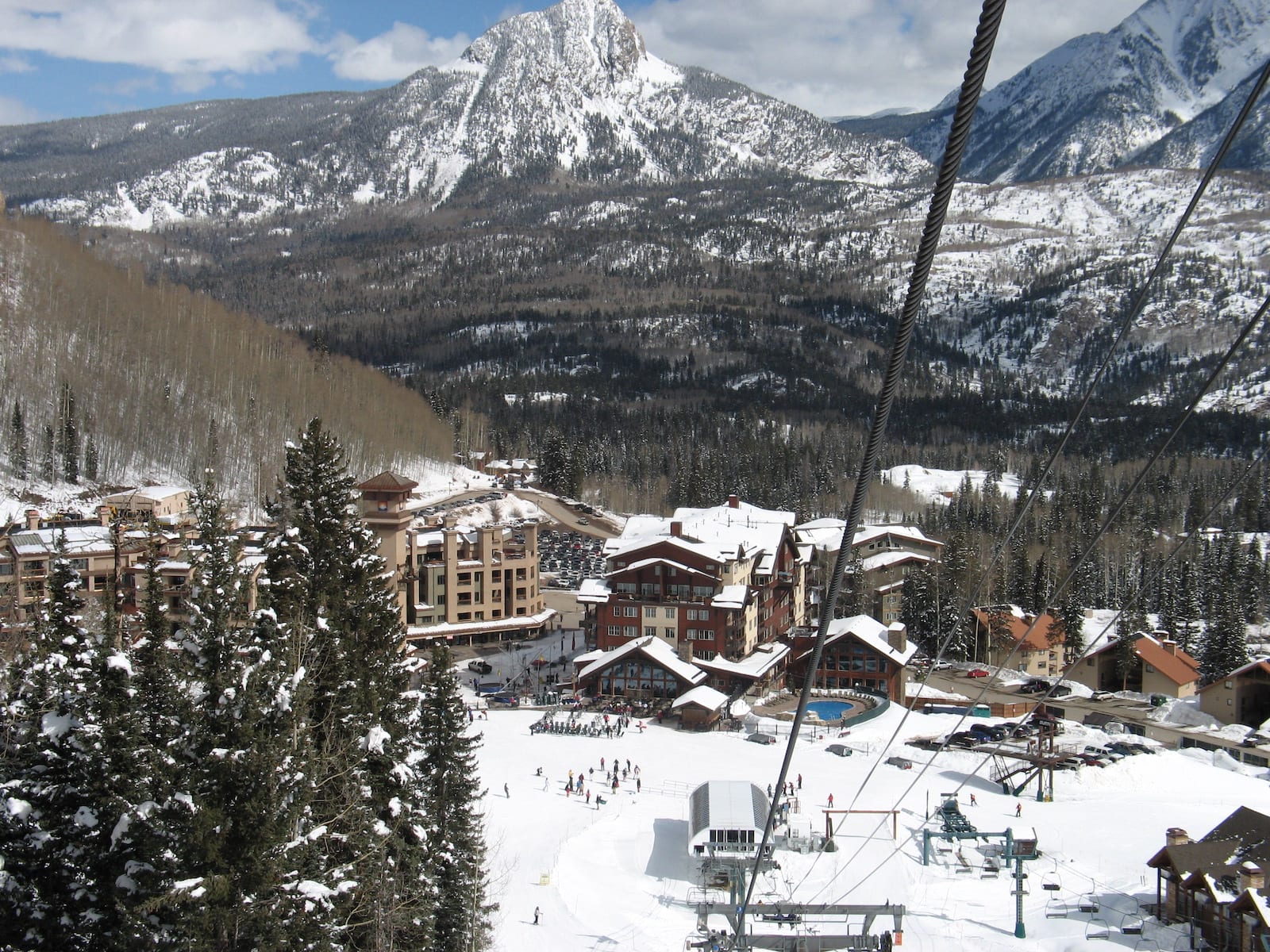 Riding up chairlift at Purgatory Mountain Resort in Durango, CO. Photo: @andrewghayes
Although it's far from being the most popular ski resort in Colorado, and among the farthest from Denver, Purgatory is a sweet mountain to ride. The groomed, fast, rolling runs are a blast to ski on a blue bird day. The big mountain is well-connected with lifts and trails, and the views are spectacular. Plus, the town of Durango is cool and large, but 30 minutes away.
Durango is a large mountain town with a lovely historic district and local hot springs resort. The restaurants in town are fantastic, and the lodging too, so this is a solid choice for a ski holiday. On top of Purgatory, there's even closer skiing for all levels at Hesperus Ski Area, and newbies in town at Chapman Hill.
i. Durango Hot Springs Resort
Luckily on the 26-mile drive between the resort and downtown, you'll pass the entrance to the Durango Hot Springs Resort & Spa. This resort is an all-new, revamped version of the former Trimble Hot Springs. So soak assured, that everything is modern and well cared for.
The resort is open daily from 9 am to 10 pm. They claim "the most amazing water under Mother Earth." It comes bubbling up at 120 degrees Fahrenheit on the surface. Spa services include massage, treatments, facials, and wellness programs. For now, there are two hot springs soaking pools and a dry sauna, with more to come in the future.
Sunlight Mountain Resort (+ Aspen)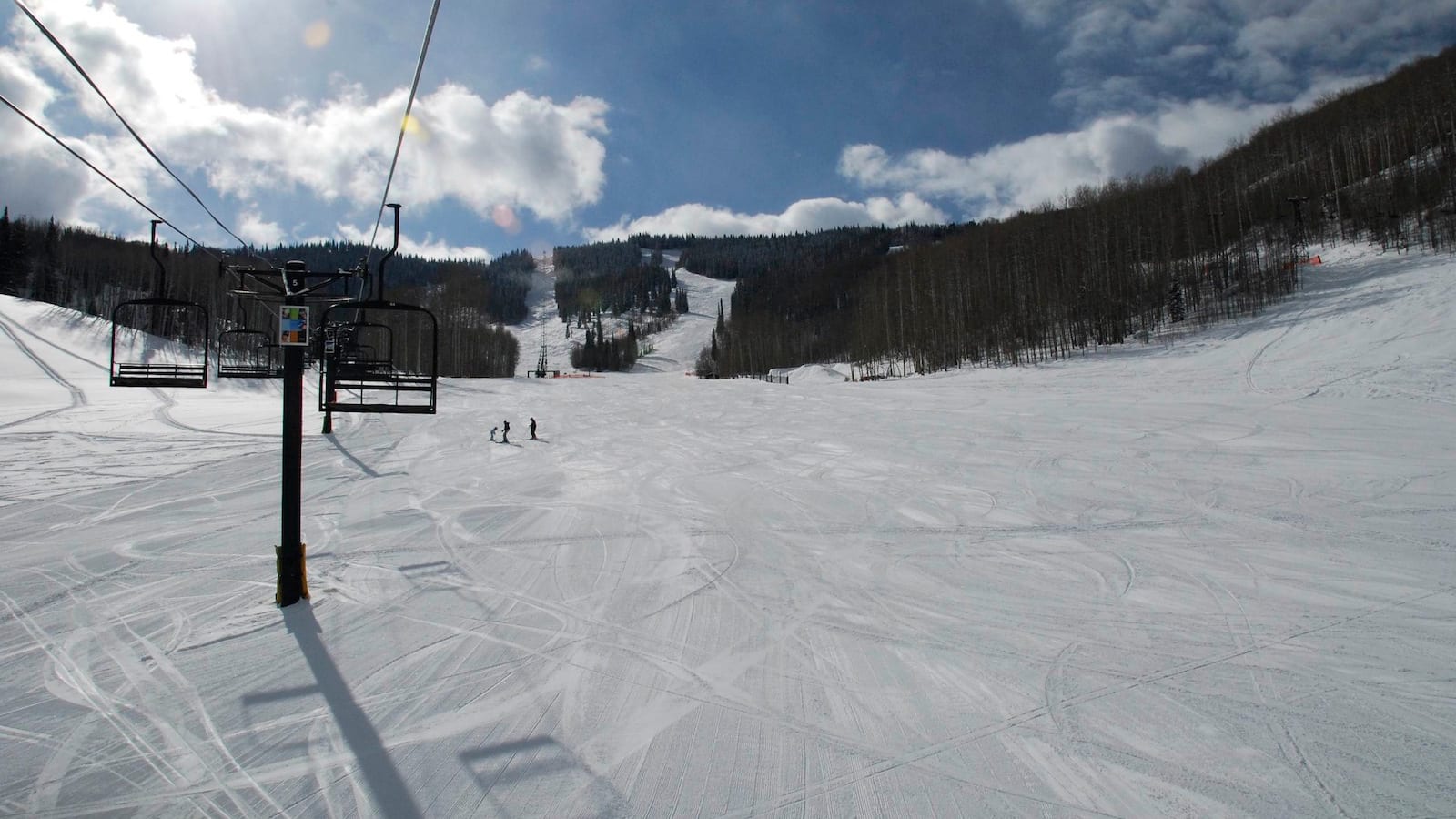 Sunlight Mountain Resort in Glenwood Springs, CO. Photo: 黒忍者
Strategically located at the start of the Roaring Fork Valley, beside I-70 and the Colorado River, Glenwood Springs is a hot springs haven. There are three well-known resorts, each boasting a wonderfully unique reason to visit. Plus a couple of free primitive pools, which are discussed in the previous link. Glenwood is home to one ski resort and a reasonable hour 50-minute drive to Aspen.
Glenwood's local mountain is Sunlight, which although small and family-friendly, boasts some quality dry snow and fun glade skiing. It's located 12 miles or about 25 minutes from downtown.
The town of Glenwood Springs is located some 3 hours from Denver and another 45 minutes up to Aspen. It makes a great base for skiing Aspen, while still taking advantage of nightly soaks. There's also Carbondale in between, which splits the distance to Aspen. If you're looking to soak, Aspen's a bit of a drive.
There are also Aspen's four ski resorts: Aspen Mountain, Aspen Highlands, Snowmass, and Buttermilk. Each one is on the same lift ticket, so you could hit up two in one day, although family-friendly Buttermilk is the only one small enough to conquer fully in a day. The Aspen mountains are noted for their steep expert runs, while the largest Snowmass is said to have it all.
i. Glenwood Hot Springs Pool
The world's largest hot springs swimming pool welcomes visitors year-round. The long pool is filled with thermal mineral water (as well as chlorine) and is perfect for stretching out and really swimming in the water. They also have a fairly big hot pool better for soaking, which lacks chlorine because the temperatures are higher.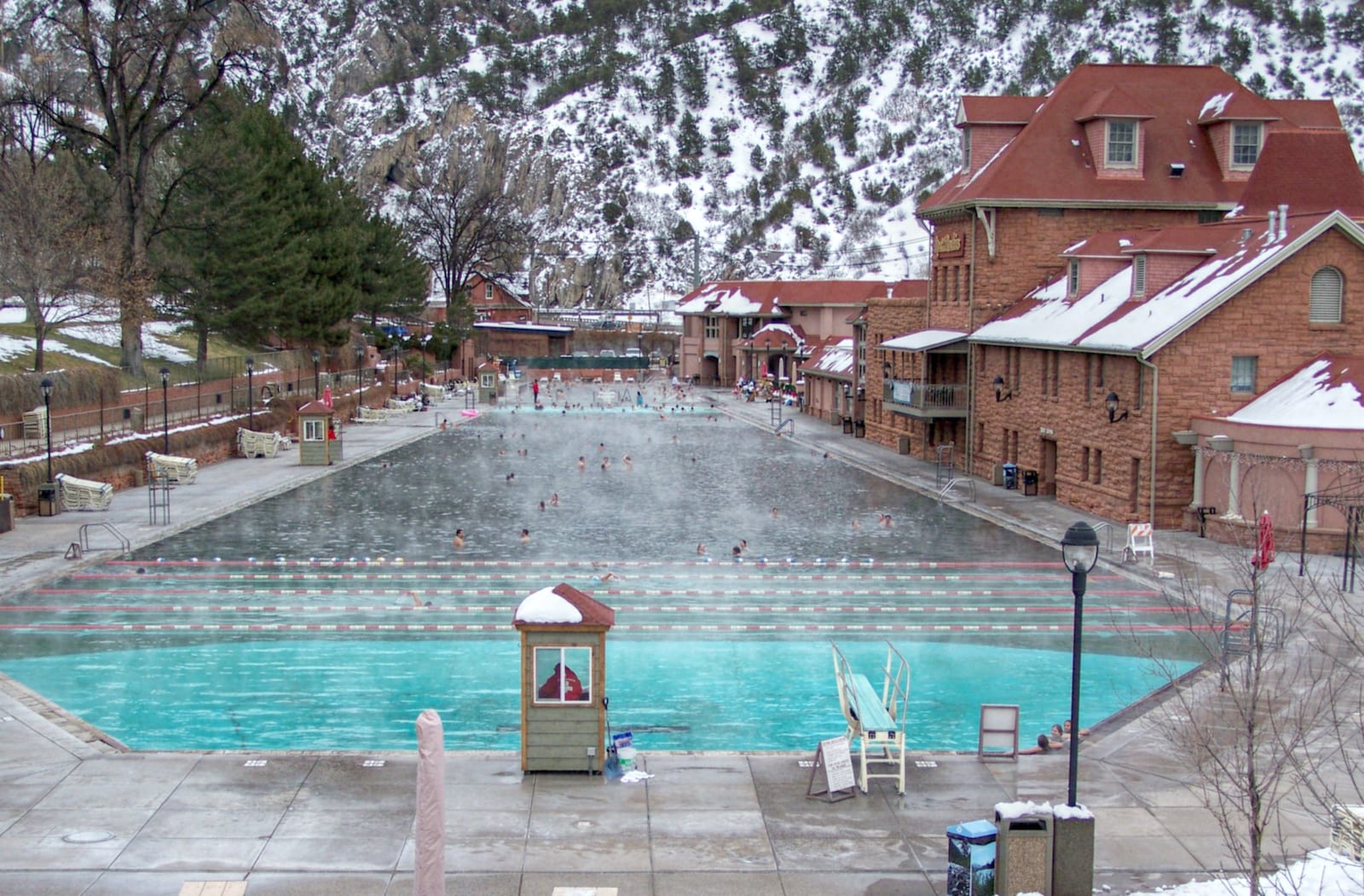 Wintertime at Glenwood Hot Springs Pool in Glenwood Springs, CO. Photo: Loco Steve
In addition to those two soaking options, the Glenwood Hot Springs Resort features a full spa, gym, and lodging on-site. By staying in the 107-room lodge you'll be a stone's throw away from all of downtown Glenwood. Be a part of history at this 130+ year-old resort.
ii. Iron Mountain Hot Springs
With soaking pools overlooking the mighty Colorado River, this local hot spring is the clear favorite for utter relaxation. Because it lacks the massive swimming pool that's so popular with kids, it's a much quieter and more serene time at Iron Mountain Hot Springs.
It features a myriad of hot springs-filled pools, located within walking distance of downtown. Unique to this resort is that they serve alcohol via the on-site Sopris Café, so you can sip on a cold craft brew while you soak. The Bathhouse has locker rooms, water fountains, and a simple souvenir shop where you can pick up a suit or sunscreen should you forget.
iii. Yampah Vapor Caves
Last but not least of the Glenwood resorts is the historic Yampah Vapor Caves, also located in downtown. This one-of-a-kind resort features coed caves that are like wet saunas. Thermal mineral steam rises up in the caves, soothing and draining your body of toxins.
This iconic spa has been operating for over 125 years. You can get a full range of body treatments and massages. Each one comes with an All Day Caves Pass. If you prefer a soak, which the caves are lacking, you can have a private pool filled with hot springs water. It's one of the spa services available.
Granby Ranch (+Winter Park)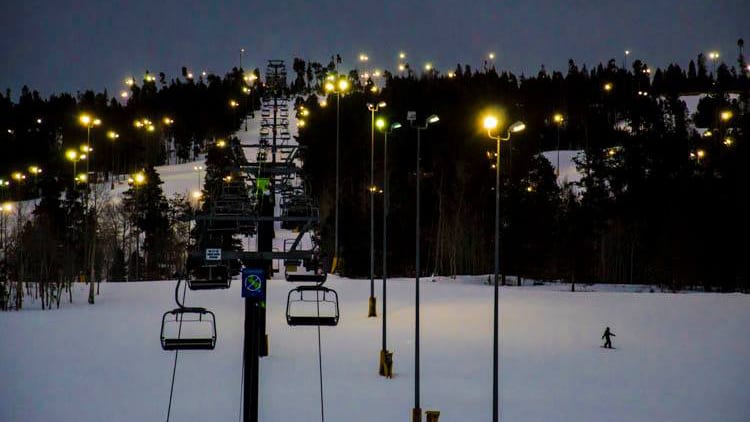 Evening fun in Grand County at Ski Granby Ranch.
Although it's the second smallest ski resort on our list, Ski Granby Ranch is only twenty minutes away from the town of Hot Sulphur Springs and its therapeutic hot springs. This mountain is mostly for beginners and families looking to learn their craft away from the heavy and fast crowds. With more affordable lift tickets and even night skiing, Granby Ranch is a prime place to get some practice in.
The town of Granby is located ten minutes away from the resort in the direction of the hot springs. So if you base in town, it could just be a few minutes' drive west. The town of Winter Park is thirty minutes away, southeast on Highway 40. It has a larger collection of restaurants, shops, and lodging to accommodate. Plus, a badass mountain.
Winter Park Resort is a forty-minute/thirty-mile drive to the Hot Sulphur Springs Resort. For those with their own transportation, this is completely doable. All levels of riders will find stuff they like between Winter Park and Mary Jane mountains, part of the same resort. And it's an easy drive in from Denver and the front range.
i. Hot Sulphur Springs Resort
Although it smells like rotten eggs, this is one of the better hot springs in the state. There is a myriad of pools laid out on a scenic hillside in Grand County. The Colorado River goes by the little community of Hot Sulphur Springs, which just has a handful of shops, restaurants, and accommodations.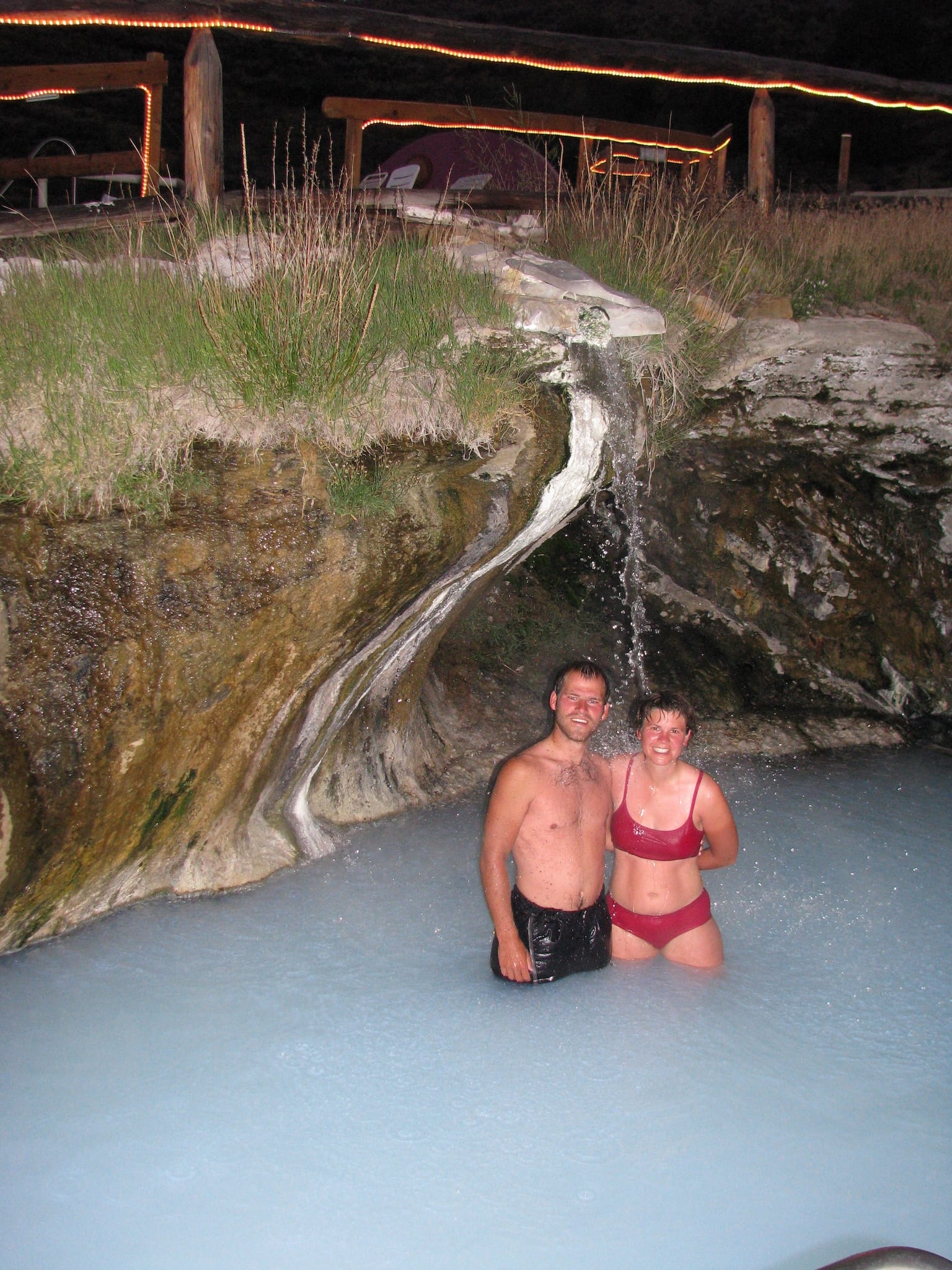 Waterfall pool at Hot Sulphur Springs Resort, Colo. Photo: Eveline
The hot spring pools range in size and temperature, with one larger indoor pool suitable for swimming. These pools have an organic feeling, with some algae and natural gunk floating around. After you've gotten used to the sulfur smell, you'll relax your worries away, spotting wildlife on the hillside.
On top of the hot springs, the Hot Sulphur Springs Resort has a spa and lodging. You'll find the typical range of body treatments and massages, performed by experienced professionals. Lodging consists of motel-style rooms, an 1840s cabin, and an apartment.
Echo Mountain Resort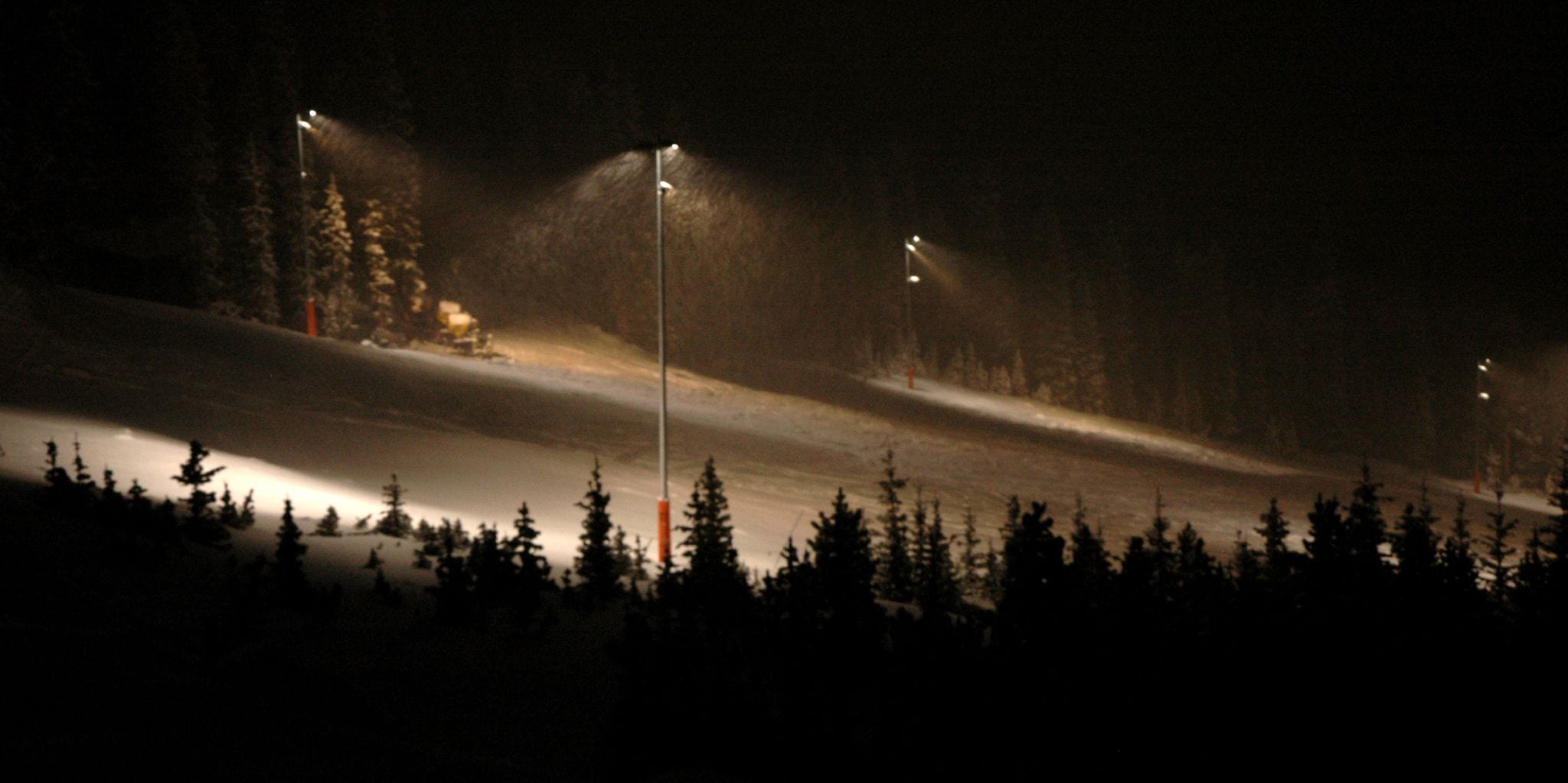 Echo Mountain night skiing. Photo: Rob Lee
This is Denver's closest ski area at only 36 miles, less than an hour's drive. Echo Mountain Resort is by far the tiniest ski resort on the list with only 60 skiable acres. Like Granby Ranch, this is a learners' mountain. Whether you're ripping laps on the chairlift or jibbing on various terrain features, Echo will keep you entertained and improving.
Echo is located thirty minutes south of Idaho Springs, the closest town and home to one historic hot spring. The town is often passed by on I-70 or stopped in for some quick eats or to fill up on gas to/from other ski slopes. So most people miss out on or don't care to check out the following hot springs.
i. Indian Hot Springs
Even if you don't ski Echo Mountain, Idaho Springs is still very close to Denver and the front range. It's the closest hot springs to Denver and the legendary ski resorts of Summit County. Indian Hot Springs is located right off the highway and is walkable from downtown. This convenient resort features several soaking options, plus a spa and lodging on-site.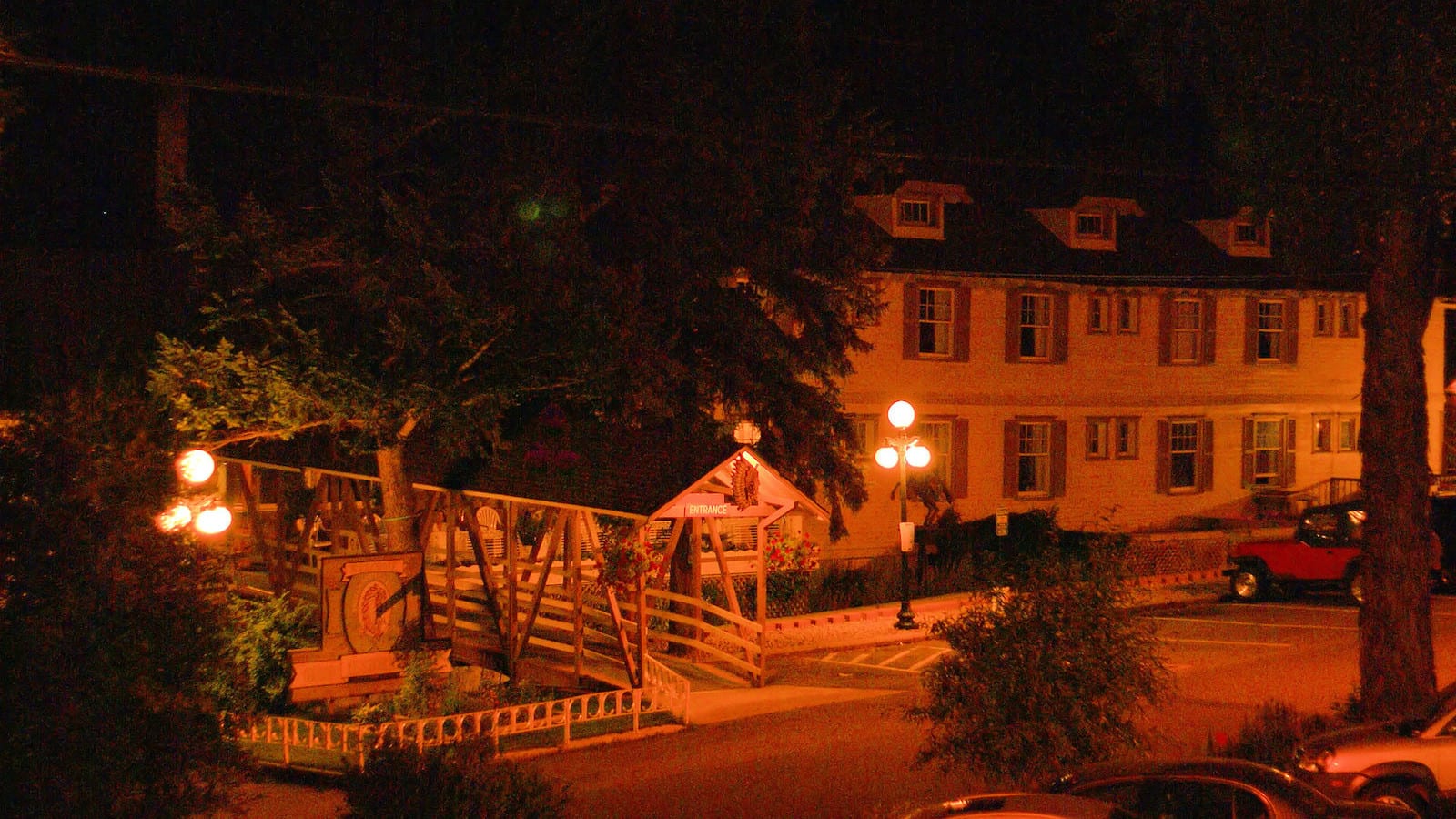 Indian Hot Springs Resort in Idaho Springs, CO. Photo: Ron McDonald
Hot spring features include a fairly large indoor swimming pool, which is housed inside a greenhouse-like rainforest cabana-themed building. It's a little bit unique. They also have both private indoor and outdoor tubs that can be filled with hot springs water and rented by the hour.
What's really special about Indian Hot Springs are the caves that were carved out more than a hundred years ago. There are two separate caves (one for men and one for women) now set up with several soaking pools. These are clothing-optional areas and the only caves of their kind in Colorado.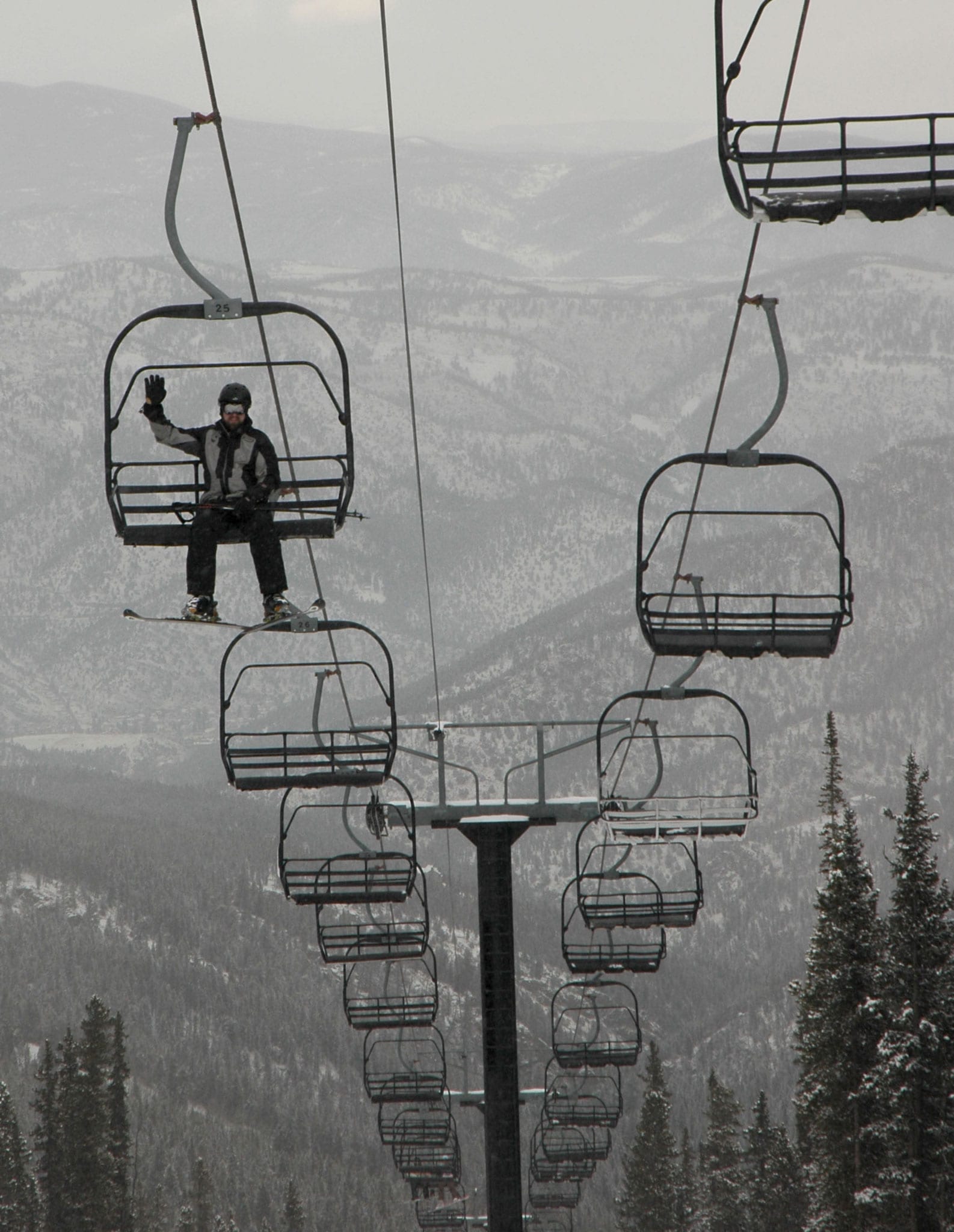 Nearly empty chairlift Echo Mountain Resort. Photo: Rob Lee
That's a roundup of the Colorado ski resorts with hot springs nearby. You can view a full list of the nearest hot springs to all the most popular mountain towns in the state.
One honorable mention is Telluride Ski Resort, hidden in the southwest region of the San Juan Mountains. It's 45 minutes to Ridgway, CO, home to Orvis Hot Springs, as well as an hour to the town of Ouray with its abundance of mineral waters.
After an exciting, long cold day on the slopes, it's time to hit up one of the aforementioned hot springs. No matter which ski resort and pool combo you choose, happy soaking!