Colorado is home to 58 mountain peaks above 14,000 feet, referred to as fourteeners, or as locals call them – 14ers. One of the more popular outdoor activities in Colorado is to climb to the top of a 14er.
Outdoor adventurers of all skill levels will find peaks ranging from "easy" to challenging that require mountaineering experience. For some locals, "bagging a 14er" is a sport. Some claim credits for hiking to all 58 summits, while most others have got a few under their belt.
How many 14ers are in Colorado?
There is a debate about just exactly how many 14ers are in Colorado. According to the Colorado Geological Survey, there are 58 peaks above 14,000 feet, but some say that to qualify as a 14er, it must rise at least 300 feet above the saddle that connects it to the nearest 14er peak (if one is nearby).
Regardless of the debate, one thing is for sure, climbing these majestic beauties is one of the best ways to enjoy Colorado's rugged natural beauty. Below you will find our guide to Colorado's 14ers listed by the mountain range they are found in, plus their elevation, height ranking, and classification. For reference, the highest mountain in Colorado is Mt Elbert at 14,440 feet (4,401 meters).
For reference, there are 647 13ers in Colorado.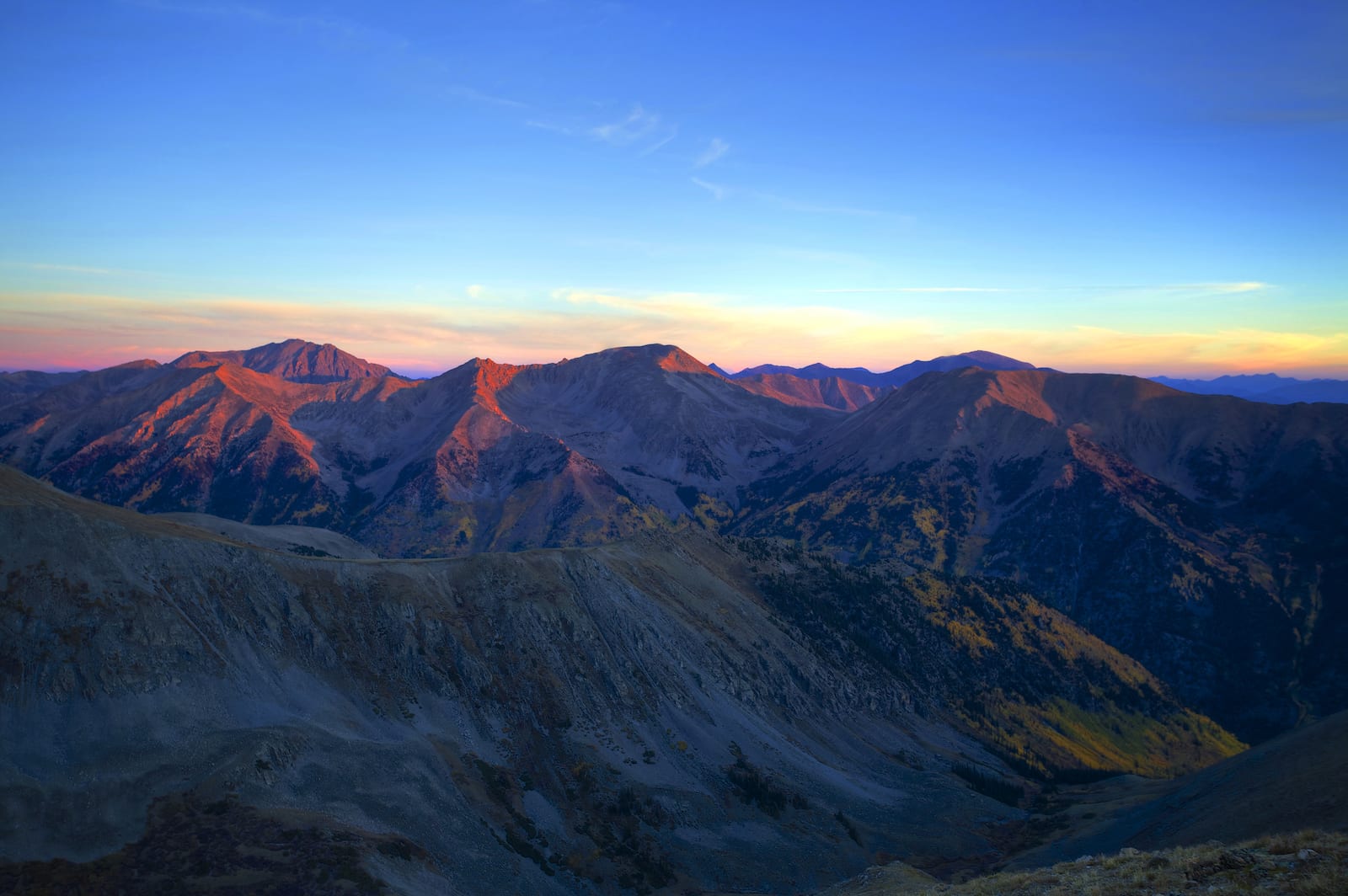 Autumn sunrise from high up on Mt. Belford. Photo: Zach Dischner
We've grouped the Colorado fourteeners into the following mountain ranges:
Front Range
Tenmile Range
Mosquito Range
Sawatch Range
Elk Mountains
San Juan Mountains
Sangre de Cristo Mountains
Note: Elevations, ranking and classes are listed. 1st means it's the highest, 58th, means the lowest 14er peak. Hiking a 14er is not easy, but some are easier than others. Class 1 means easier hiking, while Class 4 means footholds and handholds are used to summit with a warning of extreme exposure.
Front Range 14ers
Grays Peak – 14,270 feet | 10th | Class 1
Torreys Peak – 14,267 feet | 12th | Class 2
Mt. Evans – 14,264 feet | 14th | Class 2
Longs Peak – 14,255 feet | 15th | Class 3
Pikes Peak – 14,110 feet | 32nd | Class 1
Mt. Bierstadt – 14,060 feet | 40th | Class 2
The 14ers of Colorado's Front Range perhaps get the most foot traffic out of all the 14ers in the state simply due to their easy access from large cities like Denver and Colorado Springs, plus their routes are some of the easiest to summit.
The Grays and Torreys peaks are popular 14ers that are often completed on the same day due to their proximity to one another. Reaching the summit to Mt. Evans can be done either by hiking to it or driving up to the peak. The road to Mt. Evans is the highest paved road in the country and is only accessible from Memorial Day through Labor Day.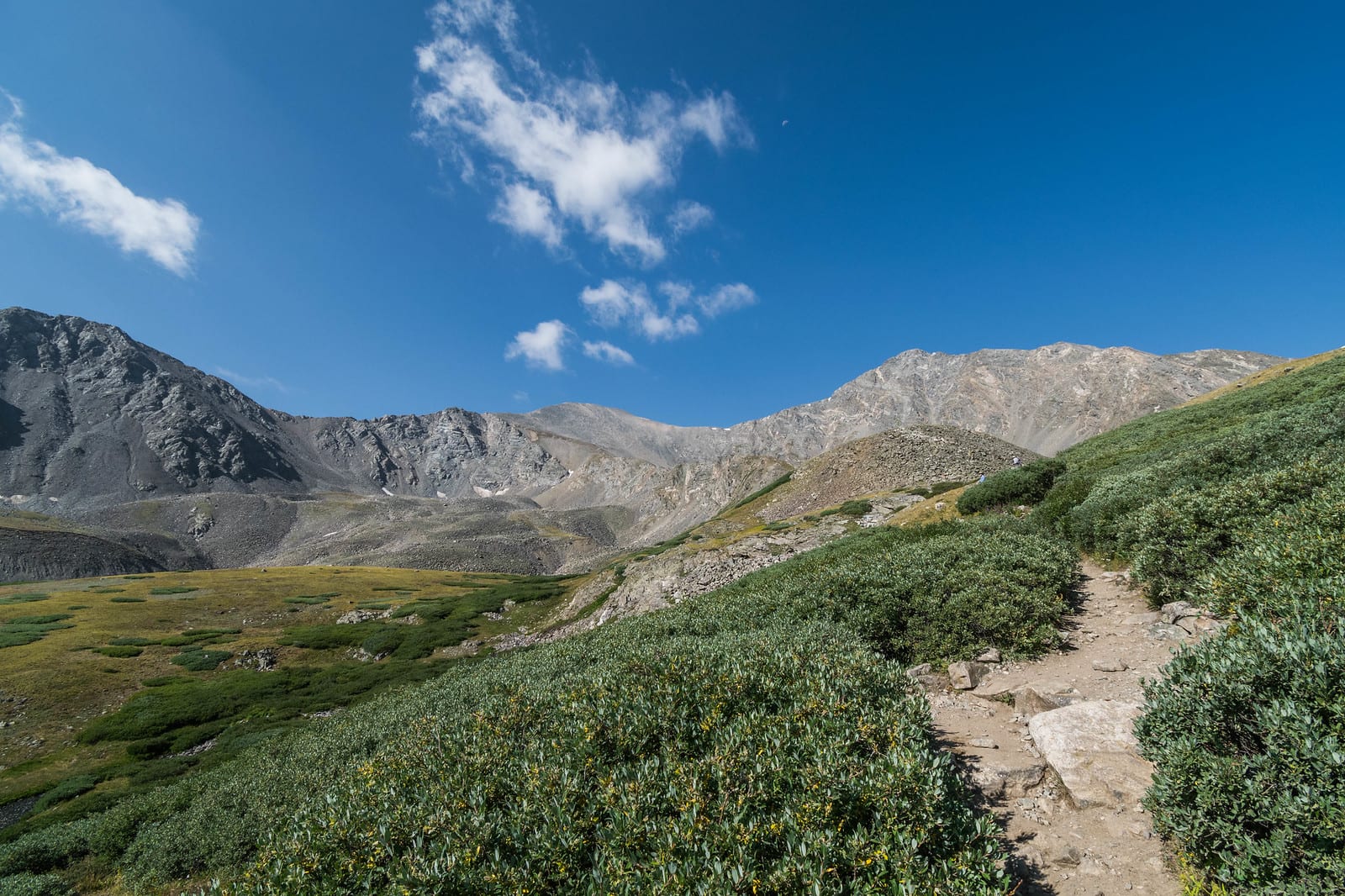 The trail to Grays and Torreys Peaks. Photo by Jason.
Pikes Peak is found 12 miles west of downtown Colorado Springs and was the inspiration for the lyrics of "America the Beautiful." Today, the peak is home to the Pikes Peak Cog Rail and the Summit House, making it one of the most commercialized peaks in Colorado. You can access the summit by way of car, bike, hiking trails, or even a guided tour.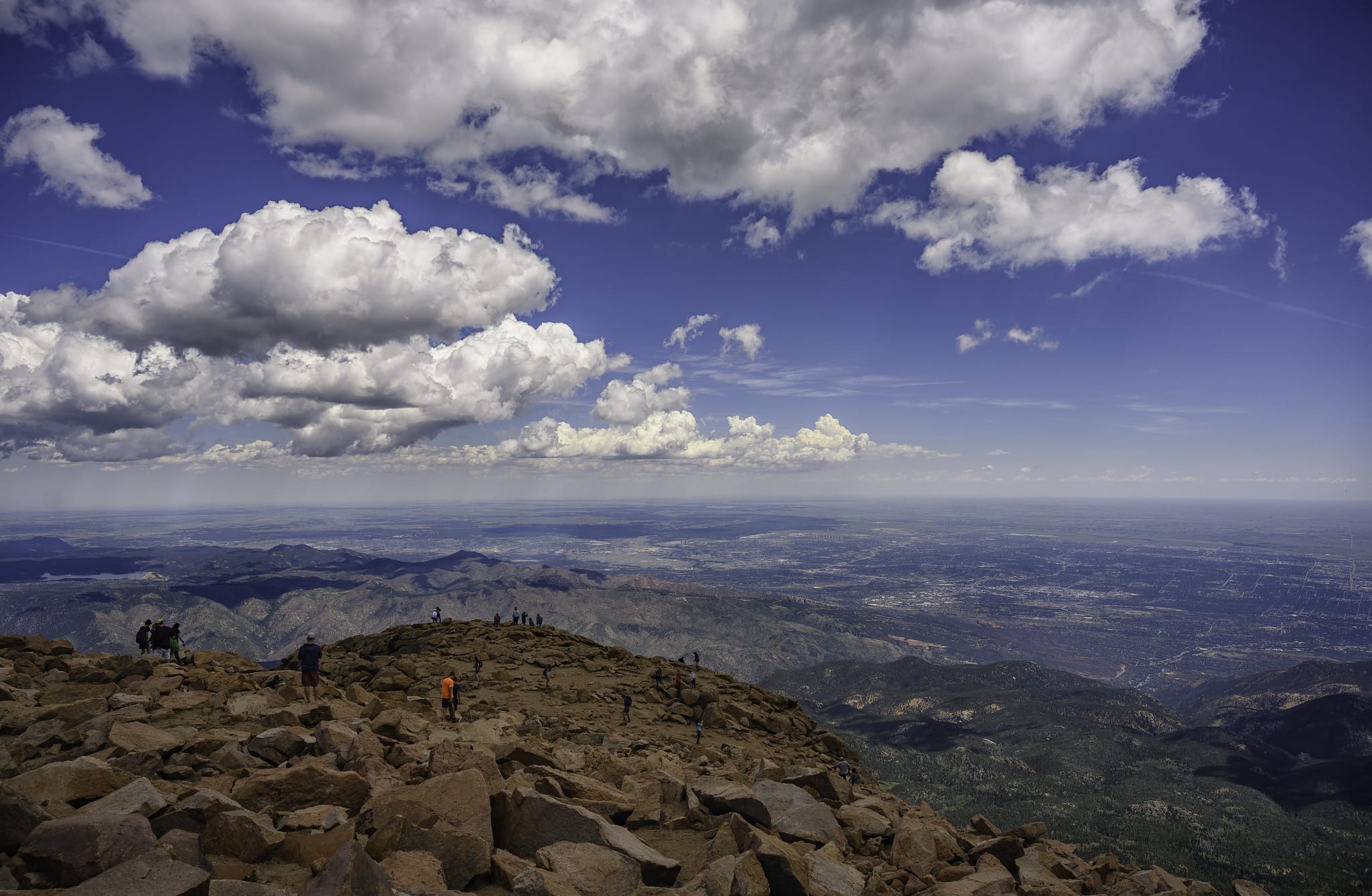 Views from the summit of Pikes Peak. Photo by John Fowler.
Mt. Bierstadt is a popular 14ers for those who live along the Front Range. Roughly an hour and half west of Denver, Mt. Bierstadt is labeled as one of the easiest 14ers in the state due to its accessibility, but don't be fooled, you will climb over 2,700 feet over the course of just three miles to reach its summit.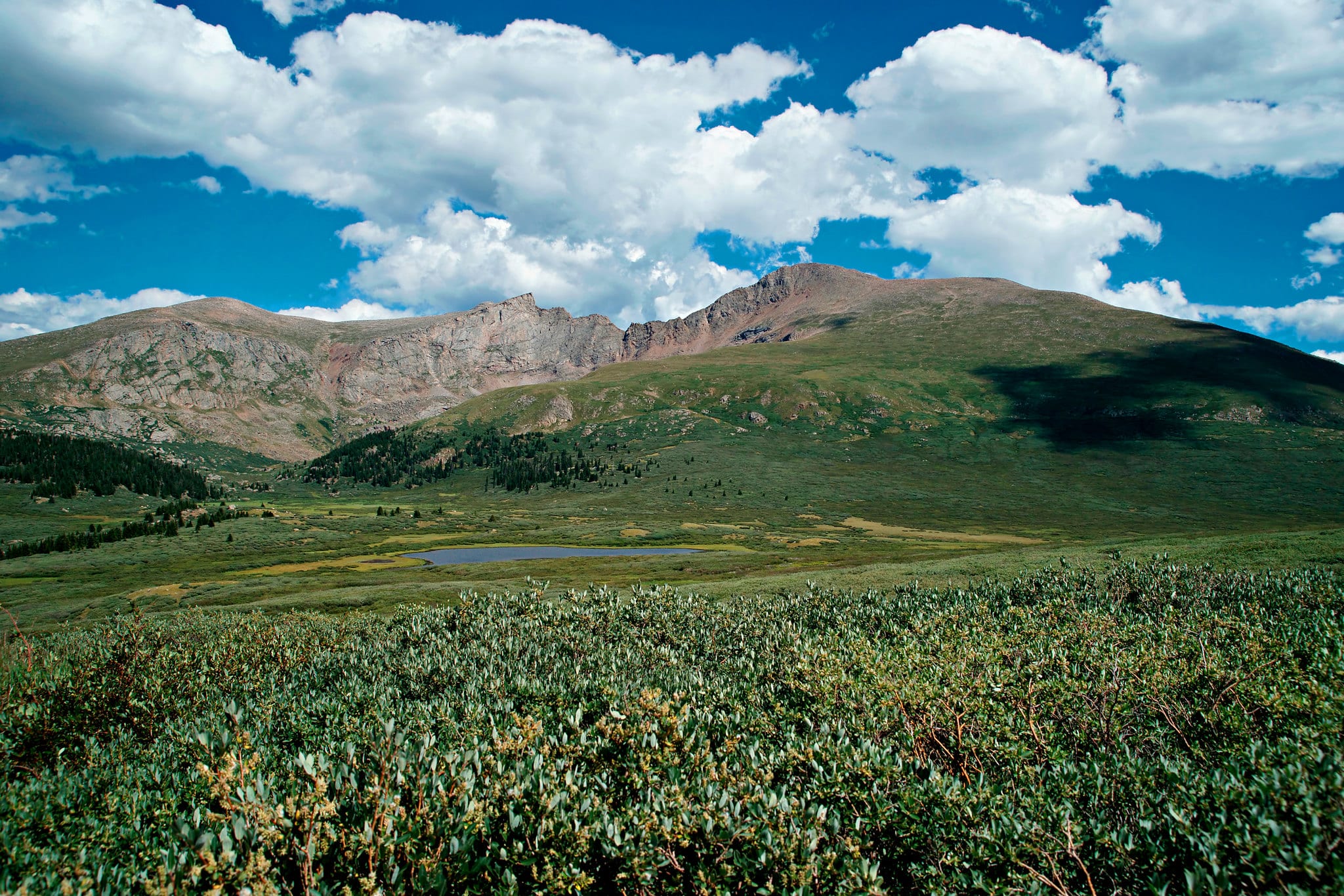 Views of Mt. Bierstadt from Guanella Pass. Photo by Michael Kirsh.
Tenmile Range 14ers
Quandary Peak – 14,265 feet | 13th | Class 1
The Tenmile Range offers just one 14er, Quandary Peak. The entire mountain range spans just west of Breckenridge, beginning at the Tenmile Canyon and connecting to the Mosquito Range. The Continental Divide splits the two mountain ranges in half.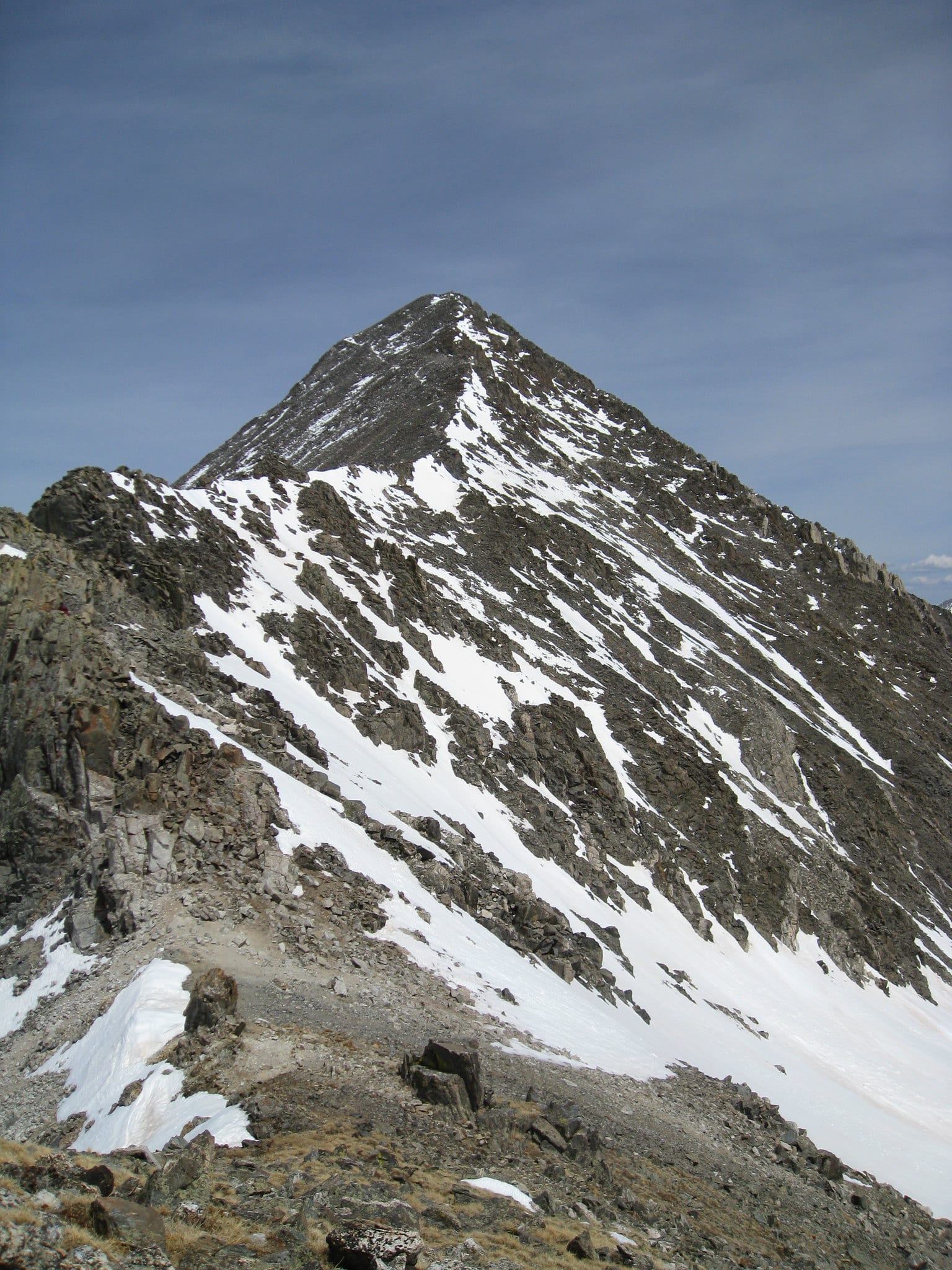 The hike to Quandary Peak. Photo by detroitstylz.
The go-to route to summit Quandary Peak begins at the Quandary Trailhead, just north of Hoosier Pass. The hike is 6.75 miles roundtrip with 3,450 feet in elevation gain.
Mosquito Range 14ers
Mt. Lincoln – 14,286 feet | 8th | Class 2
Mt. Cameron – 14,238 feet | 17th | Class 2
Mt. Bross – 14,172 feet | 23rd | Class 2
Mt. Democrat – 14,148 feet | 30th | Class 2
Mt. Sherman – 14,036 feet | 49th | Class 2
The Mosquito Range runs north-south for about 40 miles in central Colorado. From Summit County to Park County, its staggering mountain peaks can be seen for miles. The mountain range is home to five of Colorado's 14ers. The highest peak within the range is Mt. Lincoln, standing at an elevation of 14,286 feet.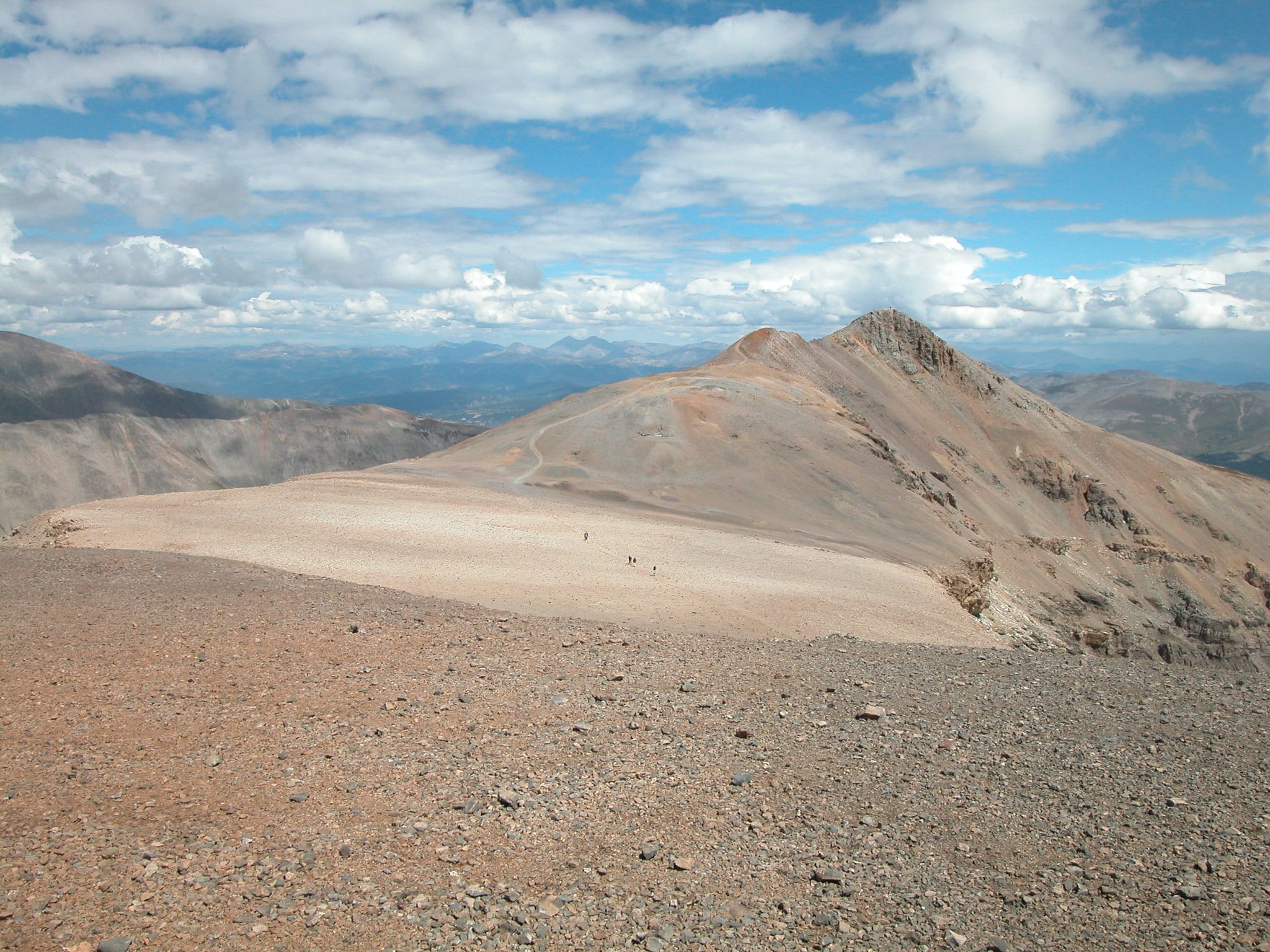 Views of Mt. Lincoln as part of the DeCaLiBron loop. Photo by David Wilson.
Mt. Cameron is one of the peaks that isn't often on the list of Colorado 14ers as it does not drop the required 300 feet of elevation to the saddle between its neighboring peaks – Mt. Democrat and Mt. Lincoln. The summit is part of a well-known route called the DeCaLiBron – where the summits of Mt. Democrat, Mt. Cameron, Mt. Lincoln, and Mt. Bross are all reached within the same route. The most popular trail to start this route is the Kite Lake Trailhead.
Sawatch Range 14ers
Mt. Elbert – 14,433 feet | Tallest peak | Class 1
Mt. Massive – 14,421 feet | 2nd | Class 2
Mt. Harvard – 14,420 feet | 3rd | Class 2
La Plata peak – 14,336 feet | 5th | Class 2
Mt. Antero – 14,269 feet | 11th | Class 2
Mt. Shavano – 14,229 feet | 18th | Class 2
Mt. Princeton – 14,197 feet | 19th | Class 2
Mt. Belford – 14,197 feet | 20th | Class 2
Mt. Yale – 14,196 feet | 22nd | Class 2
Tabeguache Peak – 14,155 feet | 27th | Class 2
Mt. Oxford Peak – 14,153 feet | 28th | Class 2
Mt. Columbia – 14,073 feet | 37th | Class 2
Missouri Mountain – 14,067 feet | 38th | Class 2
Mt. of the Holy Cross – 14,005 feet | 56th | Class 2
Huron Peak – 14,003 feet | 57th | Class 2
The Sawatch Range is located in Central Colorado, running north and south, spanning for nearly 100 miles and forms a part of the Continental Divide. This mountain range contains 15 out of the 58 14ers in the state, with one of them being the highest peak – Mt. Elbert. All 15 of the peaks are located within the Leadville and Salida area. Aside from its prestigious 14ers, the range also contains more than 300 peaks above 12,000 feet. The range also includes notable mountain passes, Independence Pass and Cottonwood Pass.
Most peaks in the Sawatch Range are easier summits, residing in either class 1 or 2. Its mountains are high and massive, yet seemingly gentle and less jagged than most others. Major peaks include the second and third tallest in the lower 48 – Mt. Elbert and Mt. Massive. Due to their proximity to one another, they make for a great multiple summit trip.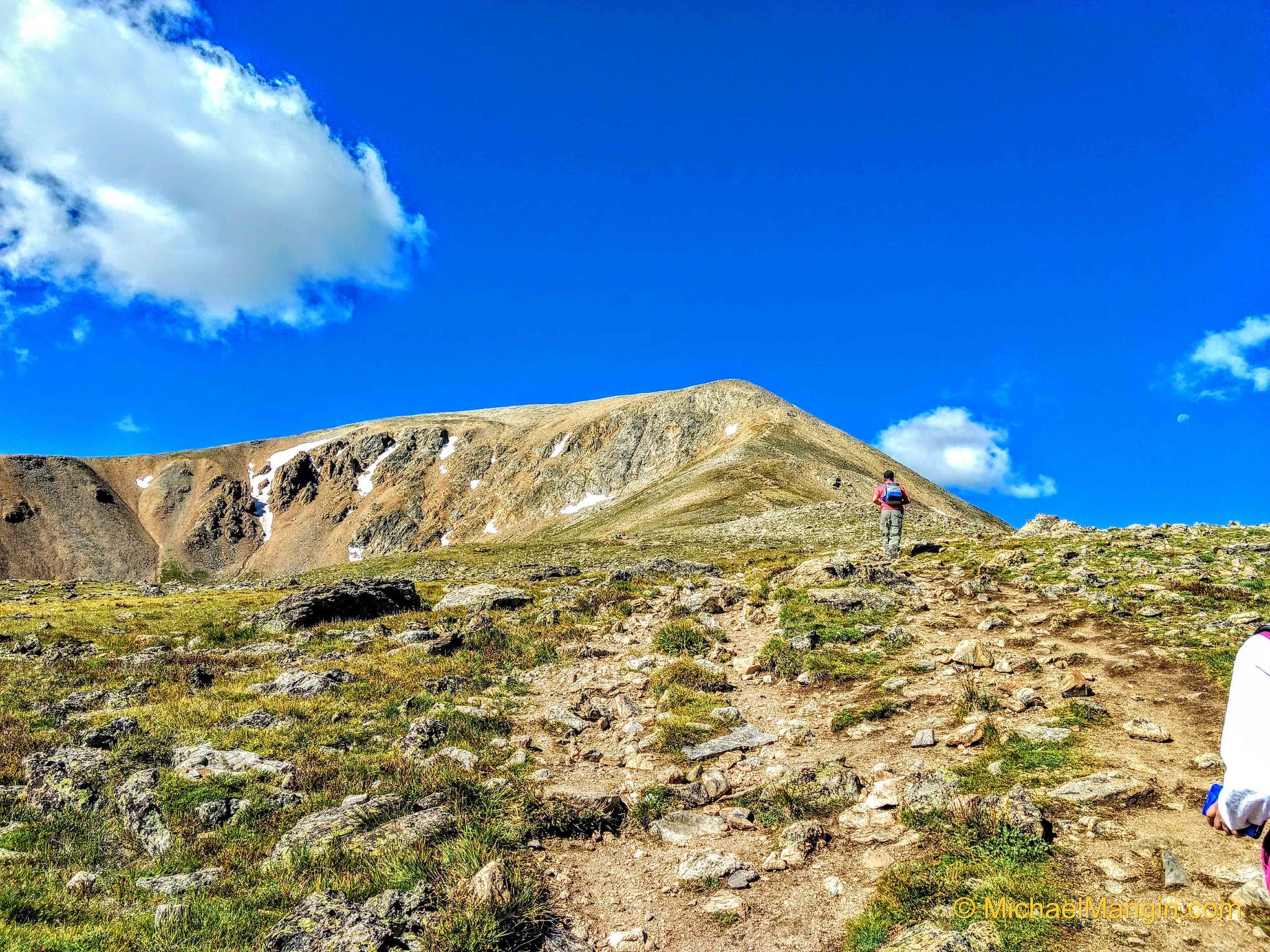 Hiking to the summit of Mt. Elbert. Photo by Michael Mangin.
A popular collection of mountain peaks, known as the Collegiate Peaks, reside within the Sawatch mountain range. Getting the name from such crests as Mt. Harvard, Mt. Yale, and Mt. Princeton, the Collegiate Peaks also consist of La Plata Peak, Mt. Columbia, Mt. Oxford, Mt. Belford, Mt. Missouri, and Huron Peak. La Plata Peak is the fifth highest in the state and offers three different routes, with the standard route being the Northwest Ridge.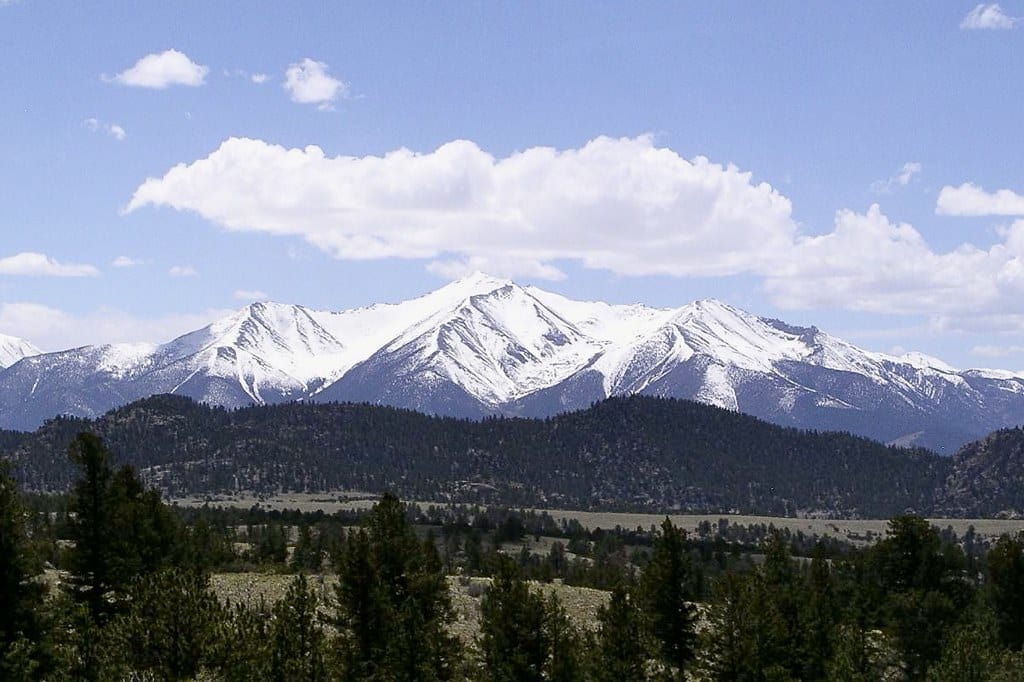 View of the Collegiate Peaks from afar. Photo by Brit Allen.
Elk Mountains 14ers
Castle Peak – 14,265 feet | 9th | Class 2
Maroon Peak – 14,156 feet | 26th | Class 3
Capitol Peak – 14,130 feet | 31st | Class 4
Snowmass Mountain – 14,092 feet | 33rd | Class 3
Conundrum Peak – 14,060 feet | 41st | Class 2
Pyramid Peak – 14,018 feet | 51st | Class 4
North Maroon Peak – 14,014 feet | 55th | Class 4
The Elk Range contains some of Colorado's most rugged, steep peaks. Divided into three regions, the Elk Mountain Range encompasses the well-known Maroon Bells Wilderness, the Raggeds Wilderness, and the West Elk Wilderness. Its scenic beauty isn't the only thing outdoor enthusiasts seek in the Elk Mountains, but the prestige of climbing Colorado's most impressive and challenging peaks.
Six of the 58 14ers in the state reside in the Elk Mountains, with three of them ranking as class 4s. Part of what makes access to these mountains and its peaks hard is the abundance of snowfall combined with narrow and steep valleys. Summits are hardly ever tempted during the winter, with summer even bringing challenges to those who seek to conquer some of the roughest mountains in the state.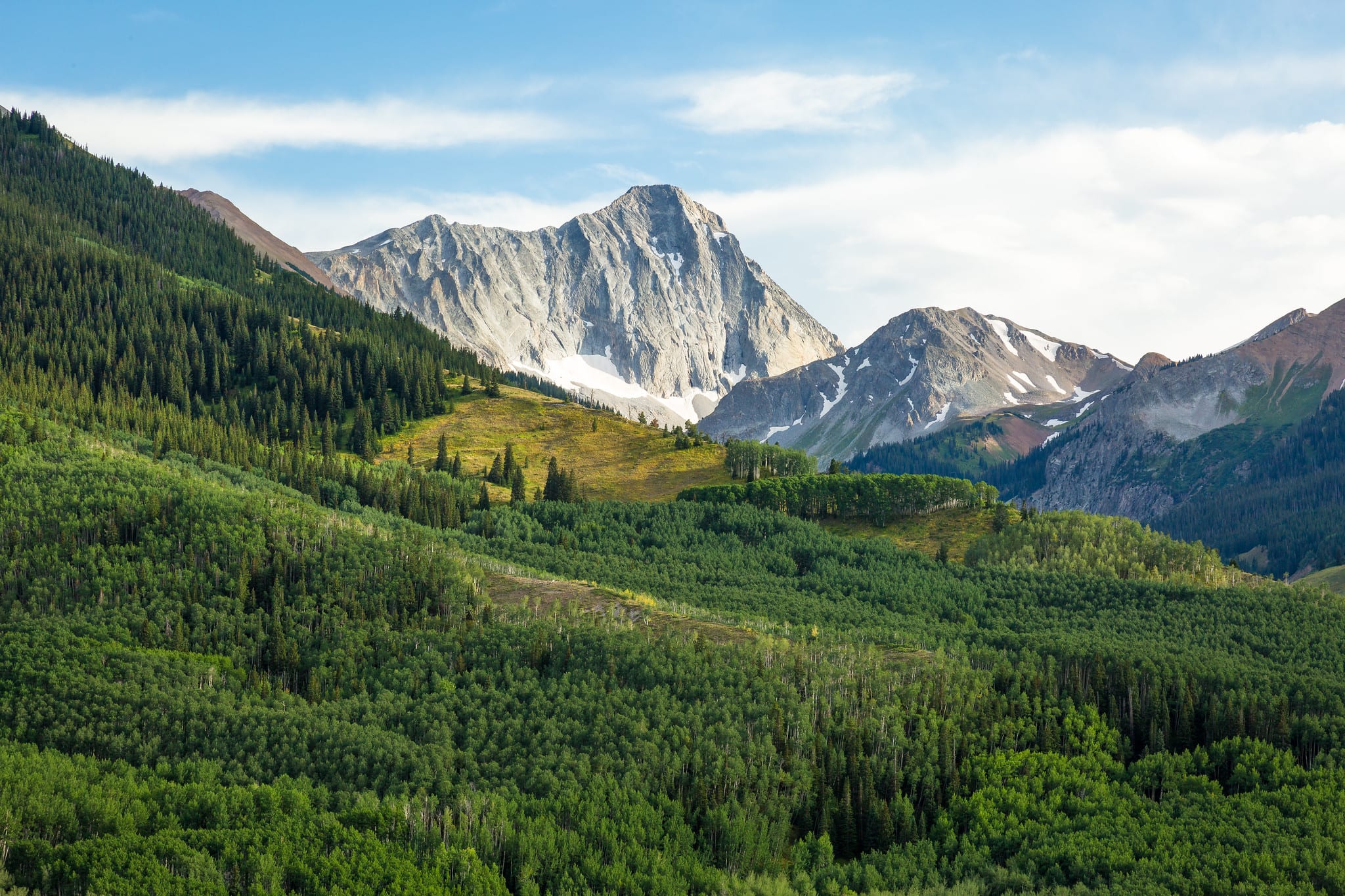 Views of Capitol Peak. Photo by Tom Wilberding.
Capitol Peak is the highest and most prominent peak in the Elk Mountains. It is also known as the most difficult 14er in Colorado. Its standard knife-edge route, exposed ridges, steep rock faces, and sharp summit add to its difficulty and even more so when bad weather strikes.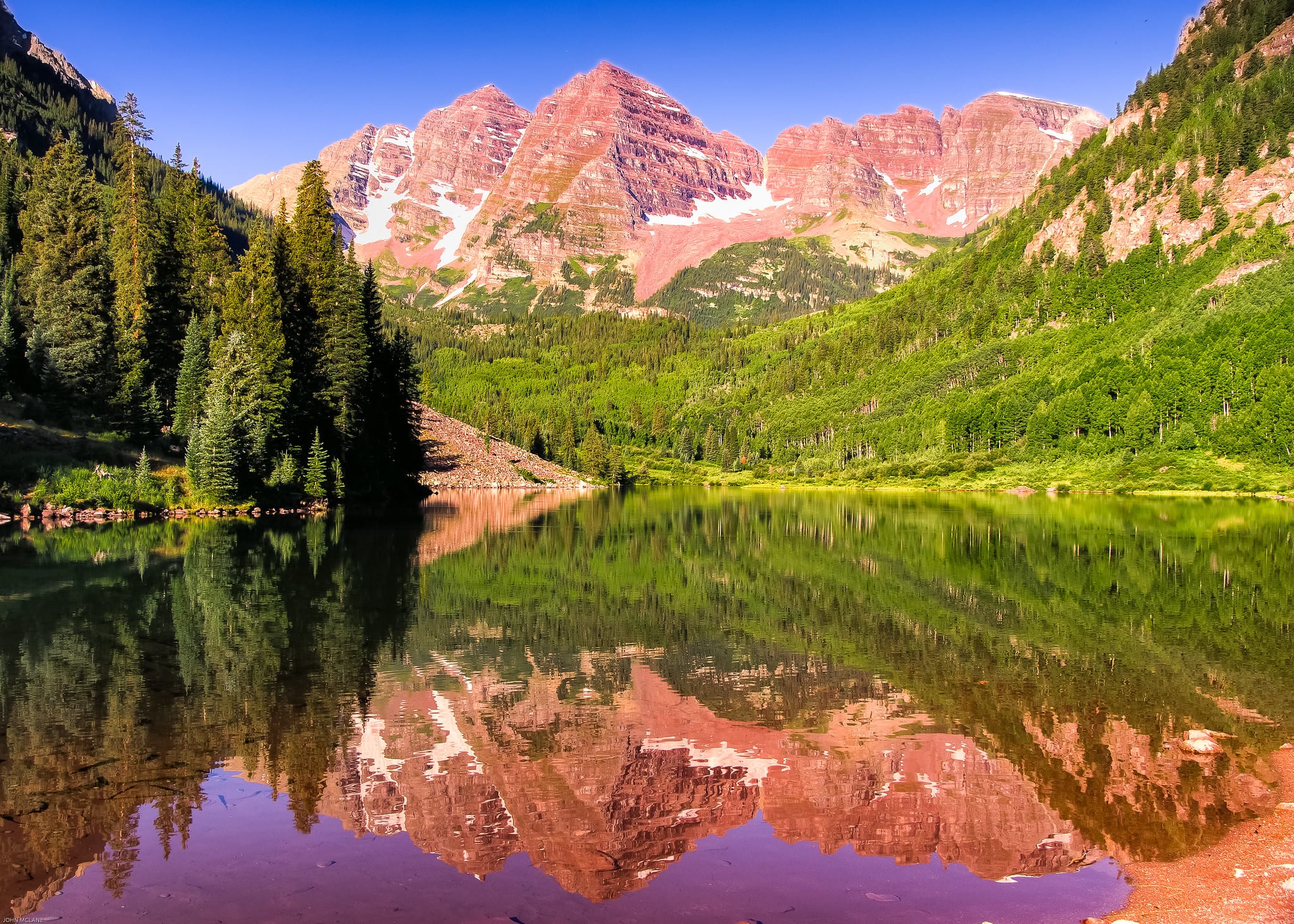 The Maroon Bells: Maroon Peak and North Maroon Peak. Photo by enjoisKate8.
Maroon Peak and North Maroon Peak make up what is widely known as the Maroon Bells. Resting about 12 miles southwest of Aspen, the Maroon Bells are a popular photo opportunity and one of the more popular summits in Colorado. The Maroon Bells – Snowmass Wilderness, reside in the White River National Forest.
San Juan Mountains 14ers
Uncompahgre Peak – 14,309 feet | 6th | Class 2
Mt. Wilson – 14,246 feet | 16th | Class 4
El Diente Peak – 14,159 feet | 25th | Class 3
Mt. Sneffels – 14,150 feet | 29th | Class 3
Windom Peak – 14,087 feet | 34th | Class 2
Mt. Eolus – 14,083 feet | 35th | Class 3
Sunlight Peak – 14,059 feet | 42nd | Class 4
Handies Peak – 14,048 feet | 43rd | Class 1
North Eolus – 14,039 feet | 47th | Class 3
Redcloud Peak – 14,034 feet | 50th | Class 2
Wilson Peak – 14,017 feet | 52nd | Class 3
Wetterhorn Peak – 14,015 feet | 53rd | Class 3
San Luis Peak – 14,014 feet | 54th | Class 1
Sunshine Peak – 14,001 feet | 58th | Class 2
The San Juan Mountains span southwestern Colorado and into northwestern New Mexico. The San Juan and Uncompahgre National Forests make up most of the San Juan Mountain Range, with its western slope the Continental Divide. Known for its rich minerals, popular mining towns are found here, such as Telluride, Ouray, Creede, Silverton, and Lake City.
Divided into seven wilderness areas, the massive San Juan Mountain Range includes the Weminuche, South San Juan, Mount Sneffels, La Garita, Uncompahgre, Lizard Head, and Powderhorn wilderness areas. 14 of Colorado's 58 14ers are found in the San Juan Mountain Range, ranging from class 1 to class 4. The Uncompahgre Peak is the highest within the mountain range and offers broad slopes with a large summit.
Redcloud Peak is a great 14er to start with and pairs well with Sunshine Peak for an epic 11-mile route through the San Juans. For an even tougher challenge, add in Handies Peak for a three-summit route that can be done in one day.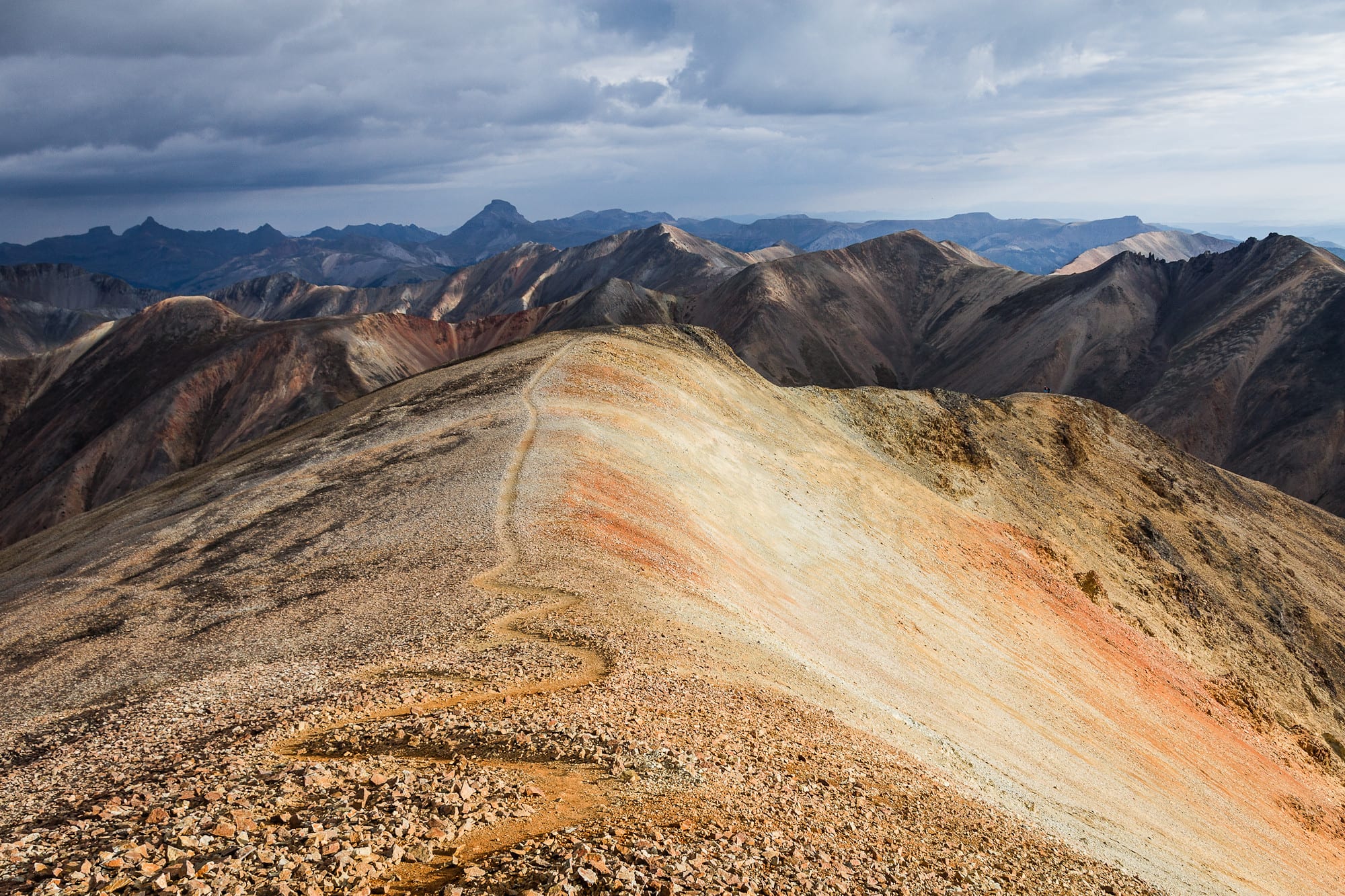 Views from the summit of Redcloud Peak. Photo by Pierce Martin.
The El Diente to Mt. Wilson traverse is another popular multiple summit route in the San Juans. It's considered one of the easiest of the four in Colorado. The traverse can either be approached from the Rock of Ages Saddle or the Navajo Lake Trailhead.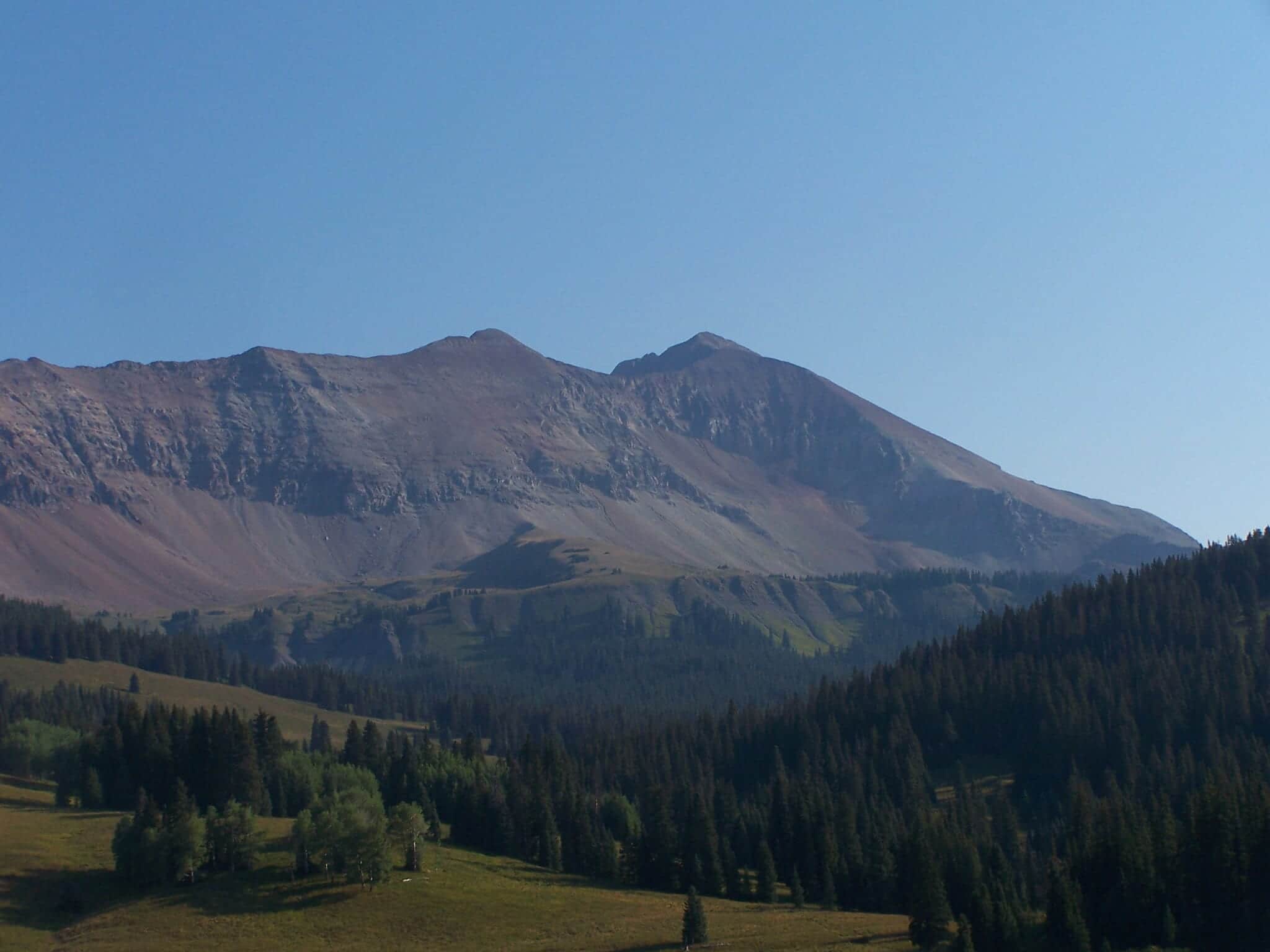 Views of Mt. Wilson from afar. Photo by Bryant Olsen.
Sangre de Cristo Range 14ers
Blanca Peak – 14,345 feet | 4th | Class 3
Crestone Peak – 14,294 feet | 7th | Class 3
Crestone Needle – 14,197 feet | 21st | Class 3
Kit Carson Peak – 14,165 feet | 24th | Class 3
Challenger Peak – 14,081 feet | 36th | Class 2
Humboldt Peak – 14,064 feet | 39th | Class 2
Culebra Peak – 14,047 feet | 44th | Class 2
Mt. Lindsey – 14,042 feet | 45th | Class 3
Ellingwood Point – 14,042 feet | 46th | Class 2
Little Bear Peak – 14,037 feet | 48th | Class 4
The Sangre de Cristo mountains, which translates to the "blood of Christ," are a rugged and narrow range in southern Colorado. Forming a high ridge that severs the San Luis Valley, the Sangres (as locals call them), extend from Poncha Pass to La Veta Pass.
Home to 10 of Colorado's 14ers, the Sangres also offer the most class 3 routes, making it one of the more challenging mountain ranges. As some of the most dramatic peaks in the state, they shoot out from the surrounding valley floor with barely any slope.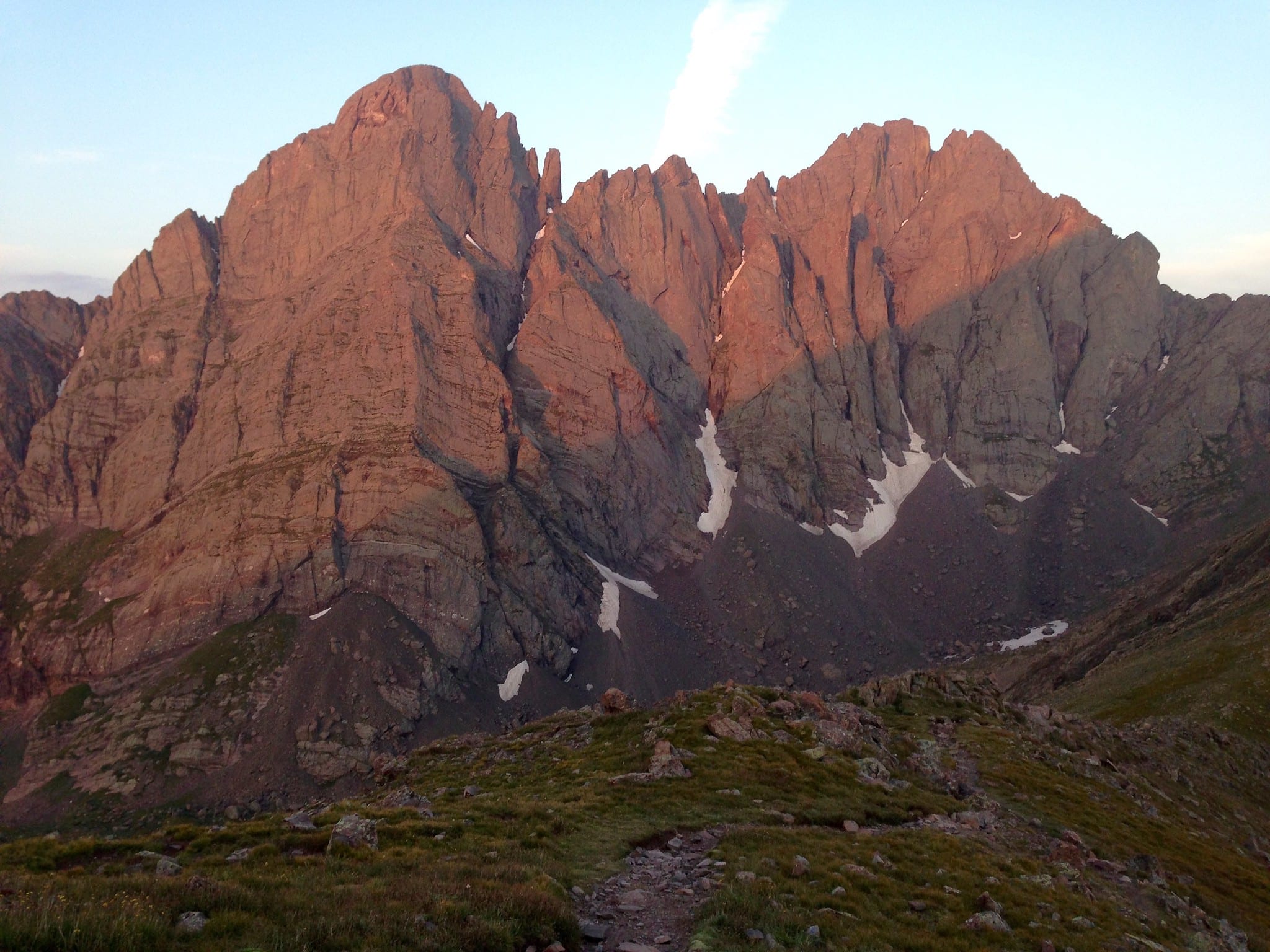 Crestone Needle and Crestone Peak as seen from Humboldt's west ridge. Photo by Andrew Davidoff.
Two of the other well-known Colorado traverses reside in the Sangre de Cristo Range – the Crestone Peak/Crestone Needle and Little Bear/Blanca. The Crestone Peak to Needle traverse is a famous class 3 and 4 traverse-route. The route in reverse is popular within the climbing community due to the rappel down the crux wall. Its shortest approach from the South Colony Lakes Trailhead.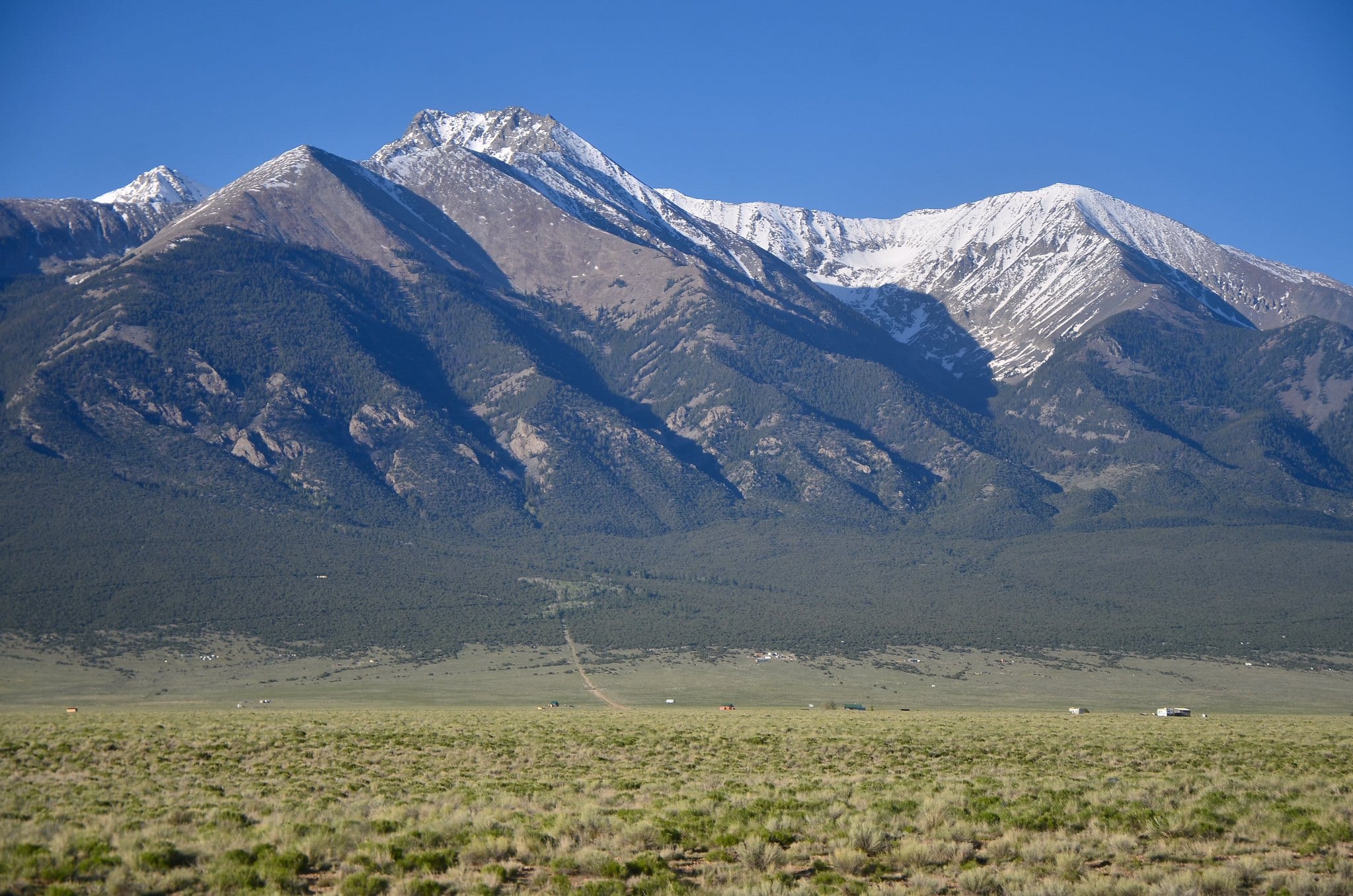 Views of Blanca Peak from the San Luis Valley. Photo by Tony Fernandez.
A mile-long ridge separates the summits from Little Bear to Blanca Peak (the 4th highest in the state). This traverse is one of the more beautiful routes in Colorado, and yet one of the more challenging with most of the traverse at class 3 and 4, with some areas approaching even class 5. Start at Lake Como Road, making a 12-mile loop to complete.
For more detailed knowledge on Colorado's 14,000+ mountains, including routes, trip reports, and peak conditions, visit 14ers.com. Will this be the year you add another (or your first) 14er to your hiking resume?!