The overall gambling scene in New Jersey has been constantly growing, with multiple factors contributing to a state industry, which has generated Gross Casino Gaming Revenue of $5.21 billion for 2022. This marked the state's highest revenue amount ever since 2006. Online gambling has been a major form of gaming, which had a significant impact on the market growth of New Jersey's gambling sector.
The Garden State legalized online gaming in 2013, and with the revoke of the PASPA law in 2018, online sports betting has also joined the ever-growing gambling sector in the state. In fact, it was New Jersey that had a key role in the process of revoking the federal ban on sports betting in the US. At the end of 2022, New Jersey saw a total of 31 online casinos and 23 online sportsbooks legally operating to cater to the wagering needs of players and punters in the state.
In 2022, the online gambling sector in New Jersey saw a 21.6% year-over-year surge in revenue, generating about $1.66 billion. That said, for the same period, there was a decline in the revenue generated through online sports betting as there was a new, strong competitor appearing on the scene. Neighboring New York had just introduced online sports wagering in January 2022, affecting the revenue growth of both land-based and online sports betting in the Garden State.
With that said, the online gambling market in New Jersey is expected to reach new heights by the end of 2023 and projections for upcoming years show huge growth as the state lawmakers agreed on the extension of legal internet gambling for another five years instead of only two.
Online Gaming Sector in New Jersey
New Jersey has been at the forefront of online gambling in the United States. In 2013, the state legalized online gambling, including casino games and poker, becoming the first state to do so. Since then, online gambling has grown steadily in popularity in New Jersey.
The US gambling market continues to grow, reaching revenue of $54.9 Billion in 2022. Online gambling has become a huge contributor to the record high numbers, with many of the states introducing online sports betting since the revoking of the PASPA law in 2018. The state which led the PASPA repeal process was New Jersey. Five years after the ban on sports betting was removed, the Garden State remains the hub of online gambling in the states.
However, there was a brief moment of concern, with state lawmakers initially considering extending New Jersey's legal online gambling with only two years. As that would mean a huge setback for the gambling industry in New Jersey, the two-year extension was expanded. In June 2023, due to the strong opposition of state casinos and politicians who support the online gambling regulation in New Jersey, the extension period was amended to five years.
In 2018, New Jersey was the state that first called for the removal of the ban on sports betting in the US, aiding the repeal of PASPAIn 2019, the state's overall gambling revenue hit its best value since 2010, reaching $3.5 billion. What was very impressive was the significant contribution of online gambling and online sports betting to the massive revenue growth that year, with these verticals accounting for 22.5% of New Jersey's total gaming revenue for 2019.In 2021, the state of New Jersey collected a total of $485.7 million in non-horse racing gambling tax, with online casinos and mobile sports betting accounting for 15% ($205.2 million) and 13% ($96.2 million) of that amount, respectively.In 2023, the NJDGE declared that the state's online casino operations reported revenues of $152.9 million in January, a 10.9% improvement year-over-year compared to 2022's revenue of $137.8 million.In May 2023, the Garden State reported Internet Gaming Win of $161.4 million, which was generated by virtual casinos and their partners. This number reflected growth of 18.7% compared to $136.0 million generated in the prior period. The May 2023 revenue shows a 14.7% year-to-date growth with Internet Gaming Win reported by casinos and their partners reaching $781.5 million. Meanwhile, the reported amount for the prior year-to-date period was $681.4 million.The daily average revenue for May 2023 was $5.2 million, a monthly drop of just 1.7%, which is a good result for that time of the year.The biggest contributor to the increase in digital gaming revenue of the Garden State in 2023 was Borgata Hotel Casino & Spa and its online partners, which also included BetMGM.Other major actors in the impressive online gaming revenue surge were Golden Nugget Atlantic City and Resorts Digital. In February, both operators were able to bring the state of New Jersey revenues of over $35 million, with Golden Nugget, along with Stardust Casino and BetRivers reporting revenue of $36.5 million, while Resorts Casino, Mohegan Sun Casino, Poker Stars and DraftKings Casino recorded a February revenue of $36 million.Borgata Hotel Casino & Spa, Golden Nugget Atlantic City, and Resorts Digital accounted for 79% of the state's online gaming revenue for February.Internet Gross Revenue in NJ between January 2023 and May 2023, by operatorsJanuaryFebruaryMarchAprilMayPremier Entertainment AC, LLC dba Bally's Atlantic City$5,140,854.00$5,939,768.00$6,742,392.00$6,678,622.00$6,767,140.00BORGATA HOTEL CASINO & SPA$40,798,884.00$39,736,855.00$43,912,679.00$43,180,552.00$44,012,713.00CAESARS INTERACTIVE ENTERTAINMENT$8,272,822.00$8,309,315.00$8,427,026.00$8,726,139.00$8,311,892.00GOLDEN NUGGET ATLANTIC CITY$40,596,496.00$36,541,825.00$42,709,332.00$41,652,196.00$43,467,840.00HARD ROCK ATLANTIC CITY$6,047,782.00$5,619,451.00$6,832,131.00$5,712,960.00$5,725,676.00OCEAN CASINO RESORT$3,937,612.00$3,794,936.00$4,605,260.00$4,719,115.00$3,428,650.00RESORTS DIGITAL GAMING, LLC$40,222,698.00$35,964,598.00$44,867,111.00$41,696,819.00$41,680,670.00TROPICANA CASINO AND RESORT (ONLINE)$7,849,669.00$6,686,218.00$7,615,894.00$6,570,588.00$8,017,343.00Total:$152,866,817.00$142,592,966.00$165,711,825.00$158,936,991.00$161,411,924.00Internet casino gaming revenue in the Garden State is taxed at an effective rate of 17.5%, which is comprised of a 15% state gaming tax and a 2.5% community investment obligation.Online sports betting in New Jersey is taxed at 14.25%, with sportsbook operations further subjected to a 0.25% federal excise tax, which applies to wagering handle.
New Jersey lawmakers' initial decision to extend online gaming in the Garden State for only two years was extremely surprising for state gambling businesses as 2023 figures continued showing a steady increase. April numbers showed online sports betting revenue gained 43.6% to $72.3 million, while online gaming surged 16.3% to $158.9 million. Internet gaming in April experienced a slight slump of 4.1% compared to the March revenue of $165.7 million but was still accounting for a second all-time high.
In 2022, the online casino gambling sector in New Jersey marked a 21.6% year-over-year growth, reaching revenue of $1,662,695,774.
NJ Online Casino Revenue 2022 by monthsJanuary$137,849,716.00February$129,976,091.00March$140,655,053.00April$136,883,398.00May$136,016,462.00June$133,138,803.00July$136,701,316.00August$131,438,183.00September$135,245,169.00October$147,176,744.00November$146,159,346.00December$151,455,493.00Total Online Sports Betting Revenue$1,662,695,774.00In 2021 online gaming revenue in New Jersey accumulated to $1,366,929,642, marking a 4.09% year-over-year growth, compared to the results from the previous year.NJ Online Casino Revenue 2021 by monthsJanuary$103,771,312.00February$93,810,486.00March$113,669,187.00April$107,749,608.00May$108,170,558.00June$107,053,938.00July$118,685,095.00August$113,230,701.00September$122,594,948.00October$127,001,705.00November$117,980,098.00December$133,212,006.00Total Online Sports Betting Revenue$1,366,929,642.00In 2020, New Jersey's online gaming sector generated revenue of $970,364,366, marking a 101.8% year-over-year growth when compared to results from the previous year.
While the land-based gambling scene in New Jersey was going through a decline during the COVID-19 outbreak, the online gambling sector saw a huge surge since everyone was forced to stay at home and brick-and-mortar casinos were not allowed to operate due to health precautions. In February 2020, online gaming generated almost $52 million. By May, digital gambling revenue reached almost $86 million.
NJ Online Casino Revenue 2020 by monthsJanuary$55,086,590.00February$51,987,768.00March$64,821,903.00April$79,959,826.00May$85,939,942.00June$84,939,942.00July$87,492,952.00August$87,772,968.00September$87,633,697.00October$93,451,523.00November$91,827,190.00December$99,450,065.00Total Online Sports Betting Revenue$970,364,366.00In 2019, the constantly developing online gaming market in New Jersey marked another successful year with a year-over-year growth of nearly 75% for December.NJ Online Casino Revenue 2019 by monthsJanuary$33,594,391.00February$31,748,726.00March$39,134,380.00April$36,582,934.00May$38,340,638.00June$38,058,244.00July$39,315,731.00August$39,315,731.00September$41,138,257.00October$45,214,555.00November$49,137,906.00December$49,327,957.00Total Online Sports Betting Revenue$480,909,450.00In December 2019, the online gambling market size in New Jersey marked a 70% growth, which surpassed significantly the 2018 growth of 40% in December.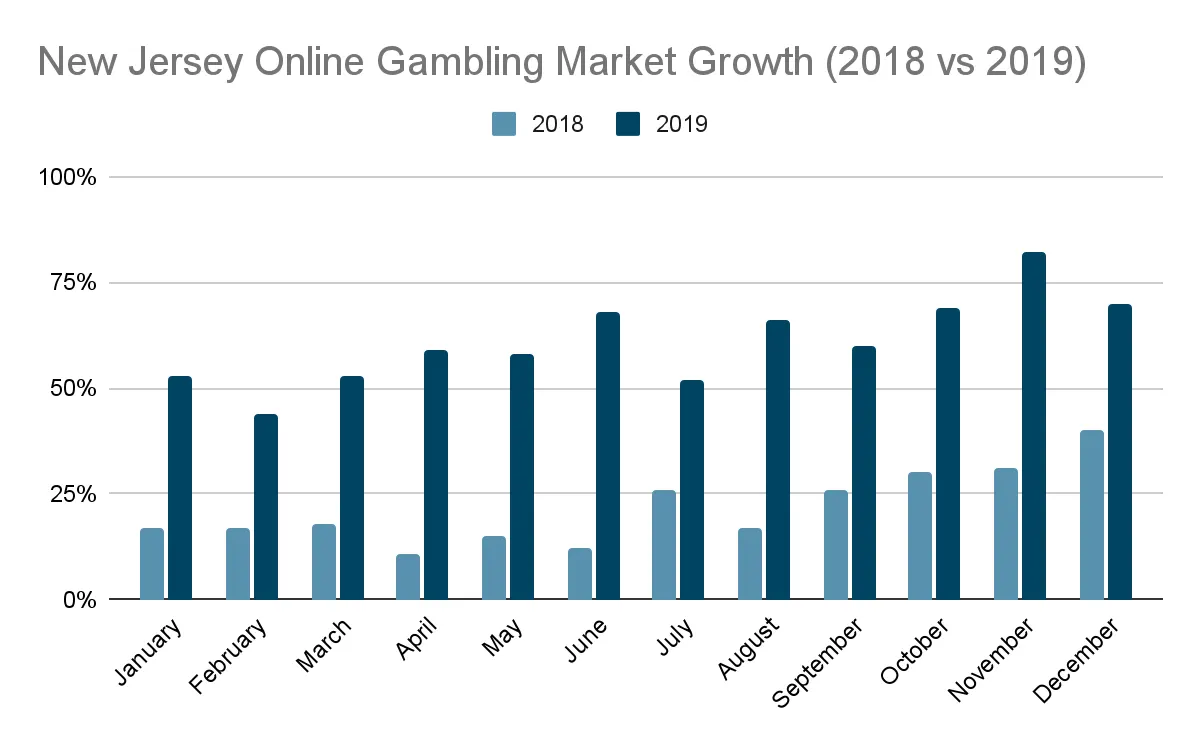 New Jersey Online Sports Betting Revenue
According to gambling analytics firm Eilers & Krejcik, the two leading sports betting operators in New Jersey for 2023 are FanDuel and DraftKings. The two gambling companies hold over 70% of the national gambling market.In March 2023, New Jersey sportsbooks held 9.1%, with the Garden State collecting $11.9 million in sports betting taxes. Online bets accounted for more than 95% of these taxes.According to the New Jersey Division of Gaming Enforcement, in March 2023, basketball was the sport that contributed the most for the high completed handle. The basketball bets placed during the March Madness brough the monthly basketball handle to $534 million, which is more than half of the total sports betting handle of $1.026 billion for March.In 2019, the overall sports betting revenue in New Jersey for December was a little over $550 million, with the vast majority of wagers, 88%, placed online.NJ Online Sports Betting Revenue 2019 by monthsJanuary$15,531,916.00February$12,851,283.00March$24,260,149.00April$16,556,115.00May$13,719,559.00June$6,938,369.00July$13,907,494.00August$19,200,391.00September$29,500,108.00October$38,704,731.00November$27,795,448.00December$25,491,278.00Total Online Sports Betting Revenue$244,456,841.00In 2020, despite the halt on land-based sports betting due to COVID-19 restrictions, the online sports wagers brought the state of New Jersey revenue of $359,953,804. Compared to the revenue of $244,456,841 in 2019, the numbers in 2020 show a 47% year-over-year growth.NJ Online Sports Betting Revenue 2020 by monthsJanuary$46,654,045.00February$15,935,022.00March$13,279,234.00April$2,681,871.00May$10,076,784.00June$12,773,543.00July$26,942,871.00August$34,327,709.00September$39,710,924.00October$55,167,842.00November$43,713,332.00December$58,690,627.00Total Online Sports Betting Revenue$359,953,804.00Following the global pandemic period, the online sport betting market in New Jersey had a great recovery, generating revenue of $740,545,016, which indicated a 105.7% year-over-year growth compared to $359,953,804 in 2020.NJ Online Sports Betting Revenue 2021 by monthsJanuary$74,136,826.00February$42,853,819.00March$56,485,521.00April$47,631,275.00May$48,136,935.00June$62,163,105.00July$50,676,328.00August$48,189,140.00September$71,160,967.00October$76,951,970.00November$106,927,615.00December$55,231,515.00Total Online Sports Betting Revenue$740,545,016.00While New Jersey was enjoying a steady online sports betting market increase in the past few years, in 2022, the sector went through a slump of -2.3% as the neighboring state of New York launched mobile sports betting in January 2022.NJ Online Sports Betting Revenue 2022 by monthsJanuary$58,807,907.00February$32,317,162.00March$61,174,061.00April$46,323,137.00May$58,384,258.00June$35,839,588.00July$42,993,117.00August$61,375,785.00September$88,186,253.00October$74,778,243.00November$77,362,067.00December$85,992,852.00Total Online Sports Betting Revenue$723,534,430.00By May 2023 the online sports betting industry in New Jersey marked an year-to-date growth of 39.5%, surpassing the amount generated for the same period the previous year.NJ Online Sports Betting Revenue January – May, 2023January$69,931,023.00February$53,726,354.00March$87,446,553.00April$69,267,032.00May$78,122,519.00The overall New Jersey sports betting revenue in May surged 39% to $61.5 million, putting an end to its long decline that lasted five months. Some 95% of the NJ sports betting handle in May was placed online.
FanDuel, PointsBet, and SuperBook generated a total of $43.8 million, showing an increase from $38 million generated in April. Meanwhile, brands like William Hill and BetRivers brought the state $2 million in monthly online sports betting revenue, marking a surge compared to $1.1 million for the previous month.
The only betting brands that did not record revenue increase in May were DraftKings and Fox Bet, with both of them bringing the state revenue of $18.9 million, while the figures for the previous month amounted to $20.2 million.
Esports in New Jersey
It was not until 2021 that New Jersey's sports betting law was amended to recognize esports approved by the Division of Gaming Enforcement as a form of sports betting, which can be offered by licensed New Jersey sportsbooks. Currently, bettors who reside within the Garden State can place bets on esports like League of Legends European Championship (LEC), League of Legends Championships Series (LCS), Overwatch League (OWM), CS:GO, and eNASCAR.
As esports enjoyed plenty of popularity during the pandemic, it comes as no surprise that this industry has helped the growth of online gambling in the Garden State. The top video games played during major esports tournaments include Dota 2, Fortnite, CS:GO, League of Legends (LOL), and Arena of Valor. The cumulative amount of prize money these five games have spread across tournament winners amounts to more than $500 million.
Up until 2022, esports was considered as a form of casino game and bets on this category were allowed to be offered only by online casinos licensed to operate in New Jersey. In 2022, the Esports Entertainment Group was given a betting license by New Jersey's licensing authority, which started an esports wagering revolution.
While several video games can fit the category of esports titles that allow betting, there are three major games that got the most attention from New Jersey bettors. According to Uplatform, about 44% of bets made by punters in New Jersey were placed on CG:GO, 31% on DOTA 2, 16% on League of Legends, and the remaining 9% include wagers made on other esports titles.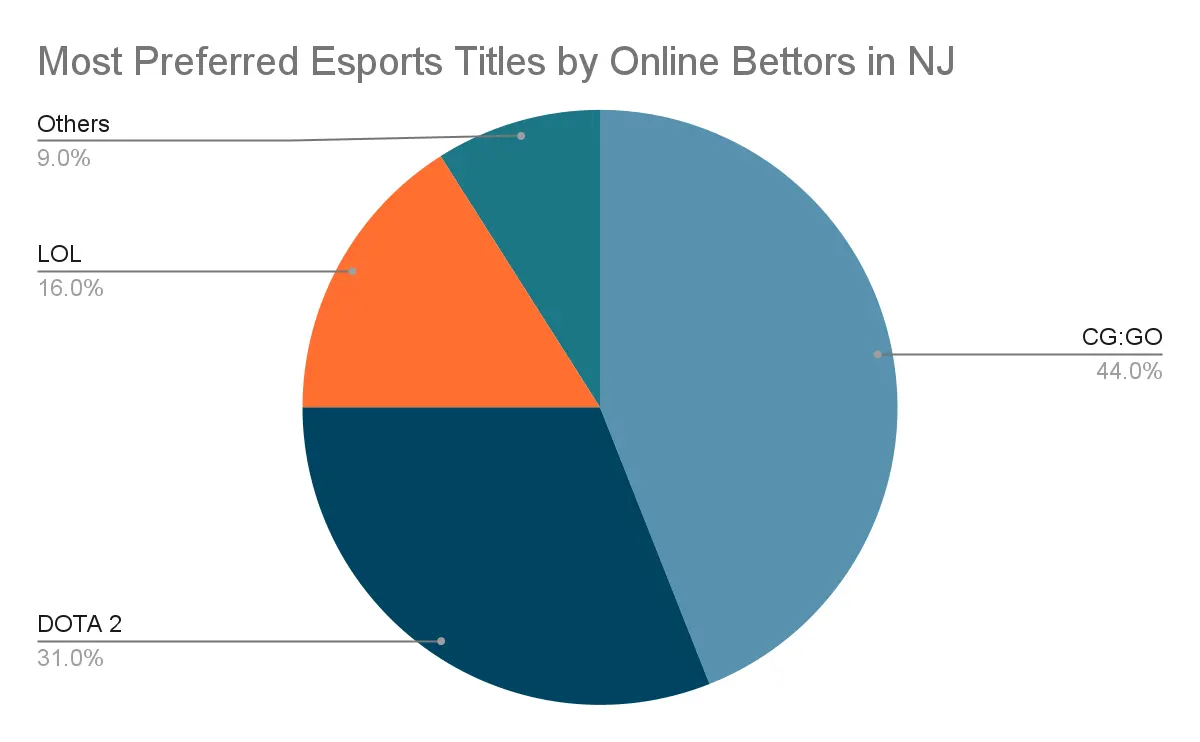 Unfortunately, in November 2021, Esports Entertainment Group's esports-focused betting website Vie.gg was shut down across three major locations, including New Jersey. While this was a step backwards, punters based in New Jersey can still find odds on major esports events, including CG:GO, DOTA 2, and LOL tournaments.
New Jersey Online Poker Revenue
If we take a look at the NJ Division of Gaming Enforcement's data released for online poker revenue results from 2022, we will see that there was an 8.5% slump year-over-year. While this may sound bad, these numbers were not that surprising as the Garden State was simply returning to its usual pre-pandemic levels. With no more restrictions leading to a boom in online poker activities, the three licensed poker operators in the state generated enough to surpass the pre-covid revenue rates but did not improve the results from 2021.
In 2020, the online poker revenue in March reached a record high of $3.6 million, with the shutdown of land-based casinos bringing the state's three licensed online poker operators a significant boost of wagers. The months that followed showed even better revenue numbers, with April online poker generating New Jersey revenue of $5.1 million. By July, the numbers were showing revenue of $4.8 million, after which, the rate was slowly starting to get to its pre-pandemic figures.In 2021, brick-and-mortar poker rooms began reopening but the online poker revenue managed to continue keeping a rate higher than the one before the pandemic. The majority of the months brought the state of New Jersey revenue between the $2.3 million and $2.4 million range.The annual revenue that all seven poker websites in New Jersey generated in 2021 amounted to $29,923,710. Apart from 2020, this was the best overall yearly revenue rate in the Garden State ever since online poker was legalized in 2013.The three operators that have obtained online poker licenses to operate in New Jersey are Borgata, Resorts Atlantic City, and Caesars Atlantic City. They operate a total of seven online poker websites, which include Partypoker, BetMGM, PalaPoker (Borgata), PokerStars (Resort Atlantic City), WSOP, and 888poker (Caesars Atlantic City).In 2022, online poker in New Jersey generated revenue of $27,374,502, which indicated a drop of almost 8.5% year-over-year, with the 2021 numbers showing revenue of $29,923,710.NJ Online Poker Revenue Difference Between 2021 and 2022Month2021 Online Poker Revenue2022 Online Poker RevenueJanuary$2,744,291.00$2,557,789.00February$2,480,910.00$2,227,560.00March$2,699,921.00$2,531,163.00April$2,406,541.00$2,254,932.00May$2,407,871.00$2,311,562.00June$2,209,374.00$2,193,791.00July$3,072,756.00$2,277,272.00August$2,443,414.00$2,206,653.00September$2,491,901.00$2,274,285.00October$2,432,361.00$2,233,692.00November$2,196,525.00$2,133,529.00December$2,337,845.00$2,172,274.00Total Revenue Amount$27,374,502.00$29,923,710.00Year-Over-Year Growth-8.50%March 2023 monthly revenue generated through online poker websites in New Jersey internet amounted to less than $955,000.
Effect of Nearby State Competition on New Jersey's Online Gambling Revenue
For several years, the online gambling industry in New Jersey was enjoying stable growth thanks to the stricter gambling rules in the state of New York. Up until 2022, the Empire State did not allow online or mobile sports betting, with punters being forced to head to the few land-based casinos that offered sports betting in order to place their bets. That was the reason why many New Yorkers preferred to drive to the nearby New Jersey state and place their bets online as they could choose from a myriad of mobile sportsbooks and place their bets on the go.
In 2019, it was estimated that some 25% of the mobile wagering in New Jersey was all done by New Yorkers who were crossing the state border.With New York Governor Andrew Cuomo well aware of the huge number of New Yorkers crossing the border just to place sports bets on a New Jersey territory, he declared his support for the launch of mobile and online sports betting in New York.
By January 2022, New York had already launched its mobile betting market, which put an end to many out-of-state bets in New Jersey. This had an enormous impact on New Jersey's sports wagering revenue, which started to decline in 2022. The availability of legal mobile sports betting means New Yorkers no longer had to cross state lines to place their wagers.
In 2022, New Jersey kept its rank as the state with the most sports betting wagers placed by punters since the repeal of PASPA in 2018. However, if we take a look at the wagers placed only in 2022, New York took the lead with a total sports betting handle of $14,655,604,152. Meanwhile, New Jersey's total handle for that year was $8,787,414,017.
States Ranked by Sports Betting Wagers Placed Since 2018 (up until 2022)New Jersey$31,570,491,826.00Nevada$27,723,080,786.00Pennsylvania$17,348,076,597.00Illinois$16,597,597,363.00New York$15,019,150,749.00Indiana$10,071,140,268.00Colorado$9,144,348,841.00Michigan$7,917,820,319.00Virginia$7,114,851,026.00Tennessee$6,013,390,107.00States Ranked by Sports Betting Wagers Placed in 2021New Jersey$7,572,075,666.00Nevada$6,042,573,006.00Illinois5452309352Pennsylvania5040145825Indiana$3,366,396,374.00Michigan2950754391Colorado2910637299Virginia2392572691Tennessee$2,022,900,000.00New York$176,346,682.00With New York launching online sports betting in January 2022, it managed to snag the first place from New Jersey and became the state with most sports bets placed in 2022.States Ranked by Sports Betting Wagers Placed in 2022New York$14,655,604,152.00New Jersey$8,787,414,017.00Illinois$7,693,214,546.00Nevada$6,898,552,881.00Pennsylvania$5,707,348,213.00Colorado$4,111,067,122.00Indiana$4,036,459,030.00Virginia$3,893,060,312.00Michigan$3,821,150,517.00Tennessee$2,970,645,584.00As for the iGaming sector in the states, New Jersey manages to stay relatively in the top positions, with revenue of $161,411,924 for May 2023, ensuring the Garden State the second place. The state which brought the highest iGaming revenue for that month was Pennsylvania, generating Gross Gaming Revenue of $170,389,942 for May 2023.US Online Gambling Revenue by StatesStateGGR – May 2023Monthly ChangeAnnual ChangePennsylvania$170,389,942.00-1.40%24.60%New Jersey$161,411,924.00-1.70%18.70%Michigan$150,559,371.00-8.60%18.20%Connecticut$32,791,705.00-0.30%56.80%West Virginia$11,639,353.00-13.60%36.80%Delaware$1,231,752.00-7.80%12.10%US Total$528,024,047.00-3.90%22.60%In 2022, Pennsylvania's online gambling market became the largest one in the US, slightly surpassing New Jersey's yearly revenue of $1.66 billion by amassing revenue of $1.67 billion for 2022.
For the period between 2014 and 2019, New Jersey saw a recurring annual growth of online gambling revenue of about 25%. Due to the launch of online sports betting and the COVID-19 pandemic, there was a huge surge of new users, contributing to a significant growth of the online gambling market in the Garden State. However, as there are fewer new users to recruit nowadays, in 2022, the iGaming market in New Jersey was somewhat leveled and there are no projections for future growth that could surpass the pre-2019 rates.
Forecasts for 2024, predict that New Jersey will probably generate Internet gaming and online sports betting revenue enough to bring the state a single-digit growth rate.
The Effect of Global Pandemic on New Jersey's Online Gambling Industry Growth
Another factor that has contributed to the online gambling revenue growth in New Jersey is the global pandemic, which put land-based gambling on hold for quite a few months. In 2020, the interactive gambling sector enjoyed a large number of new accounts, which were also extremely active as players were not able to leave their homes and found a new form of entertainment in online gambling.
In 2020, the Internet gambling sector in New Jersey reported revenue of $970 million, which indicated a stunning increase of 101% compared to results from the previous year. The reason for the extreme surge was the pandemic shutdown regulations, which put brick-and-mortar gambling on pause.The total casino revenue in the Garden State for 2020 amounted to $2.6 billion.The trend of increasing iGaming revenue in New Jersey continued in 2021, with the online gambling sector reporting revenue of $1.4 billion, marking a 41% surge year-over-year.Just in December 2020, the online betting stable in New Jersey amounted to $996 million, an all-time record for single-state bets made in just one month. About 93.2% of this handle ($929.3 million) consisted of online wagers.The huge surge in the sports betting handle for New Jersey in December marked the fifth consecutive month of a major jump in wagers placed by bettors within the Garden State.The sport that generated the highest number of bets in 2020 was football, followed by basketball, which was the second sport with the most wagers placed in New Jersey.Big wins also meant big losses, with New Jersey bettors losing $393.2 million on sports betting in 2020. This was a new record, marking the highest amount lost by bettors in a single state in just one year.In 2021, the sports betting industry in New Jersey beat its own record for single-month bets, with October's handle reaching $1.3 billion. Almost $1.2 billion of these wagers were placed online.For the 12 months that finished in October 2021, New Jersey recorded an Internet gambling revenue of $127 million, almost a 36% increase year-over-year. The sports betting revenue for that period was $84.1 million, which marked a jump of almost 44% compared to the result from the same period during the previous year.Following the shutdowns of land-based bookies and casinos during the global pandemic outburst, in 2021, it was predicted that in-person Super Bowl bets would be down by 61%. Meanwhile, the number of punters who have reported their intentions to bet on the Super Bowl online was up by 63%. The weekend prior to the Super Bowl, New Jersey's sportsbook profited $11.3 million, with the majority of bets being placed online.
While the online betting sector in New Jersey continued to experience growth in 2022, it slowly started returning to pre-pandemic rates with fewer new accounts opened and less out-of-state visitors making mobile sports bets in New Jersey. With New York launching its mobile and online sports wagering in the beginning of 2022, the online betting sectors in the Garden State started declining, with record numbers during the pandemic staying out of reach in 2022.
Biggest iGaming and Online Sports Betting Operators in New Jersey and Their Role in Revenue Growth
There are several licensed online gambling brands in New Jersey. Some of the well-known platforms include Betfair, Borgata, Caesars, Golden Nugget, Hard Rock, Mohegan Sun, PartyCasino, PokerStars, Tropicana, and Virgin Casino. Online gambling websites in New Jersey offer a wide range of games, including online slots, table games, video poker, and live-dealer games.
In 2023, there are a total of eight iGaming operators in New Jersey, with a few of them generating significantly higher revenues every year and helping the state's online gambling and betting sector to continue its growth. As of May 2023, Borgata Hotel Casino & Spa holds the first place for the iGaming operator generating the highest revenue, with a total of $211,641,683 just for the first five months of the year. This marks a 5.4% increase from $200,817,783, which was the reported revenue for the same period in 2022.
In May 2023, New Jersey online gambling websites generated $161.4 million, accounting for an 18.7% year-over-year increase. That's an improvement on the growth of 16.3% in April.The May results are just 2.4% shy of the single-month revenue record of $165.7 million generated in March 2023.Golden Nugget and Resorts were again competing for the second place on the list of the state's license holders, bringing the Garden State $41.6 million and $41.7 million in monthly revenue, respectively.The May 2023 favorite remained Borgata, with a monthly revenue of $43.2 million.
Borgata Hotel Casino & Spa is the top performing iGaming operator in New Jersey, holding its top position since the state's Internet Gaming sector was launched.
In 2021, Borgata Hotel Resort & Spa had the biggest Internet Gaming Revenue, generating more than $409 million. Since Bally's Atlantic City launched its online gambling only in the middle of 2021, its revenue started generating since July, which explains why it has the smallest iGaming revenue for 2021. In 2022, however, it marked a huge growth, surpassing Ocean Casino Resort, which in 2021 was ranked higher.
When we take a look at the revenue results for May 2023, we see that four of the eight licensed iGaming operators in New Jersey had a stellar year-over-year growth, contributing to the high results in May 2023.
NJ iGaming Operators Year-Over-Year Revenue Growth (May 2023 – May 2022)Bally's50.80%Borgata3.50%Caesars-13.60%Golden Nugget20.60%Hard RockNo changeOcean38.30%Resorts28.70%TropicanaNo change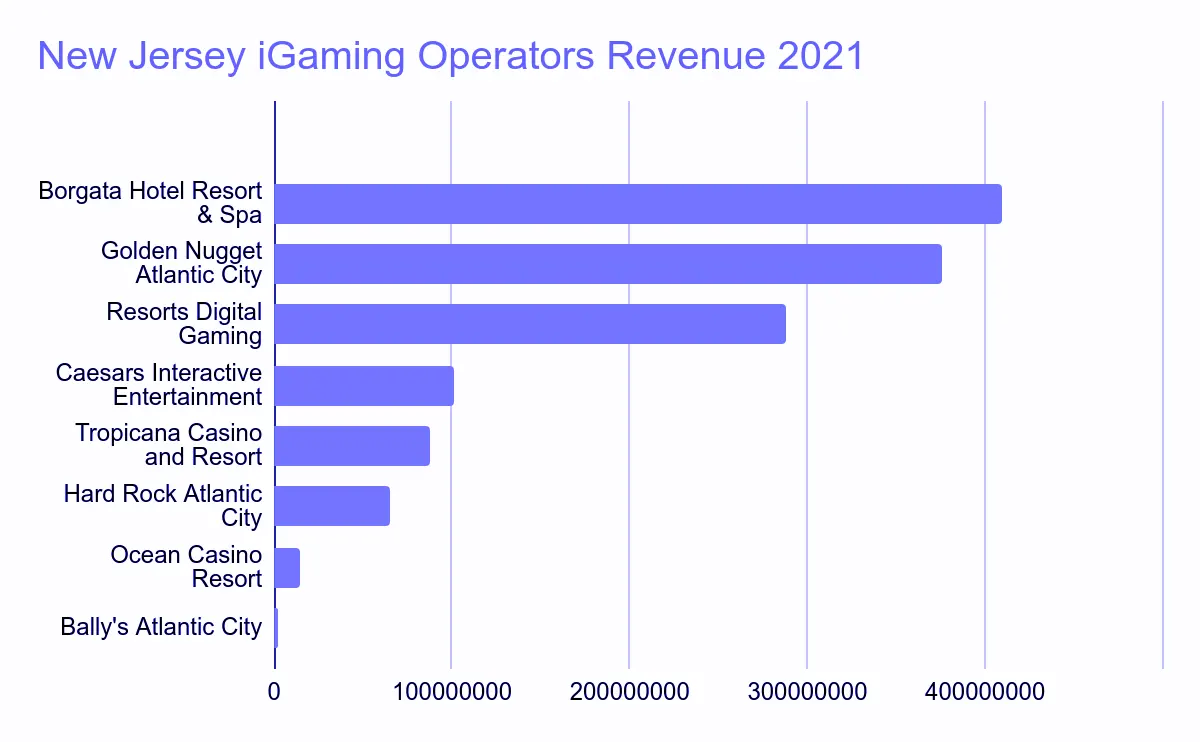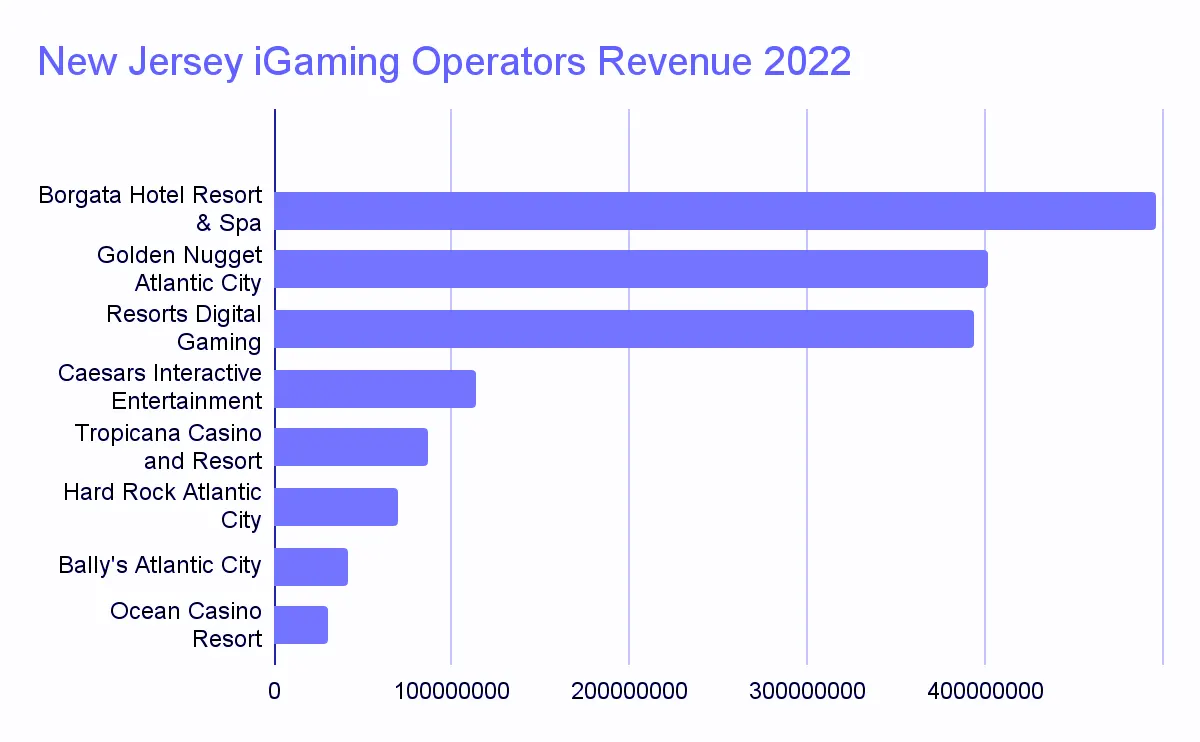 Numbers provided by the NJ Division of Gaming Enforcement show us that Internet Gaming Revenue for the Garden State until May had four out of five months surpassing the $40 million mark. If we compare results from May 2022 until May 2023, we will notice that that is actually the 12th time in 13 months that Borgata has achieved revenue higher than $40 million. The only month the operator almost topped $40 million but missed the mark for the period between May 2022 and May 2023 was February. The Internet gaming revenue for that month was $39,736,855, marking a slight drop of 2.67% compared to the revenue in January.
Borgata Internet Gaming Revenue 2023 (January – May)January$40,798,884.00February$39,736,855.00March$43,912,679.00April$43,180,552.00May$44,012,713.00
According to Eilers & Krejcik, in the 12-month period between February 2022 and February 2023, FanDuel had a market presence of slightly under 46%, while DraftKings was holding 25% of the market. Another 12% belonged to BetGMM and Caesars Entertainment had 6.7%. All other sportsbooks had a market presence of below 2.4%. Estimates show that FanDuel's online and offline sports betting operations take almost 50 cents of every dollar wagered on sports in New Jersey.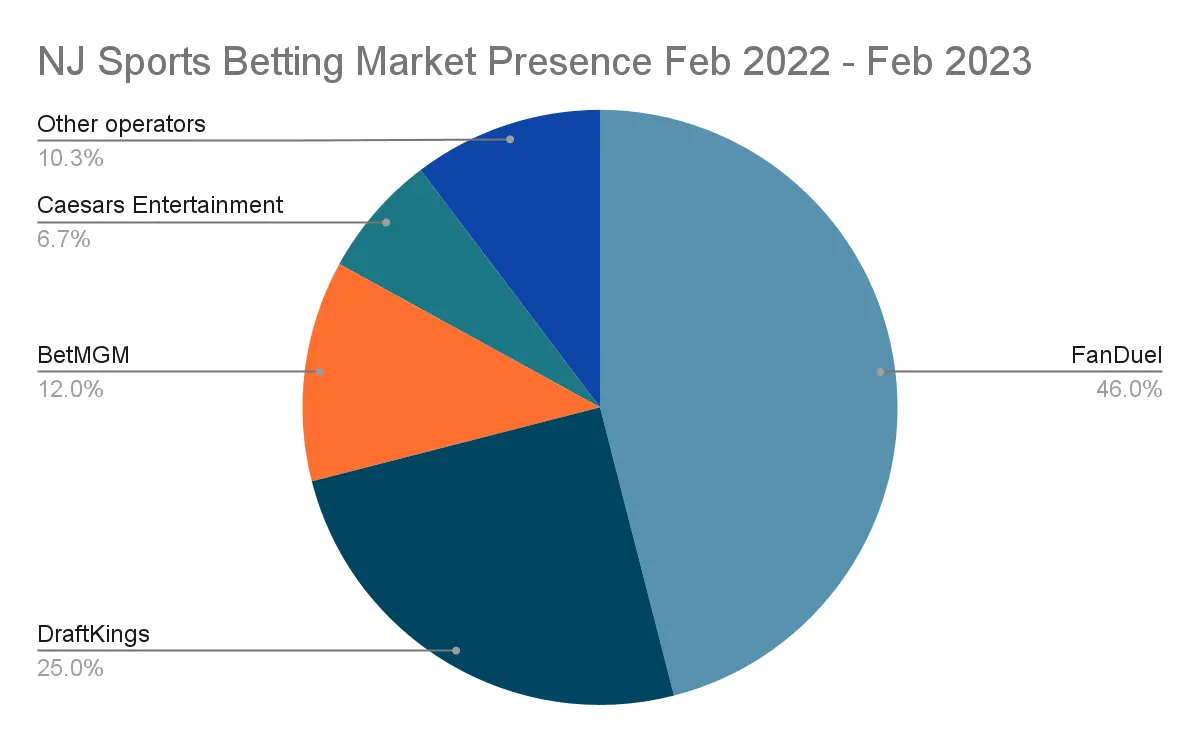 Mobile Gambling in New Jersey
Mobile gambling is particularly popular in New Jersey, with all licensed iGaming operators providing dedicated mobile apps for iOS and Android devices. These apps allow players in New Jersey to access their favorite casino websites and place bets from anywhere within the state. With the repeal of PASPA in 2018, New Jersey also introduced mobile sports betting to its residents. This further helped the state to see its online gambling market expand in the last few years, allowing New Jersey to reach revenue of $1.66 billion in 2022.
Players in New Jersey must be at least 21 years of age to be able to register and play on the go via any of the available casino apps.Thanks to a geolocation feature, mobile casino apps can determine whether players are based within the territory of the state when they open a New Jersey casino app.In most cases, the same operators who offer mobile casino games also offer mobile sports betting, with a few operators also hosting dedicated mobile poker apps/sites.Prior to New York launching mobile and online sports betting in January 2022, the mobile betting sector in New Jersey enjoyed a huge wager contribution made by punters residing in neighboring New York. All they had to do was hop to the nearest location within the territory of New Jersey and they were able to place bets thanks to the mobile apps of NJ casinos and sportsbooks.
While the repeal of PASPA allowed online gambling both on desktop and mobile devices, with 94.8% of New Jersey bettors being keener on placing bets via their phones, it can be concluded that the mobile sports betting sector had a very significant role in the upscale in gambling revenue in the state of New Jersey. Below, you can see how the introduction of mobile sports wagering in the Garden State in August 2018 has taken the state's revenue to a whole new different state.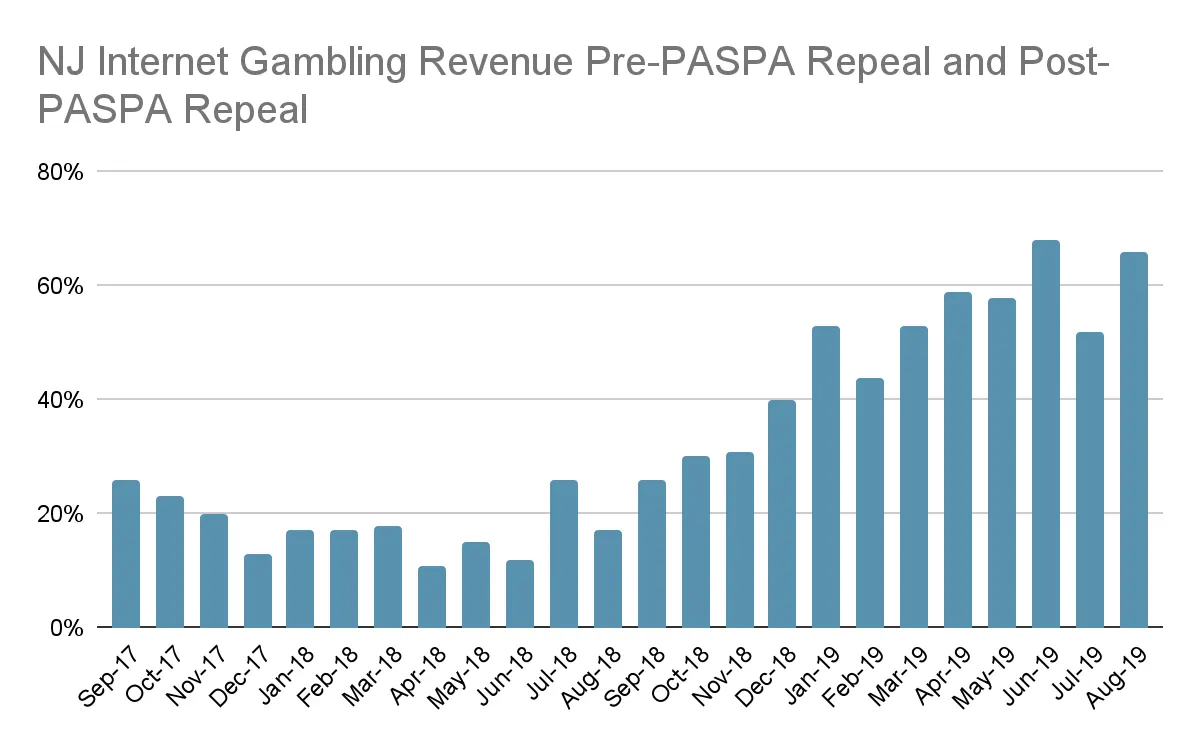 Numbers of new accounts:2016 – 155,0002017 – 268,0002018 – 487,000
In 2018, 13% of the new accounts were active bettors (64,292). That number expressed a drop in the rate of active bettors, who represented 21% of the number of new accounts in 2017. Despite that, the number of active bettors in 2018 is higher, surpassing the 57,549 active bettors for the previous year.
Micro-Betting as Sports Betting Feature that Increases Sports Betting Handle but Also Sparks Many Concerns
One of the reasons why both online and offline sports betting handles have increased dramatically in the past year or so is the so-called micro-betting. This betting option allows rapid bets, which may lead to more wins but also more losses. This segment of legal sports betting has quickly gained popularity.
According to Matt Prevost, chief revenue officer for BetMGM, micro-betting should be offered by any operator who wishes to be a strong competitor in the sports wagering market. He has reported that about 40% to 65% of the football wagers accepted by BetMGM come after the opening kickoff. That indicates micro-betting is about to happen with a large portion of these wagers.
In 2022, ahead of the NFL season, DraftKings also announced that it would focus on providing more micro-betting options for its members. Markets like betting on the next play, who will get to carry the ball, and how many yards it will gain were among the betting options the sportsbook was planning on releasing as they have found that micro-betting was just as popular among bettors as outright game winners or totals.
At first glance, micro-betting may seem like it provides very small props, however, there is nothing small about the future of this type of sports betting segment. According to Bevilacqua, in 2022, micro-betting has helped their live in-play handle to reach 20-30%. Meanwhile, in 2021, it was close to zero.
While micro-betting is also a reason for the increasing internet betting market in New Jersey, it has also been a reason for concern. In 2022, Keith Whyte, executive director of the National Council on Problem Gambling, shared that punters placing micro bets are facing a higher risk of suffering from gambling disorder. As bets are placed more frequently and at a faster pace, the threat factor is increased significantly.
When it comes to protecting vulnerable individuals, the Garden State has adopted multiple measures to keep those at high risk protected. What is more, New Jersey has implemented actions to promote responsible gambling, with online gambling platforms providing tools for players to set deposit limits, self-exclusion options, and access to resources for problem gambling.
Gambling Participation Rates in New Jersey
Considering the effect of the pandemic outbreak and the appeal of mobile gambling and betting, it comes as no surprise that New Jersey is a state with extremely high gambling participation rates. With the majority of players and punters enjoying making their bets online, this has a direct impact on the way the iGaming and online sports betting industry in New Jersey is evolving.
According to research conducted by Rutgers, in 2020, the gambling participation rate among New Jersey residents continued to grow. Between 2018 and 2019, however, it was estimated that there was a higher increase of 217% among non-New Jersey residents than locals (112%).
In 2019, about 80% of gamblers in New Jersey were actually residents of the state.People from the age groups 21-24 and 25-34 comprised more than half (51%) of the online gamblers in the state in 2019.The average age of gamblers in New Jersey in 2019 was 37, the number of resident gamblers aged 35 and higher, however, declined.In 2019, resident gamblers between the ages of 45 and 54 made up 14% of all New Jersey gamblers. Those between the ages 55 and 64 comprised 8% of respondents, and players over the age of 65 were merely 3% of state-resident gamblers.In 2019, the number of women gambling in New Jersey declined from 32% to 28%. These numbers were the lowest since 2015.In 2019, gambling participation among men in New Jersey jumped from 68% during the previous year to 72%.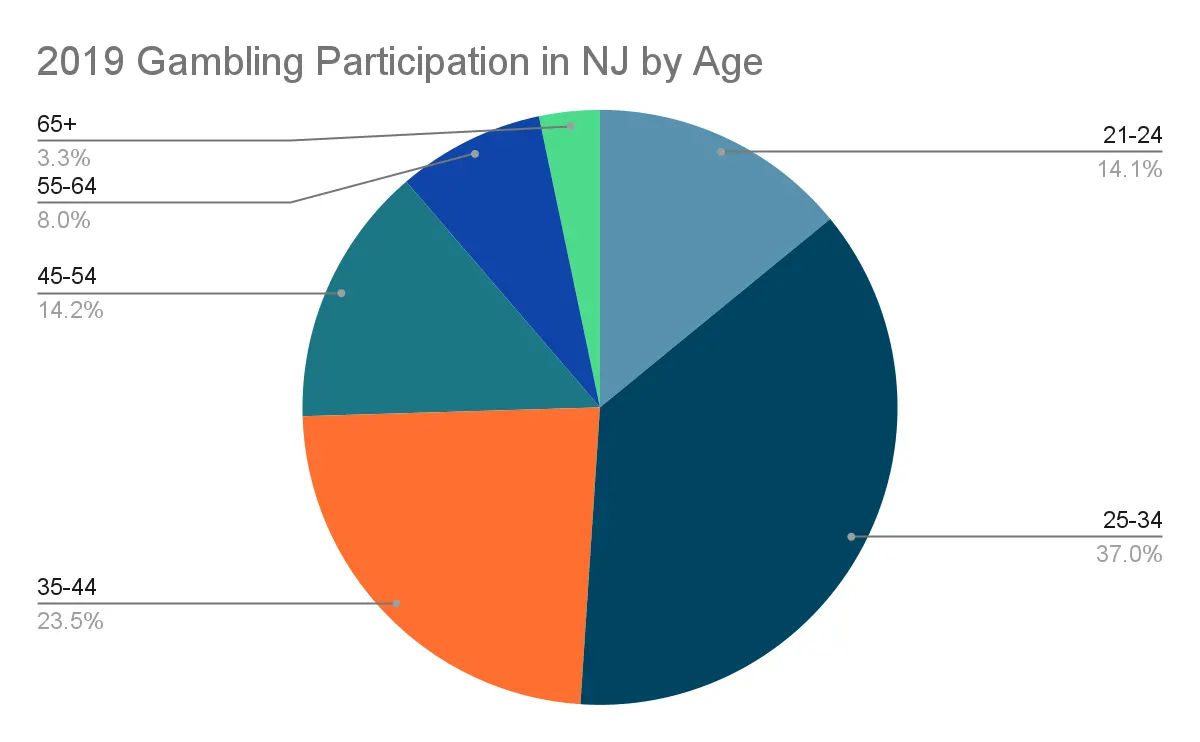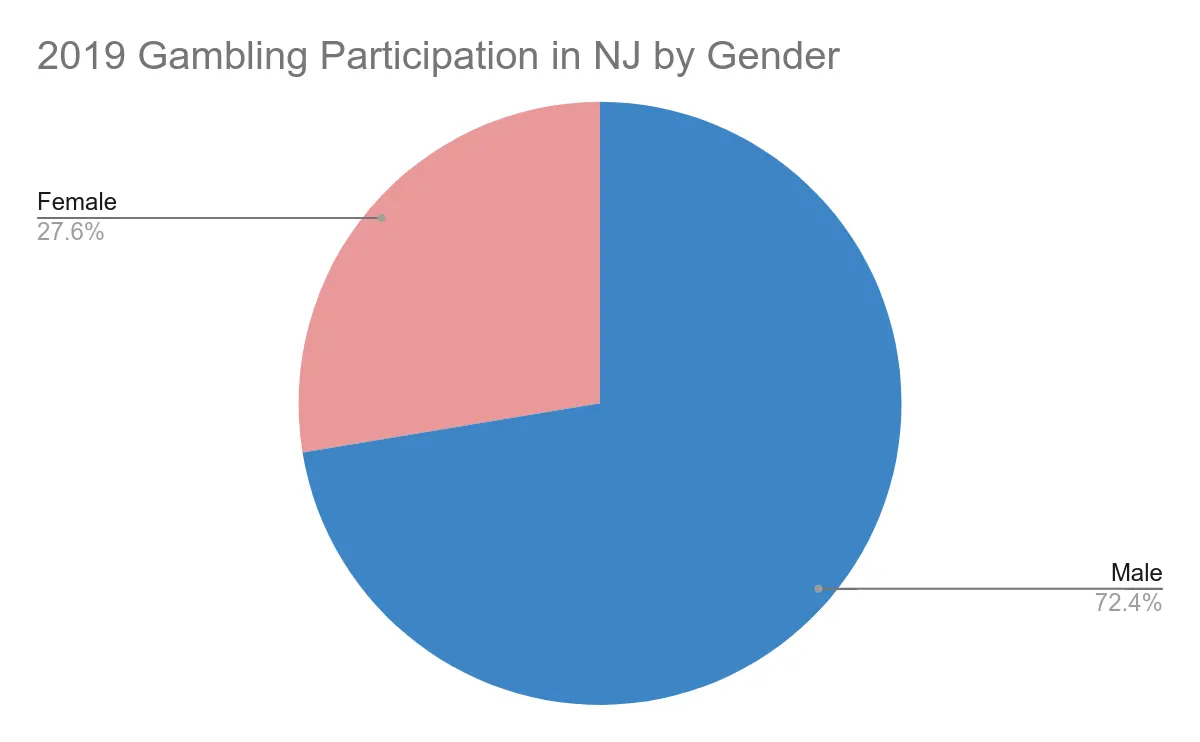 In 2019, the predominant younger online gamblers in New Jersey were males. Meanwhile, older gamblers were mostly women. Some 49% of male online gamblers were younger than 35, compared to 40% of females. Meanwhile, about 36% of female gamblers were 45 years of age or older and just 26% of male gamblers were above 45.
NJ Online Players by Total and by Gender (2019)Age GroupTotal %MaleFemale21-2413.40%12.40%8.60%25-3437.00%36.70%31.50%35-4423.70%24.80%24.10%45-5414.20%14.20%18.70%55-648.10%8.10%$11.30653.50%3.70%5.50%
If we look at the online gambling participation data by county, we will see that in 2019, the residents of Bergen, Camden, Hudson, Middlesex, Monmouth, and Ocean Counties were the most active in online wagering. What is more, the players within Essex County increased to 7.8%, marking a jump from the 6.7% rate in 2018.
Online Gambling Participation in New Jersey by CountiesCounty% of all gamblers% of NJ populationAtlantic5.13Bergen9.810.5Burlington5.45Camden7.55.7Cape May1.41Cumberland1.81.7Essex7.89Gloucester4.33.3Hudson7.67.6Hunterdon11.4Mercer3.14.1Middlesex8.19.3Monmouth8.67Morris4.55.5Ocean7.66.8Passaic5.65.6Salem0.60.7Somerset2.73.7Sussex1.31.6Union5.36.3Warren11.2
What Does the Future Hold for the Online Gambling Sector in New Jersey?
Since the launch of online casinos in New Jersey in 2013, the state started its 10-year period of licensed iGaming. In 2023, as the license was close to its expiration date, the Garden State lawmakers were considering extending online gambling in the state for only two years. This raised concerns among casino and betting businesses as numbers show that the online gambling industry has been of significant importance for New Jersey, especially during the global pandemic outbreak. Despite a small decline in in-person gambling, the huge convenience of online gaming and betting has brought the Garden State Gross Gaming Revenue of $5.21 billion in 2022.
The fact that New Jersey was leading the movement to bring down the PASPA law, made the state one of the first regions to introduce online and mobile sports betting for US fans of sporting events. That also helped the Garden State to amass the highest total handle of sports betting wagers between 2018 and 2022. Predictions for the future show that New Jersey may still keep its top position when it comes to total sports bets made over the course of the last few years. That said, a new competitor may beat the Garden State's yearly sports betting handle as it already did in 2022.
With the launch of legal online and mobile sports betting in New York in January 2022, the neighboring New Jersey experienced quite the decline in out-of-state sports wagers. That also led to New York ranking first among all states which offered legal online sports betting in 2022. New York will most likely beat New Jersey in the following years as well, with more New Yorkers choosing to place bets via local sportsbook apps.
Another thing that we should mention is Sen. Joseph Addabbo Jr.'s proposal to legalize online casino gambling in New York by 2024. As he tries to convince state lawmakers that tax revenue from legal online casino gambling in New York may bring the Empire State revenue of about $800 million, licensed iGaming may be soon launched in New York. This may be another factor that can affect the potential online gambling growth rate in neighboring New Jersey, causing a potential decline just as legal sports betting in New York did.
Nevertheless, New Jersey remains one of the first states to have legalized both online casinos and online sports betting. That amassed generous revenue numbers for quite a few years, bringing the Garden State on top of iGaming and online sports betting winning rankings. As for the upcoming years, we should wait and see whether New Jersey will be able to handle competition from other states and keep its high rank.