Jadwal Rilis Sirkuit WSOP Untuk 2022-2023 Dengan Aksi Dimulai 20 Juli 7 Juli 2022 Mario Alfonsi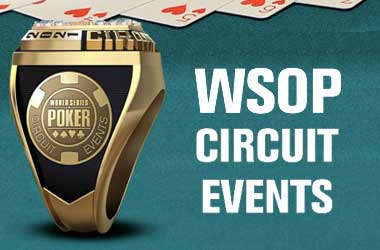 Ringkasan
Jadwal WSOPC 2022-2023 menampilkan 25 pemberhentian awal dengan lebih banyak yang akan ditambahkan segera Musim baru dimulai pada 20 Juli, tepat setelah festival WSOP di Las Vegas Beberapa pemberhentian lama akan kembali untuk musim mendatang
World Series of Poker (WSOP) baru saja merilis jadwal Sirkuit 2022-2023.
Musim baru awalnya akan memiliki 25 pemberhentian dan akan dimulai segera setelah festival langsung WSOP 2022 di Las Vegas.
Perhentian tambahan akan diumumkan dalam beberapa bulan mendatang yang berarti lebih banyak peluang bagi pemain untuk memenangkan cincin emas WSOP yang didambakan.
Detail Kunci WSOPC
Musim ke-18 dari Sirkuit WSOP akan dimulai dalam beberapa minggu ke depan, dengan pemberhentian pertama berlangsung dari 20-31 Juli di Choctaw Casino Resort di Durant, Oklahoma. Musim mendatang akan melihat kembalinya beberapa perhentian lama, seperti Harveys Lake Tahoe (20-31 Oktober 2022) dan Caesars Southern Indiana (11-22 Mei 2023).
Pemain di Chicago akan senang mengetahui bahwa Horseshoe Hammond juga termasuk dalam musim terbaru, dengan pemberhentian dijadwalkan pada 23 Februari-6 Maret 2023.
Sirkuit ini juga akan memulai debutnya di Grand Victoria Casino di Chicago, Illinois, menjadi tuan rumah dua pemberhentian di tempat tersebut. Yang pertama berlangsung dari 10-21 November 2022, sementara yang lain berlangsung dari 6-17 April 2023.
Jadwal saat ini tidak termasuk pemberhentian di Las Vegas, tetapi diharapkan akan segera ditambahkan, mengingat Caesars memiliki dan mengoperasikan beberapa properti di seluruh kota. Sirkuit kemungkinan besar akan kembali ke Planet Hollywood, Caesars Palace, dan Bally's, tempat festival langsung WSOP ke-53.
Sebagian besar pemberhentian akan dimulai pada hari Kamis, yang berpuncak pada Acara Utama yang dimulai pada hari Jumat kedua dari rangkaian tersebut. Akan ada setidaknya 12 cincin emas untuk diperebutkan di setiap pemberhentian, dengan pembelian acara mulai dari $250 hingga $1,700 (Acara Utama). WSOP.com juga akan menjadi tuan rumah acara Sirkuit bagi mereka yang lebih suka aksi online.
Seperti musim lalu, pemenang acara cincin emas langsung dan online akan mengamankan kursi ke Turnamen Juara khusus undangan yang akan berlangsung sebagai bagian dari 2023 WSOP di Vegas.
Pemberhentian Awal Sirkuit WSOP 2022-2023
Jadwal yang baru-baru ini dirilis juga mencakup pemberhentian Poker AS di Harrah's Cherokee (North Carolina), Hard Rock (Tulsa), Horseshoe Council Bluffs (Omaha/Iowa), Aruba Hilton (Aruba), Thunder Valley Casino (California Utara), Isle of Capri (Pantai Pompano, Florida), Choctaw Durant (Dallas/Oklahoma), The Bicycle Casino (Los Angeles), Turning Stone Resort Casino (Verona, New York), dan Horseshoe/Tunica (MS).
Navigasi pos