Without a doubt, Colorado boasts some of the best mountain recreation and scenery in the world. From the historic Sangre de Cristo Mountains of the south to more than 50 peaks scattered around the state that tower above 14,000 feet, Colorado is a great place to be if you want to get up close and personal with the otherworldly grandeur of the Rockies.
Today, we're highlighting fifteen Colorado mountain destinations you simply can't miss. If you've been in the state for any considerable amount of time, chances are very high you've heard of at least a handful of these mountain peaks and ranges referenced.
15 of the Most Famous Mountain Peaks and Ranges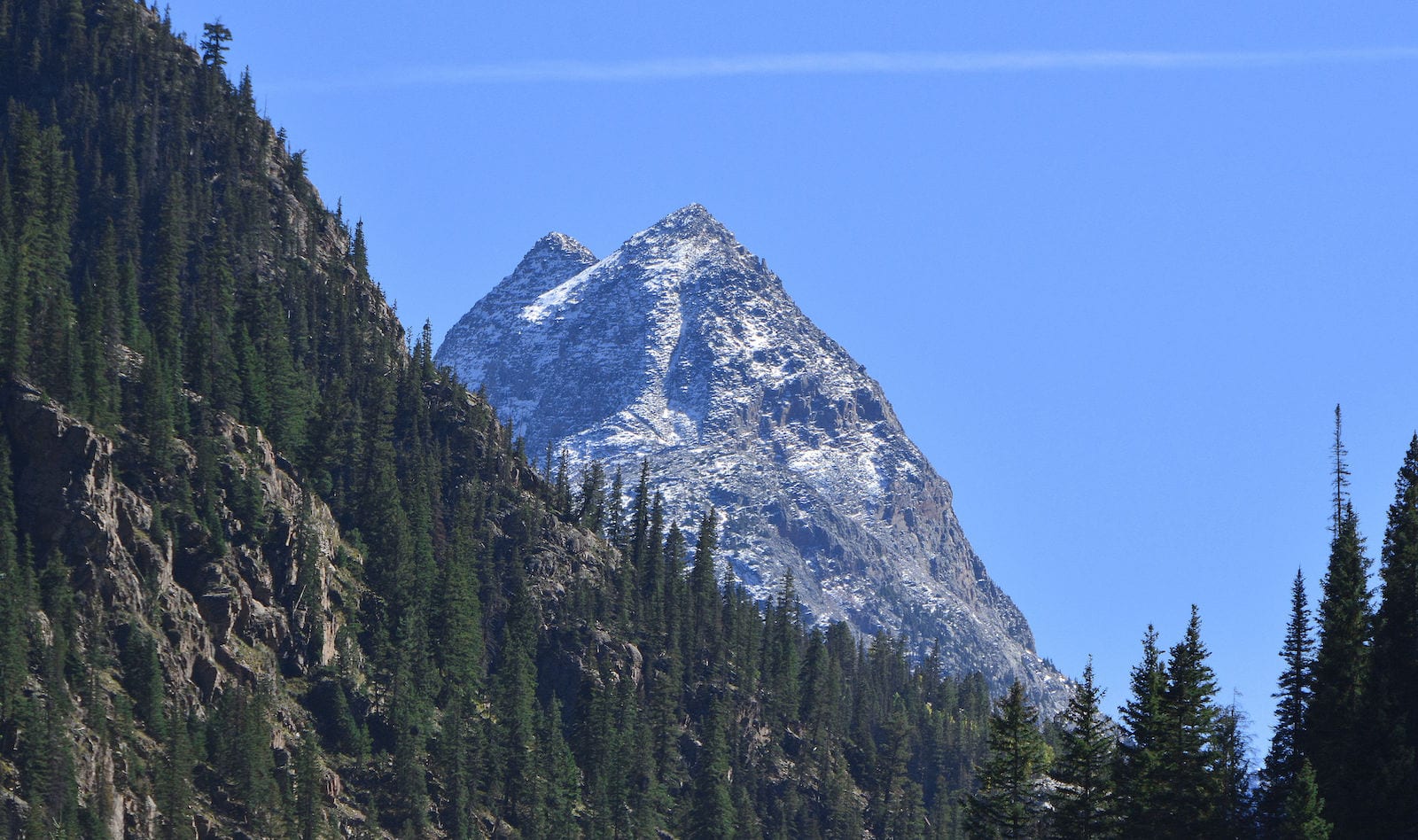 Pyramid Peak of the Elk Mountain Range in Pitkin County. Photo: Mike McBey
Colorado is full of popular mountains whose legends and stories have grown over time. These incredible peaks attract a multitude of adventure and sightseeing tourists around the year. Here are some of the most iconic mountains in Colorado, in no particular order:
Collegiate Peaks
The Collegiate Peaks feature some of the state's highest and most iconic mountains. These peaks rank among the best spots in the state for climbing fanatics and feature mountains named after Ivy League schools like Yale, Harvard, Columbia, and Princeton.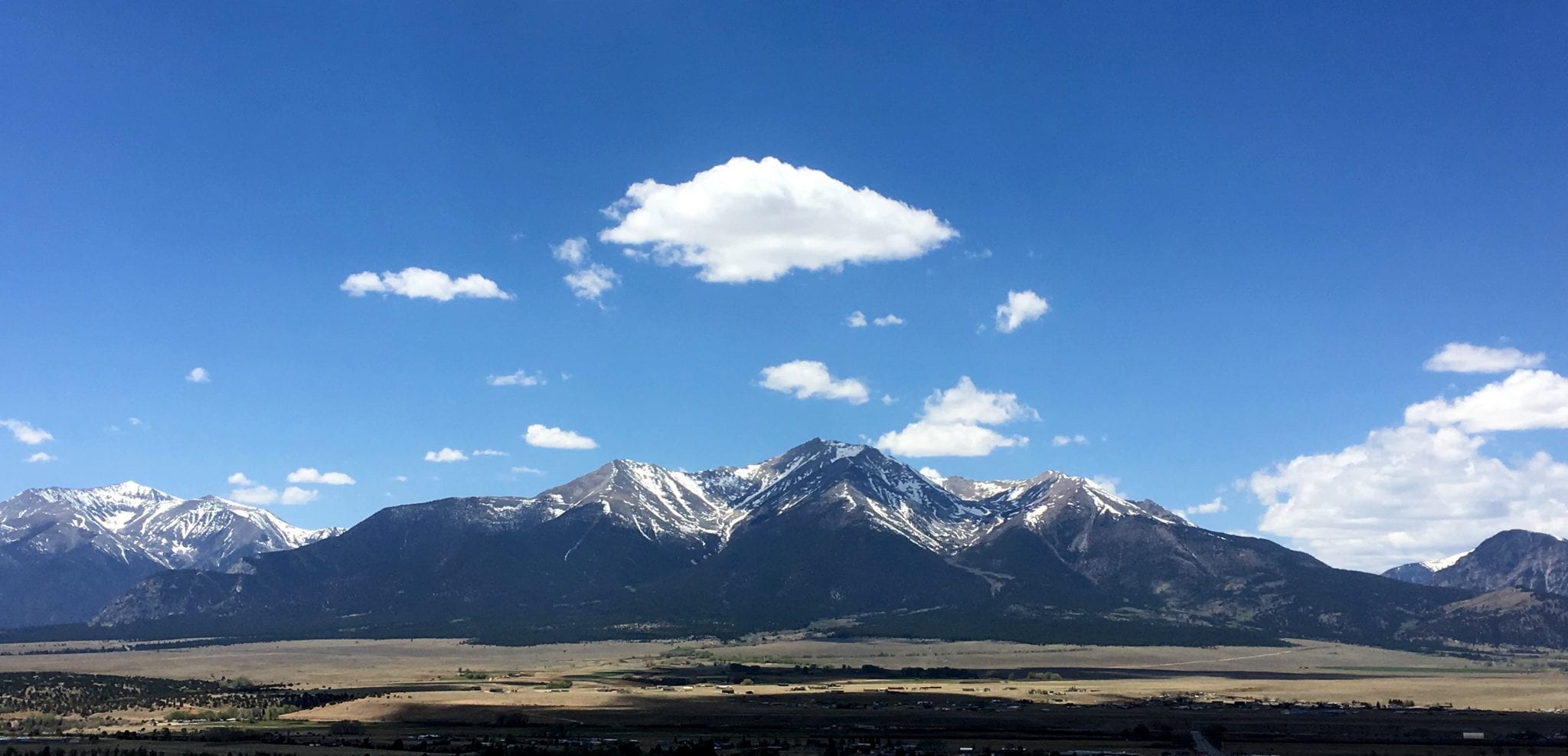 The Collegiate Peaks. Photo: Alan Levine
In 1869, a Harvard Mining School class scaled a 14,420-foot mountain in the area and named it after their school. Other ambitious climbers followed suit, and the names stuck. They tower behind Buena Vista creating some of the most magnificent sunsets.
Mount Bierstadt
With moderate trails and an elevation of 14,060 feet, Mt Bierstadt has become a favorite destination for first-time climbers and city-dwelling mountain enthusiasts traveling with kids. Located in the Mount Evans Wilderness of Pike National Forest, its massive popularity can also be attributed to the fact that it's just a little over an hour's drive away from Denver.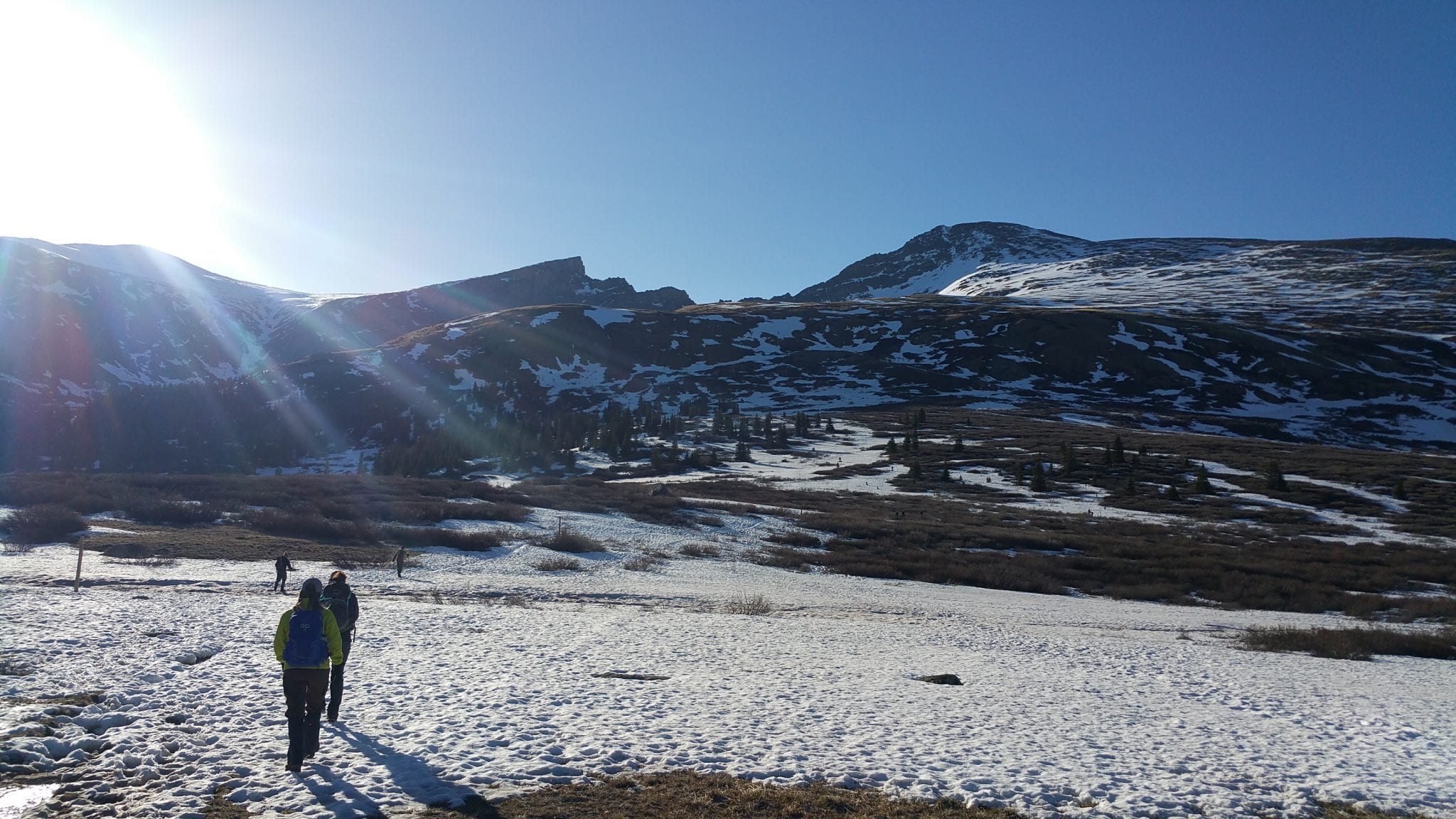 Mount Bierstadt. Photo: James Tiffin Jr.
This famous Colorado peak is named after painter Albert Bierstadt, whose gorgeous painting A Storm in the Rocky Mountains, Mt. Rosalie celebrates the grandiose scenery of the Rocky Mountains.
Pikes Peak
This list wouldn't be complete without Pikes Peak. Towering above the city of Colorado Springs, Pikes Peak is the highest mountain on Colorado's southern front range. It was named after American explorer Zebulon Pike, though it was first called "Heey-otoyoo'" by the Arapaho people, which means "long mountain". Just west of Colorado Springs, it's one of 3 peaks you can see from Denver, including Mt Evans and Longs Peak.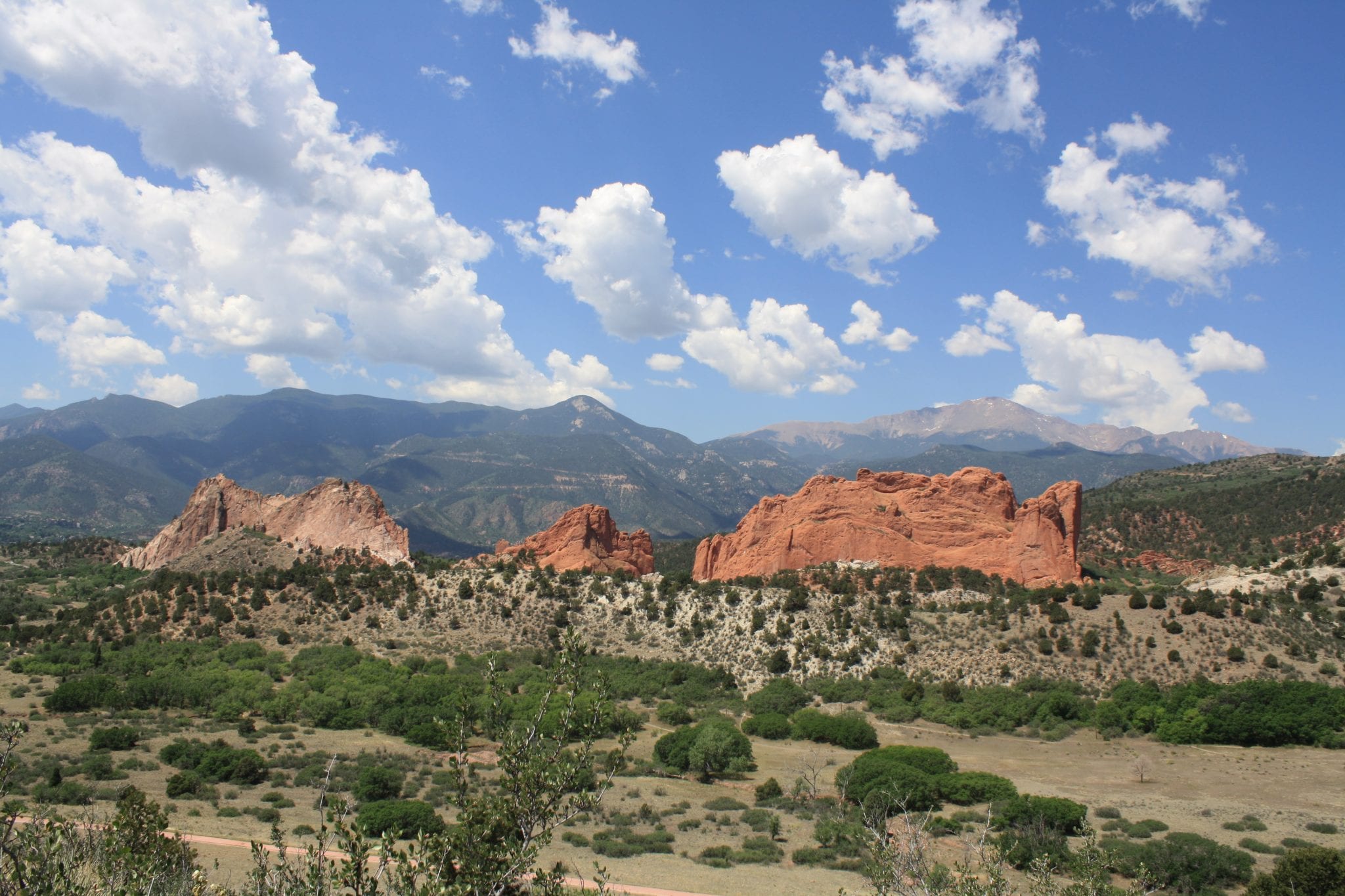 Pikes Peak Views. Photo: Emery Graham
Climbers love Pikes Peak for its fun and challenging trails, and other visitors flock to the mountain by way of the Pikes Peak Highway, a 19-mile road that goes all the way to the summit. A restaurant at the top of the peak sells doughnuts that are rumored to be tasty at high elevations but become soft and mushy the lower you go.
Mount Crested Butte
At 12,162 feet, Crested Butte might not be the tallest Colorado mountain, but it's definitely one of the most arrestingly beautiful peaks in all of the mountain west. Featuring a cool small town and ski resort of the same name, skiers and nature lovers flock to the area for its access to unmatched scenery, abundant wildlife, and because it's far less crowded than other mountain destinations located closer to Denver.

Mount Crested Butte. Photo: flamouroux
The resort offers inbounds expert only access to ski its iconic butte. You can also take a chair lift up in the summer and hike to the top. The alpine views surrounding Crested Butte are stunning!
San Juan Mountains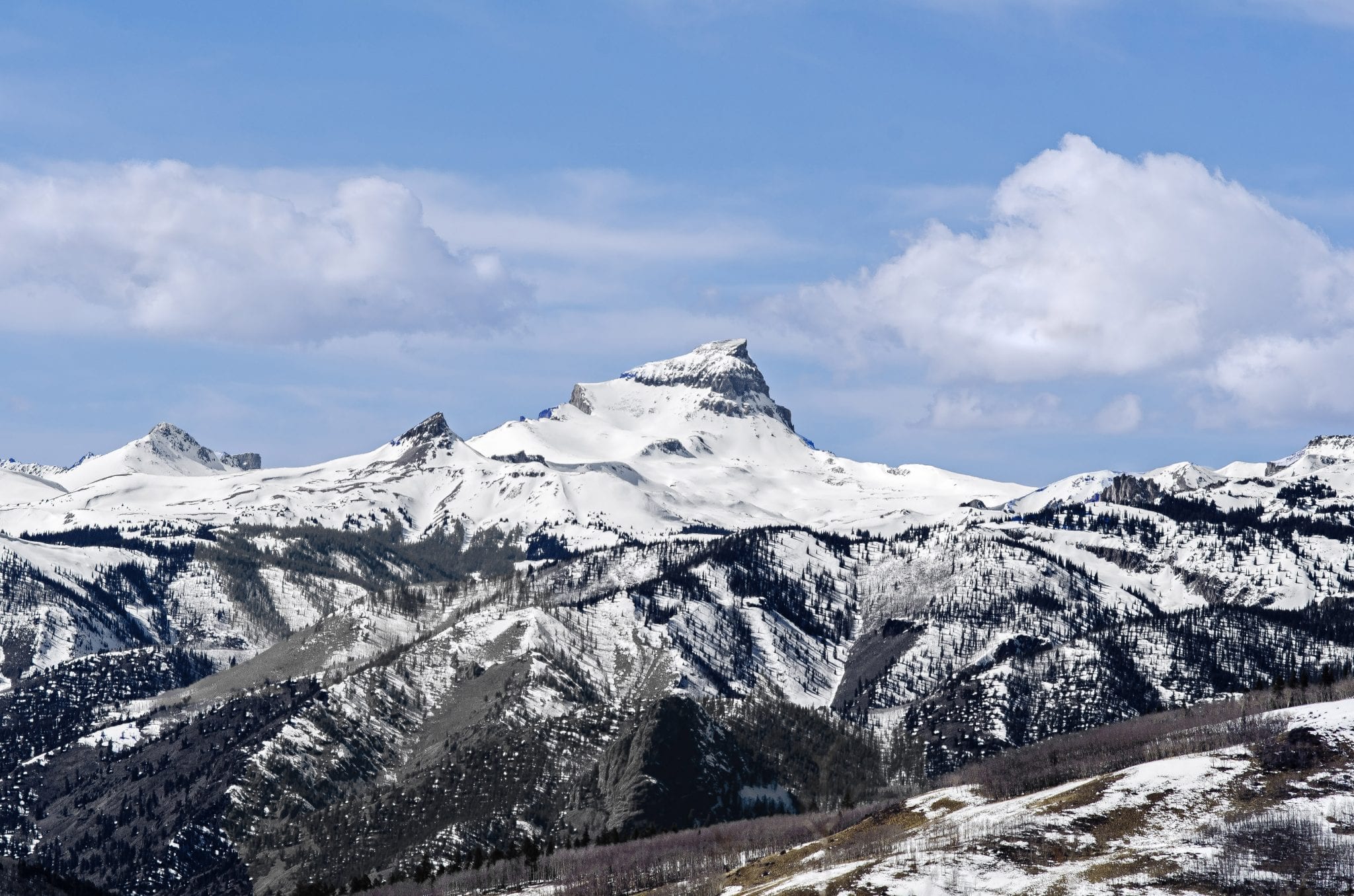 San Juan Mountains. Photo: Scrubhiker (USCdyer)
If someone is headed to Southwest Colorado, they will be within the San Juan Mountains. The impressive range boasts an exciting history dating back to the days of mountain men, prospecting, and far beyond. Shortly after Colorado became a state in 1876, people traveled far and wide to the San Juans in search of gold and silver, and many of them succeeded.
Today, tourism is the largest industry in the area, with attractions like rock climbing, off-road jeeping, and a historic rail line that links the mountain towns of Durango and Silverton. The mountains are noted for their general steepness, in comparison to the rest of the state. The "Switzerland of America", Ouray is located within the San Juans.
Longs Peak
Longs Peak looms above the quaint mountain town of Estes Park and is one of the most difficult peaks to ascend in the state and region. At 14.5 miles long roundtrip, the highest summit, called the Keyhole Route, offers climbers astounding views but puts them at risk for exposure and falling rocks.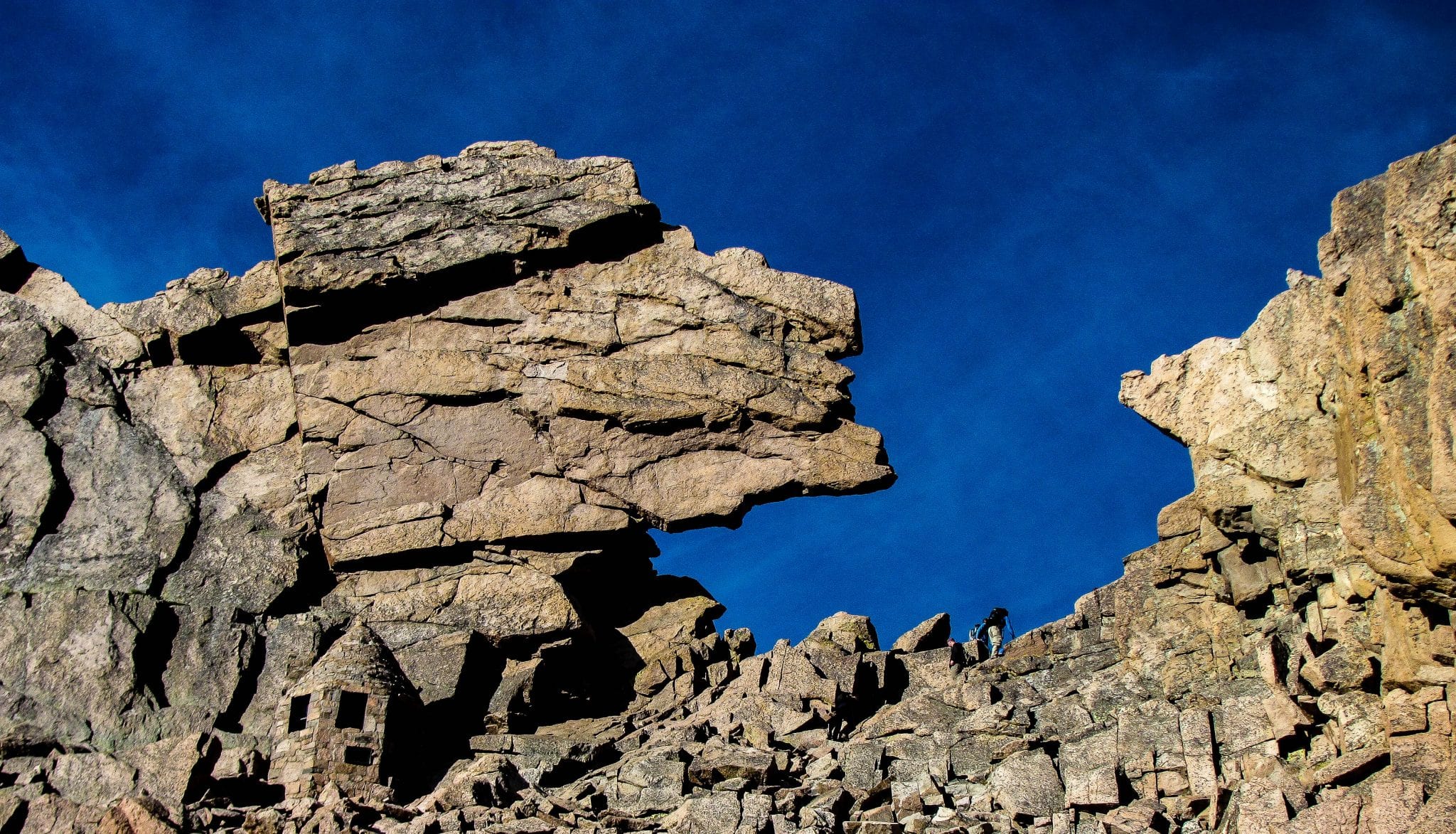 Longs Peak Keyhole route. Photo: CL.Baker
This is not a mountain one can or should attempt to climb without thoughtful planning, training, and preparation. There are several hiking routes and even some brave soles rock and ice climbing at times. It's one of the three fourteeners you can spot from the Front Range, located southwest of Loveland, Colo.
Sangre de Cristo Mountains
Stretching from central Colorado into northern New Mexico, the Sangre de Cristo Mountains get their name from a Spanish explorer named Antonio Valverde y Cosio who likened the reddish glow the mountains hummed with during sunsets to the blood of Christ. Today, we call this phenomenon "alpenglow," which sets mountain ranges aglow in pink and red when the sun sits just below the horizon. Proudly standing at 14,350 ft, Blanca Peak is the tallest mountain in the Sangre de Cristos and all of southern Colorado.

Stout Lake in the Sangre de Cristo Wilderness. Photo: Scrubhiker (USCdyer)
It's so high that it's covered in snow for a good portion of the year. The Sangre de Cristos offer some of the state's most secluded camping, hiking, and fishing, as well as access to a fascinating part of Colorado's history that many Coloradans aren't familiar with.
Tenmile Range
Divided by the Continental Divide, the Tenmile Range is the southern half of the Mosquito Range of Colorado peaks. In addition to hosting the Breckenridge Ski Resort, this range has built an international reputation for its access to some of the best backcountry skiing in all of the US. Its mountains include Quandary Peak, which is a popular fourteener option for Coloradans trying their hand at climbing for the first time.
Tenmile Range From Lake Dillon. Photo: Mountains Lakes Trees and Nature
The range also features what is widely believed to be the highest lake in the United States. At 13,420 feet, Pacific Tarn was named in 2002 by a Boulder resident who organized an expedition to measure the lake's size, depth, and water chemistry.
Mt. Blue Sky
Flanked by the charming mountain town of Idaho Springs off the I-70 corridor stands Mt. Blue Sky, formerly called Mt. Evans, a 14,271-foot behemoth of a mountain that can be seen as far as 100 miles away from the east. Mt. Blue Sky is another peak with a summit that can be accessed by road or on foot, and climbers enjoy multiple hiking routes that widely vary in terms of length and difficulty.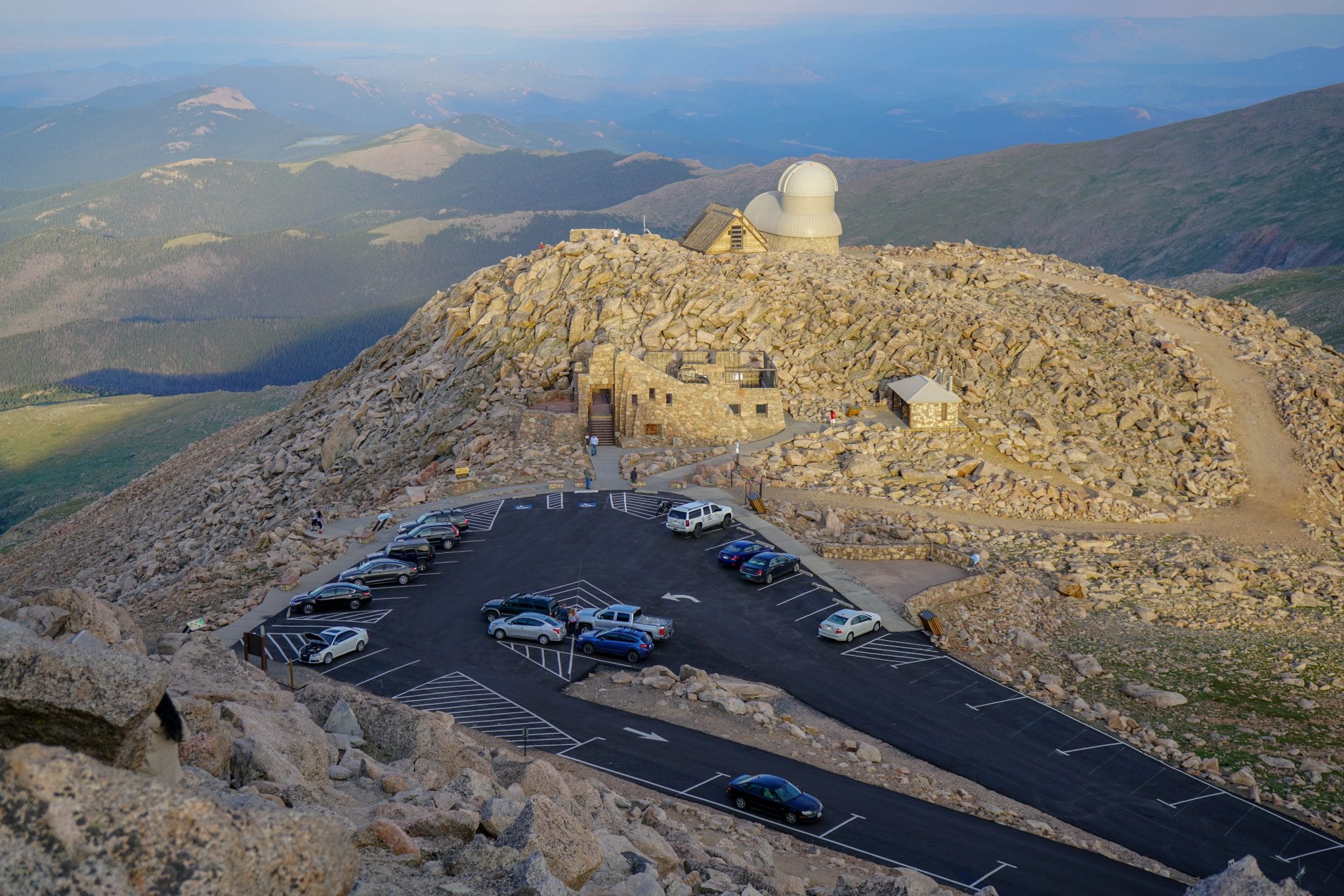 Atop Mt. Blue Sky. Photo: Sark Derderian
Visitors love this mountain because of its close proximity to the Denver metro area and abundant wildlife offerings, which includes black bear, mountain lion, bighorn sheep, and white-tailed ptarmigan. It's one of the 3 fourteeners you can see from the Front Range and it's the one due west of Denver.
Mt Elbert
Standing at 14,440 feet, Mt Elbert is the tallest mountain in Colorado and the second highest peak in the continental US. It's located in the San Isabel National Forest near the historic city of Leadville, which itself holds the title for being the highest incorporated city in the nation.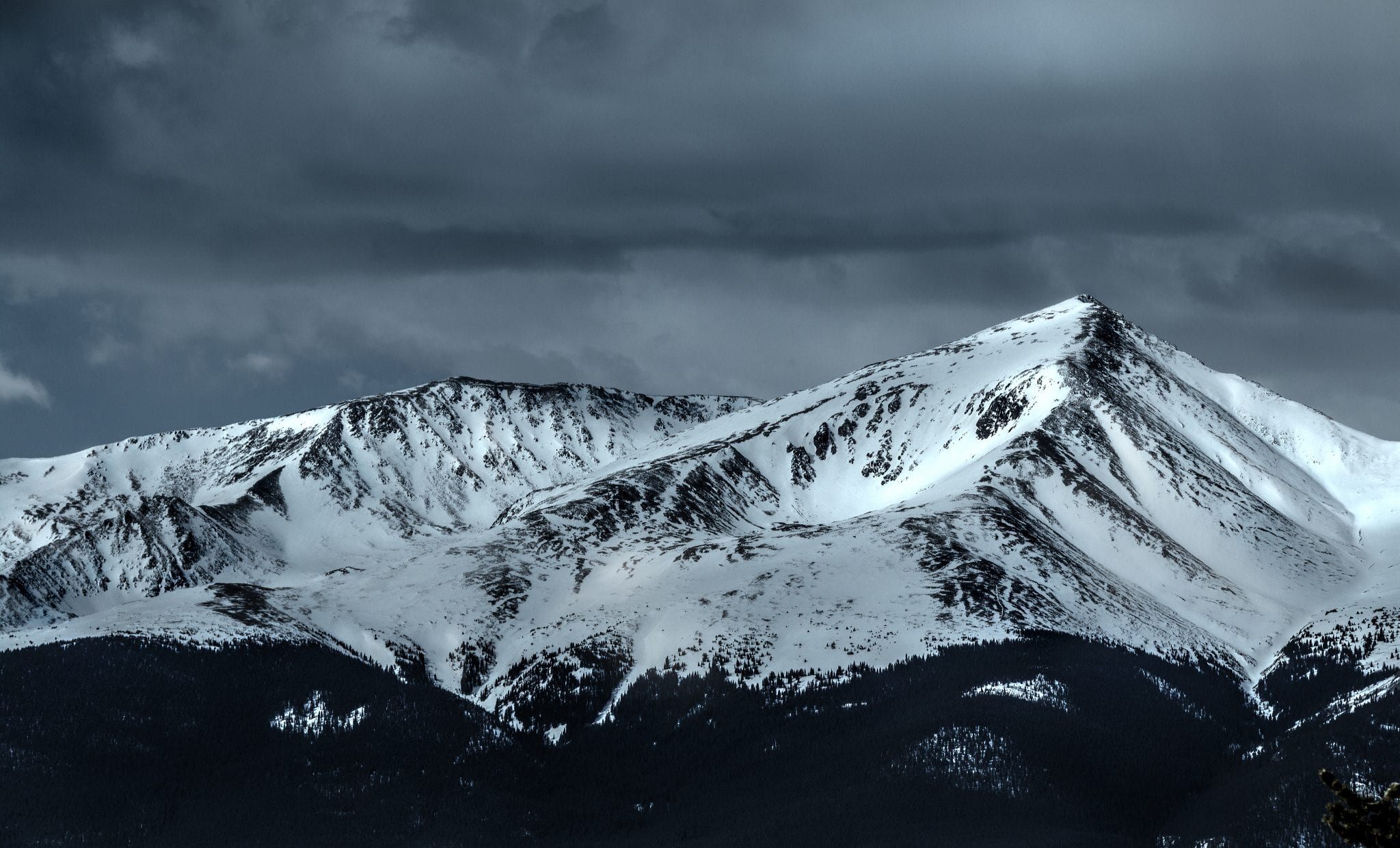 Mt Elbert. Photo: Gene
Mt Elbert is named after Samuel Hitt Elbert, a statesman who was influential in the region shortly before Colorado became a state in 1876. Mt Elbert might be high, but it actually features some of the most welcoming climbing routes of any Colorado 14er, which is why it's often referred to as the "gentle giant."
Maroon Bells
Located just 12 miles southwest of Aspen, the Maroon Bells boast some of the most beloved and iconic scenery in all of the mountain west. The Bells consist of two Colorado 14ers: Maroon Peak and North Maroon Peak. Every year, over 300,000 visitors from across the globe take in the beauty of Maroon Bells below from Maroon Creek, and the area's stunning fall foliage ushers in even more attention during Autumn.
Maroon Bells. Photo: Max and Dee Bernt
The area offers hiking, fishing, and incredible access to overnight backpacking trips through the Maroon-Snowmass Wilderness. This is an amazing place to visit, but you probably shouldn't plan to climb the Bells. The peaks are uniquely formed out of mudstone, a weak material that breaks easily and can "kill without warning," according to a sign posted in the area by the US Forest Service.
Wilson Peak
Wilson Peak has the honor of being both a beloved Colorado 14er and the scenic backdrop for one of the state's most iconic beverages. Located near Colorado's southwestern border, Wilson Peak is the mountain featured in Coors' advertisements, most noticeably on Coors Light cans, though their brewery is located halfway across the state in the city of Golden.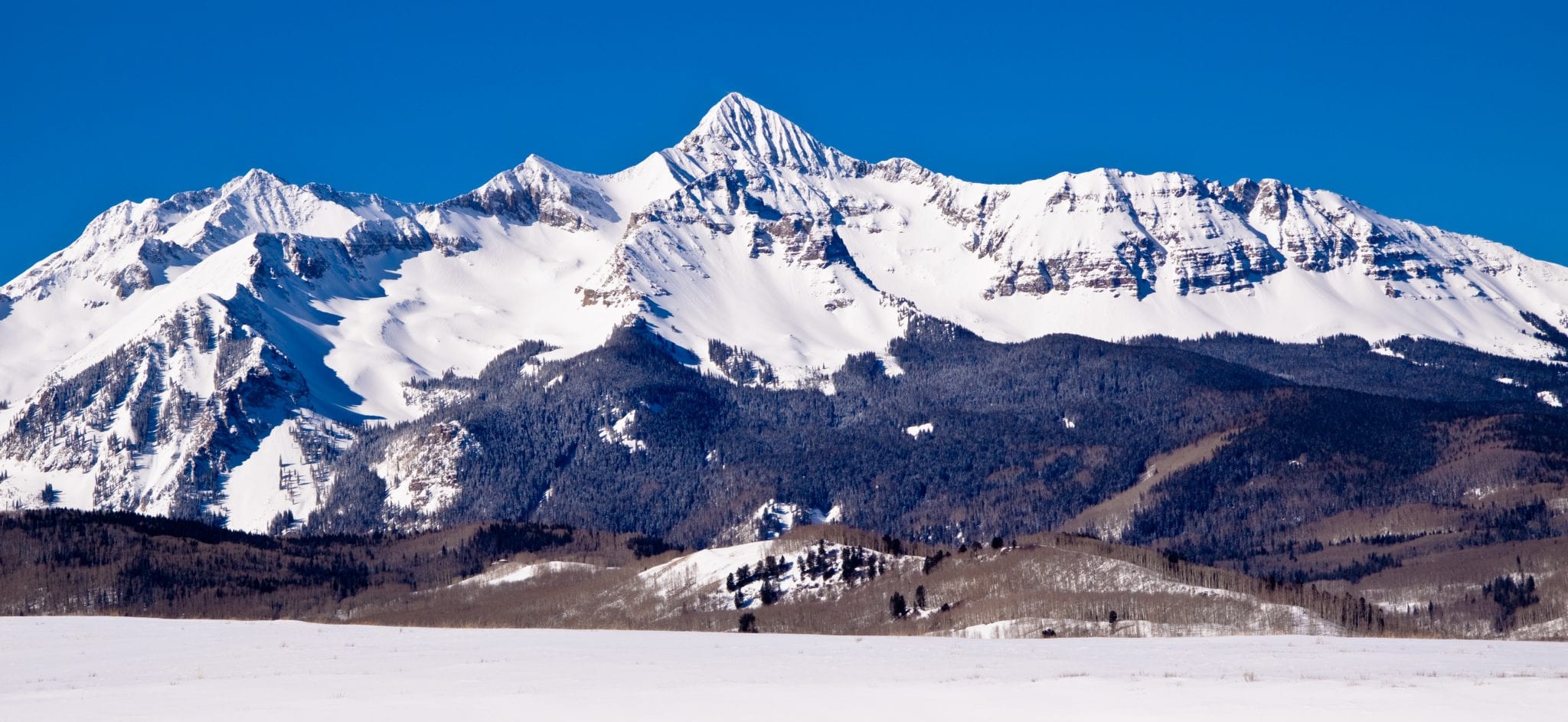 Wilson Peak. Photo: William Currier
But do a little research, and you'll soon discover that this handsome mountain can be found all over popular culture, from Jeep advertisements to Quenten Terintino's film The Hateful Eight. Wilson's close proximity to the town and ski resort of Telluride makes it a mountain destination you won't want to miss.
Mt of the Holy Cross
High atop the Sawatch Range, Mt of the Holy Cross is named for the stunning cross-shaped, snow-covered gap carved into its northeast face. The mountain is the subject of countless paintings and nature photographs, some of which have been featured in National Geographic and the Autry National Center in Los Angeles.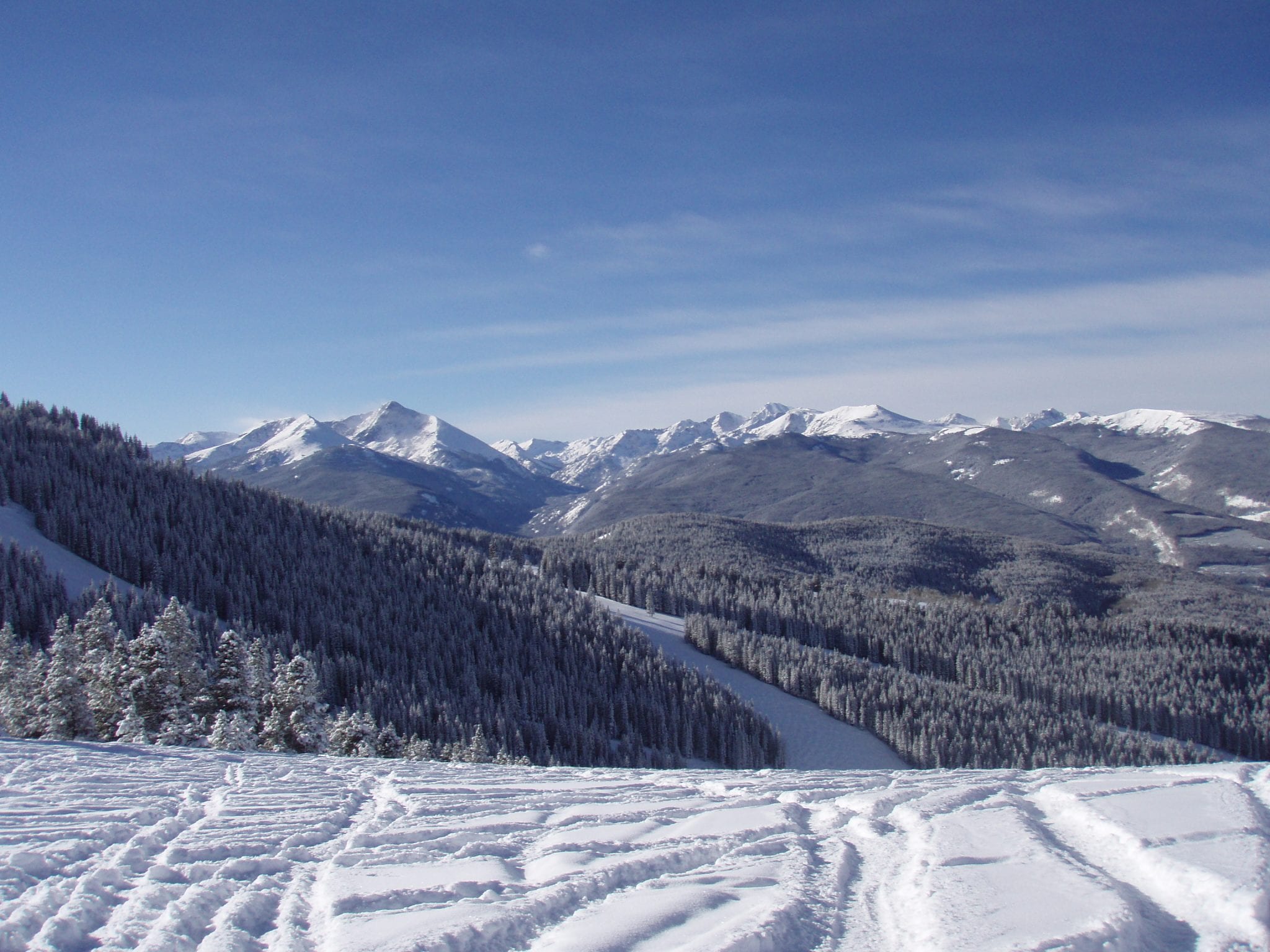 Mt of the Holy Cross. Photo: emerson12
Tragically, this majestic mountain has a reputation for endangering the lives of climbers who become stranded after missing an important turn on the peak's ridgeline. Increased safety measures have been implemented in recent years to protect climbers.
Mt Sneffels
Mt Sneffels might have a funny name, bit it's a mountain that demands to be taken seriously. This peak is famous for its remarkable vertical relief, which rests 7,200 feet above the nearby town of Ridgway.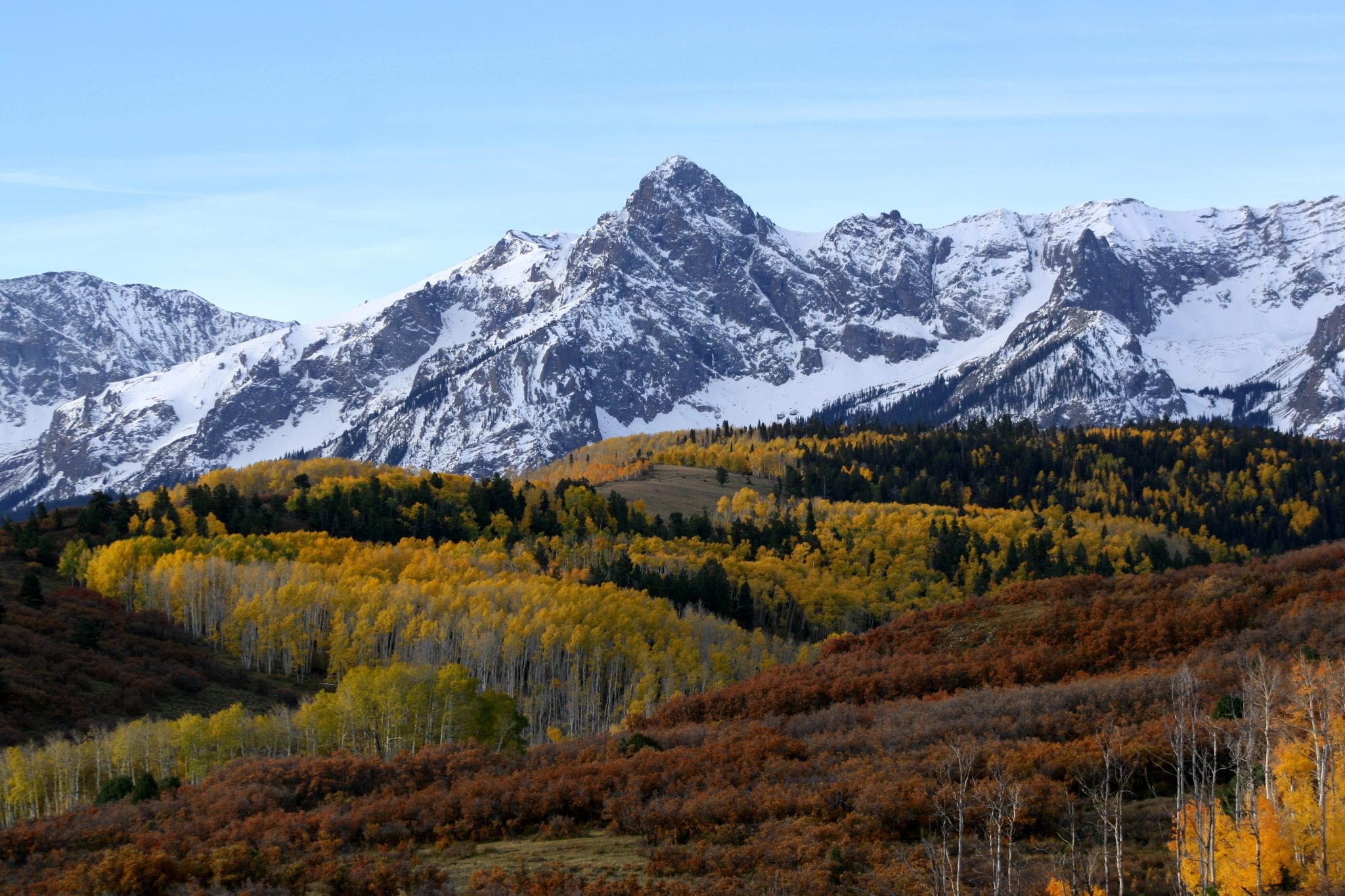 Mt Sneffels. Photo: jah~
A vertical relief refers to the extreme differences in elevation in a given area, and Sneffels is a prime example. Sneffels is named after a volcano in Iceland, and though the western face of the mountain resembles a volcanic crater, it's not actually a volcano.
Pyramid Peak
At 14,018 feet, you might assume Pyramid Peak is an easy climb, but you'd be very, very wrong. This mountain consistently ranks as one of the state's most dangerous 14ers to climb. Whereas higher Colorado mountains like Mt Elbert are often rounder and easier to manage, Pyramid Peak is brutally steep and unforgiving.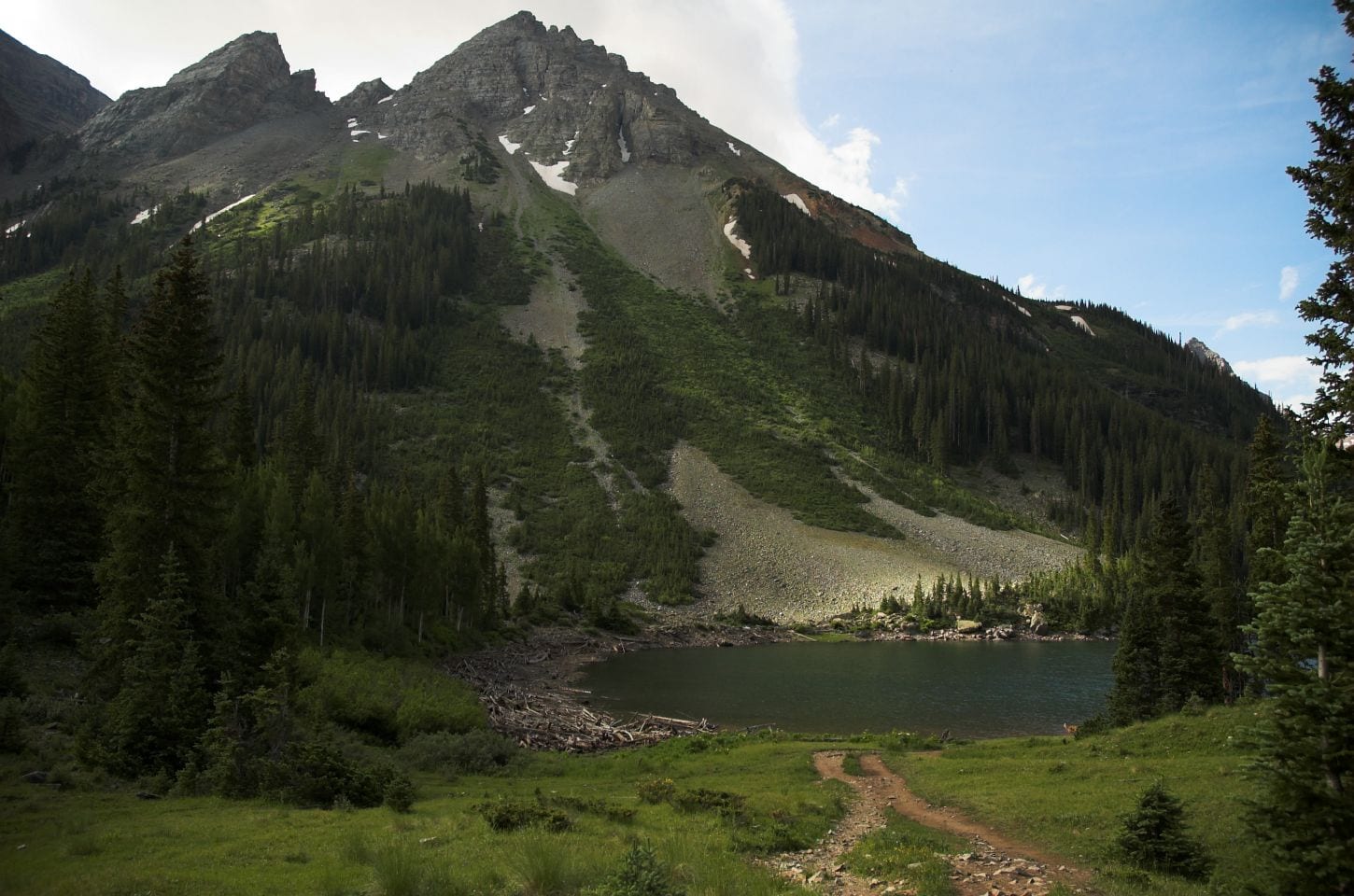 Pyramid Peak and Crater Lake. Photo: gpparker
On one of the peak's routes, the elevation rapidly rises a grueling 4,000 feet in just over a mile. The peak's routes range from class 3s to class 5s, each with high or extreme risk factors to contend with. It's located in the Elk Mountains of Pitkin County, about 12 miles southwest of Aspen.
Hope you enjoy the raw beauty of these mountains and treat them with the respect they deserve. Safe travels!