The one-of-a-kind breweries in Longmont make this Boulder County town a must-see for beer lovers. Whether it's specializing in one particular style, appearing on The Food Network, or embracing a unique theme (facial hair or cars, for starters), there is something interesting going on at each spot.
Beer is such a big part of Longmont there is even a hop-on trolley tour that allows people to visit the numerous breweries here called the BrewHop. The City of Longmont has also organized a self-guided craft brewery passport you can use to explore and score some drink deals.
Keep in mind beers on tap and menu items can change regularly. It's always a good idea to call the brewery to confirm kid and dog-friendly policies.
300 Suns Brewing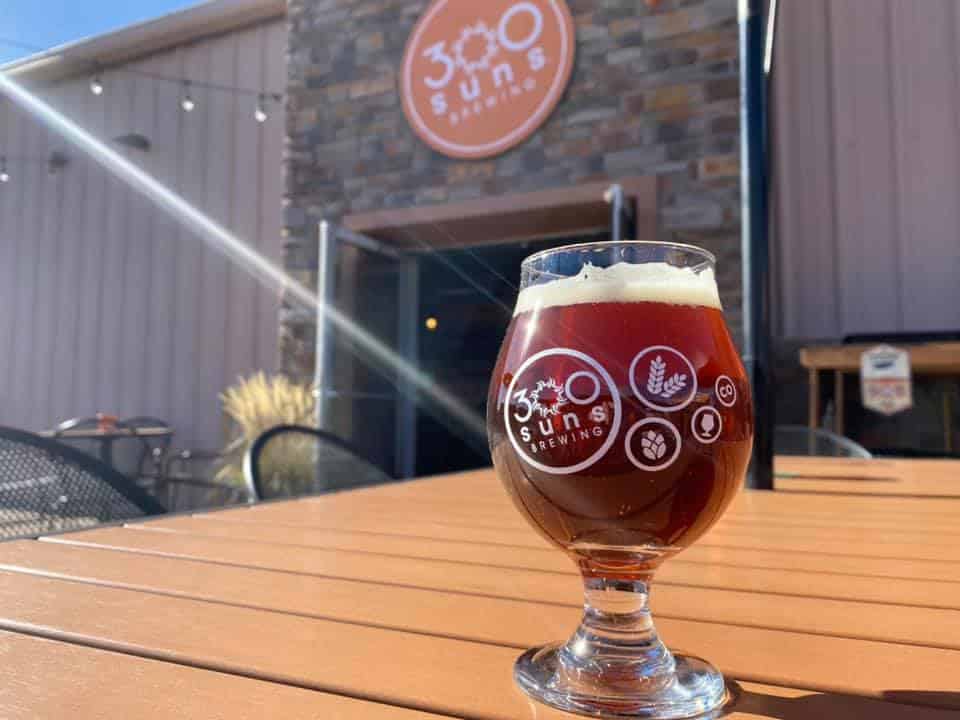 300 Suns Brewing in Longmont, CO. Photo by: facebook.com/300sunsbrewing
300 Suns Brewing was named Best Locally Owned Restaurant, Pub or Brewery and Best Beer Selection by local publications. In addition, it placed in the best burger, brewery and outdoor dining categories.
Beer styles are eclectic here and include IPAs, a Belgian Strong Ale, Browns, a Sour and a Smoked Ale. The Mexican Hot Chocolate Stout has chili heat from ancho, habanero, pasilla and guajillo peppers. There are some guest beers available, including gluten-free beers from Holidaily Brewing Co. and non-alcoholic beer from Bootstrap Brewing and Gruvi.
To go along with the brews, 300 Suns has a menu full of sandwiches, burgers, tacos and some shareable appetizers. The Colorado Poutine is a twist on the Canadian favorite, with cheese curds and mesquite smoked pork green chili on top of crispy fries. The brewery hosts a variety of live music and other events, including monthly acoustic jam sessions.
335 1st Avenue, Unit C | 720-442-8292 | 300sunsbrewing.com
Longs Peak Pub & Taphouse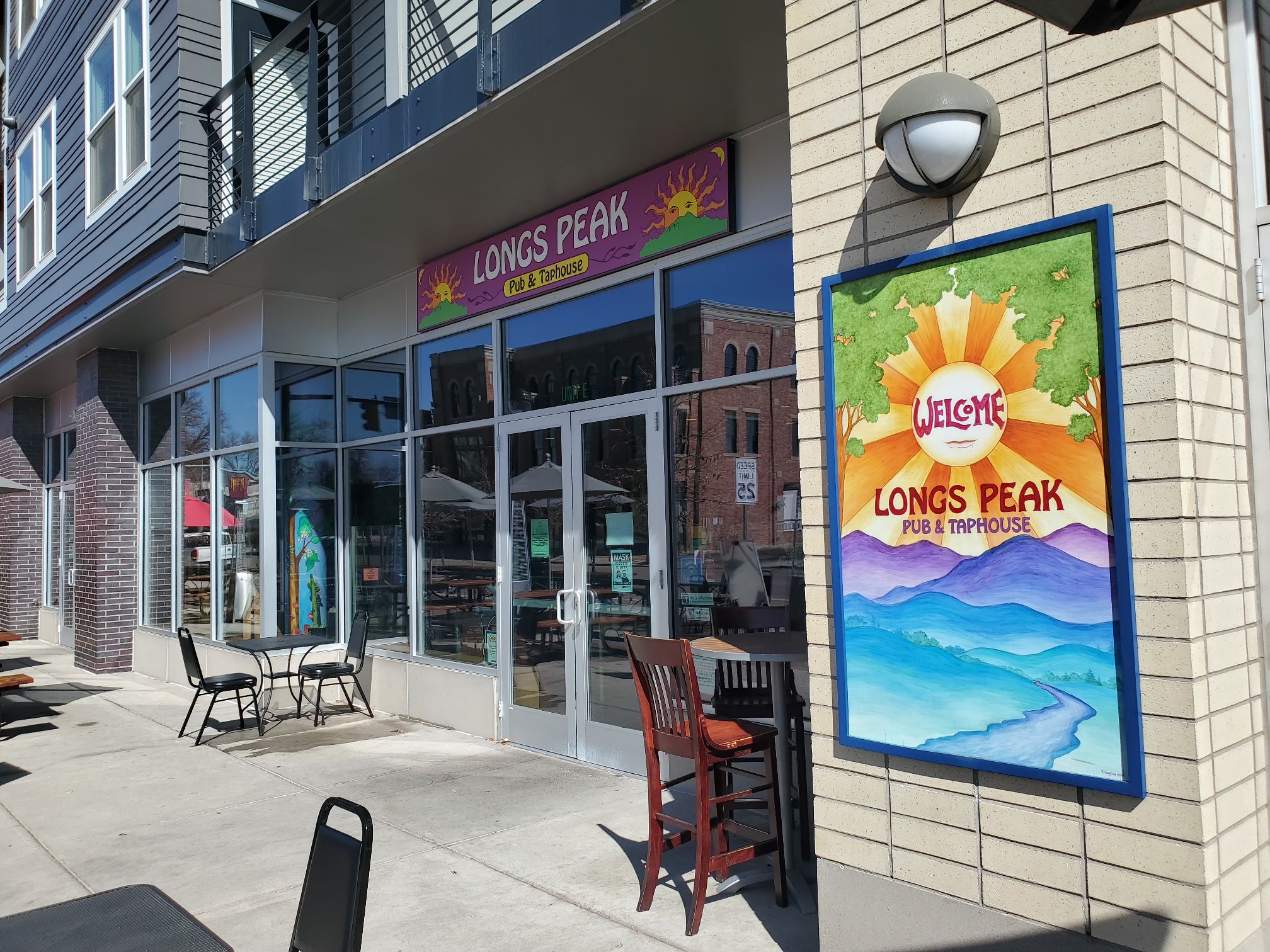 Longs Peak Pub & Taphouse in Longmont, CO. Photo by: facebook.com/longspeakpubandtaphouse
Mountain Sun Pub & Breweries has a handful of locations around Boulder, Denver and Longmont. The newest of the group is Longmont's Longs Peak Pub & Taphouse. There are more than 20 beers on tap, which include about 12 Mountain Sun beers.
Mainstay beers from the brewery include an Amber, Kolsch, Raspberry Wheat, Extra Special Bitter, IPA and Pale Ale, but there are also rotating seasonal brews. You can sip your beer on the outdoor, dog-friendly patio or inside the cozy restaurant. The happy hour offers a discount on house pints, margaritas and pizzas.
In addition to beer, there are also wine, margaritas on tap and cocktails. A large food menu consists of pizzas, burgers, sandwiches, salads and burritos and quesadillas. Vegan-friendly options include a burger, pizzas with dairy-free cheese, a beer-baked tempeh Reuben sandwich, cauliflower wings and chili.
600 Longs Peak Avenue | 303-651-7886 | mountainsunpub.com
Primitive Beer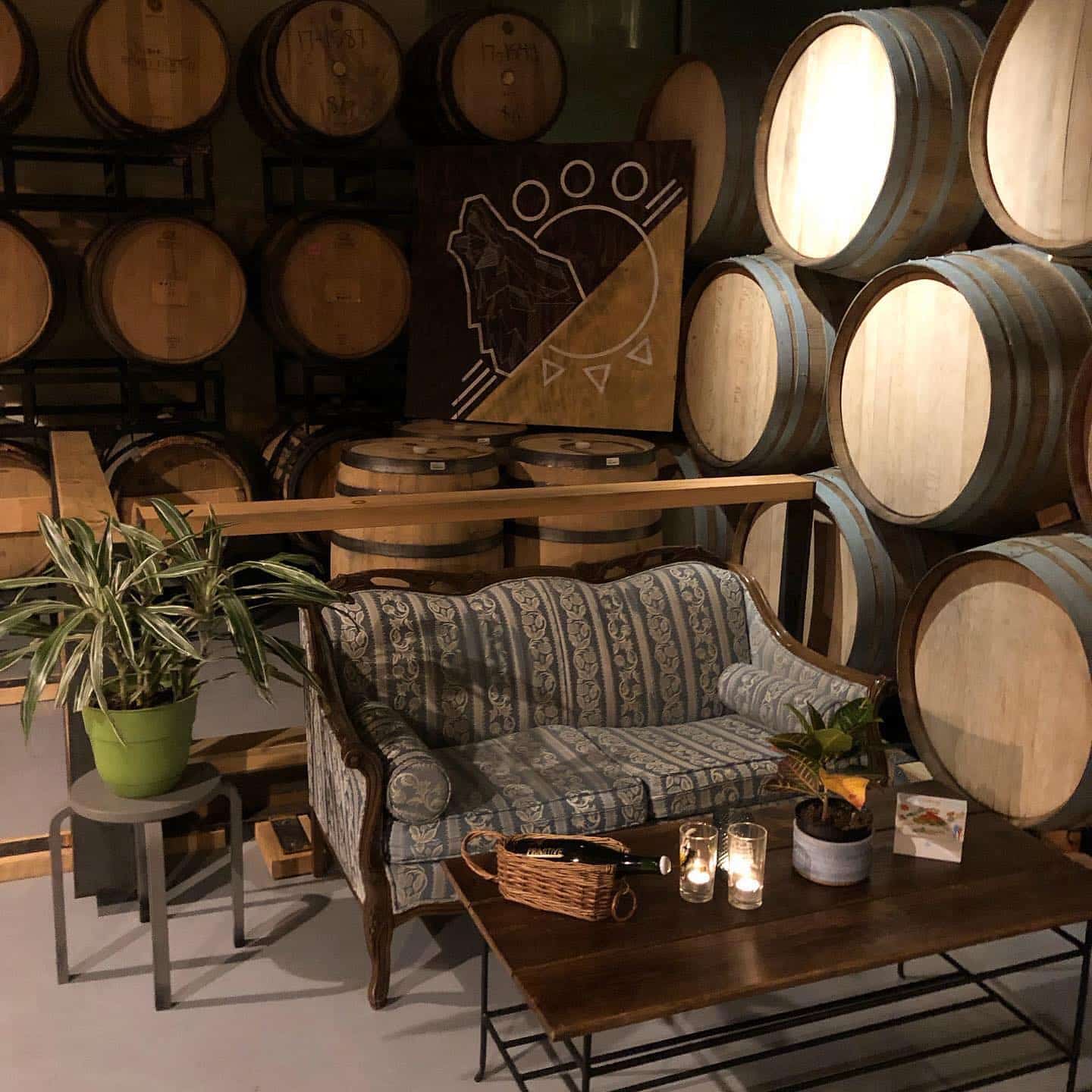 Cozy hangout spot at Primitive Brewing in Longmont, CO. Photo by: facebook.com/primitivebeer
Primitive Beer is a unique brewery, producing only spontaneous oak-fermented beers inspired by the Belgian Lambic. They only use Colorado-grown ingredients in their well-made, small-batch brews for an even more authentically local experience.
In addition to their own beers, they also offer a few guest beers from other breweries such as Bierstadt Lager House, Cohesion Brewing and New Image Brewing. Special events here have included a guest DJ, beer releases and vinyl nights.
There is a back patio that welcomes dogs and kids. If you're looking for beer to-go, some of the beers are packaged in a bag-in-box style, accentuating the beer's wine-like quality. They have limited hours for guests, typically only on weekend afternoons so be sure to check their website before heading out there.
2025 Ionosphere Street | primitive.beer
Bootstrap Brewing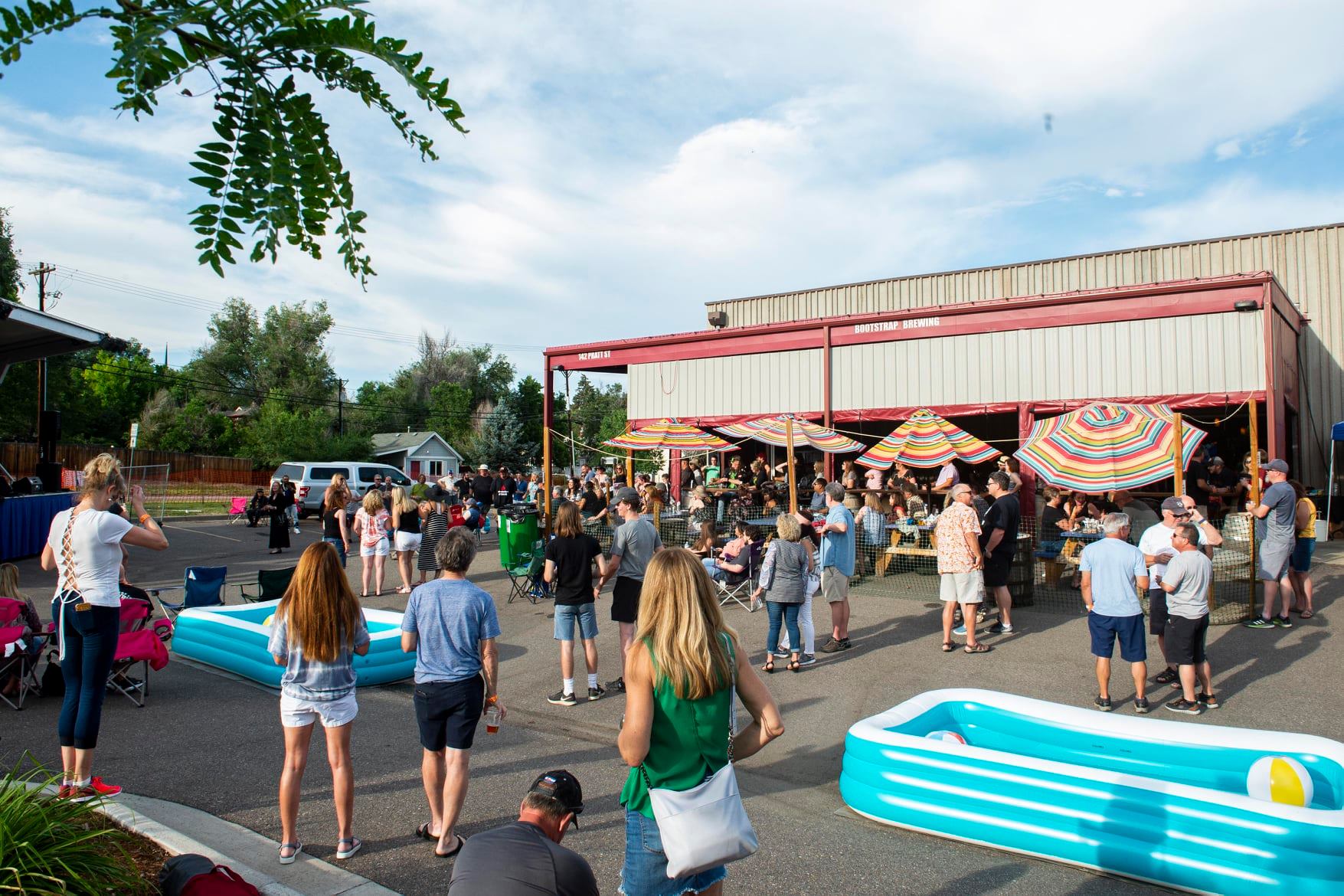 Birthday Bash celebration at Bootstrap Brewing in Longmont, CO. Photo by: facebook.com/bootstrapbrewing
Bootstrap Brewing was founded by Leslie and Steve Kaczeus, who both made the leap from the high-tech industry to the wonderful world of brewing craft beer. You'll find a mix of classic and unique beers, such as a Golden Ale infused with chilis and one infused with pickle juice.
Some fan favorites include the Lush Puppy Juicy IPA, Chillax Pineapple Gold, Insane Rush IPA and Stick's Pale Ale. Unlike most breweries, Bootstrap also brews two non-alcoholic beers – a Gold Ale and an award-winning IPA.
This lively tap room is home to regular karaoke sessions, rotating food trucks, open mic nights, and different band performances. You can also order delivery from local restaurants to enjoy with your craft beer. Non-aggressive dogs are welcome on the patio.
142 Pratt Street | 720-438-8488 | bootstrapbrewing.com
Großen Bart Brewery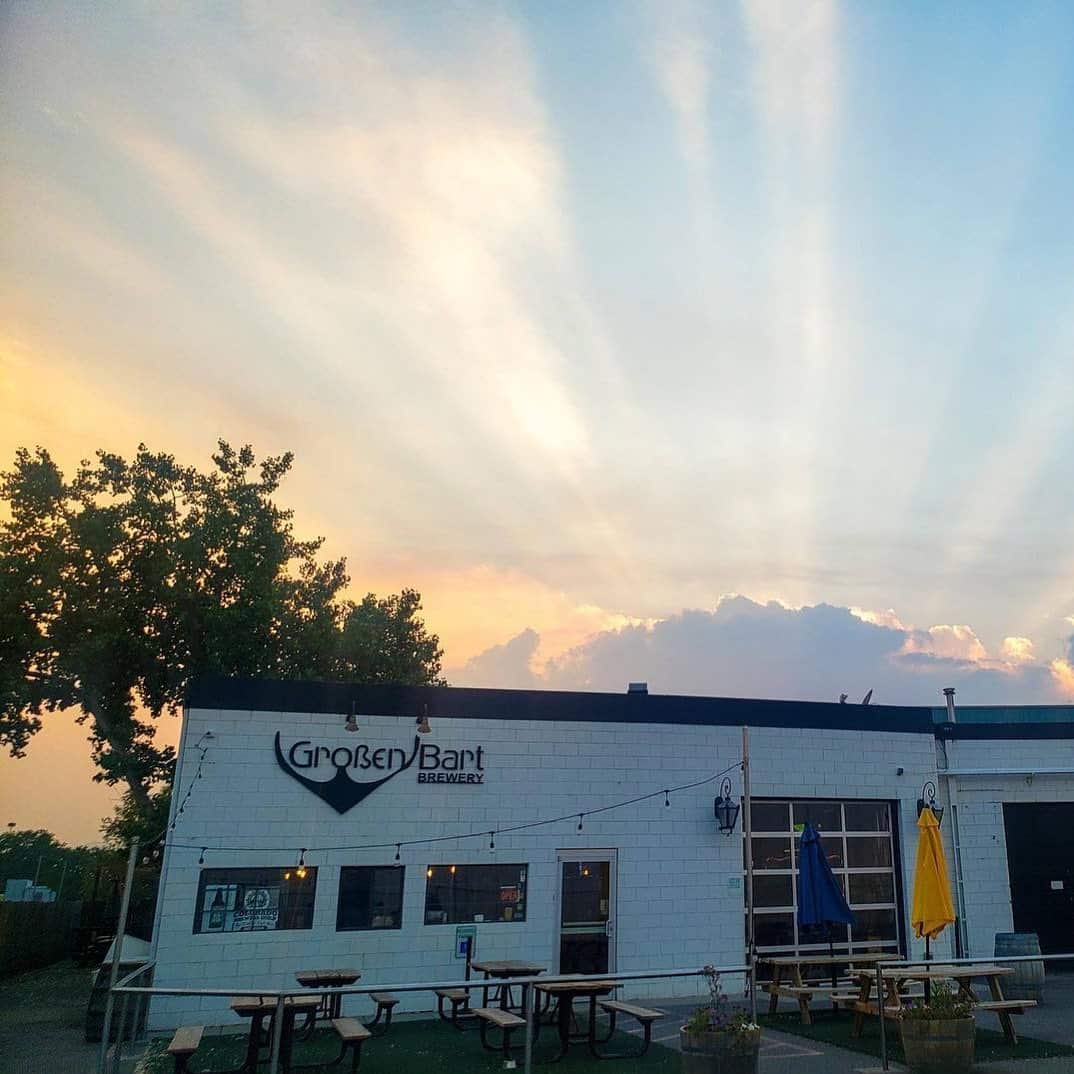 Sunset over Grossen Bart Brewery in Longmont, CO. Photo by: facebook.com/grossenbartbrewery
Großen Bart Brewery (also spelled Grossen Bart) is a one-of-a-kind brewery inspired by beards, with their name literally meaning "big beard" in German. Each beer is inspired by a unique style of facial hair – Half Beard Helles, HandleBarley Wine, Stubble Kolsch, Chin Curtain IPA and Anker Beard Amber, for example.
There are year-round beers and rotating ones on the menu, and flights are available to sample if you can't make up your mind. The HandleBarley Wine is aged in bourbon barrels from a local distillery, Copper Sky.
You can enjoy your brews inside the taproom or in the outdoor beer garden, which is also dog and family-friendly. For even more entertainment, join a trivia night, enjoy live music, watch a game on the big screen, or grab a bite from one of the visiting food trucks.
1025 Delaware Avenue | 720-438-2060 | grossenbart.com
Left Hand Brewing Company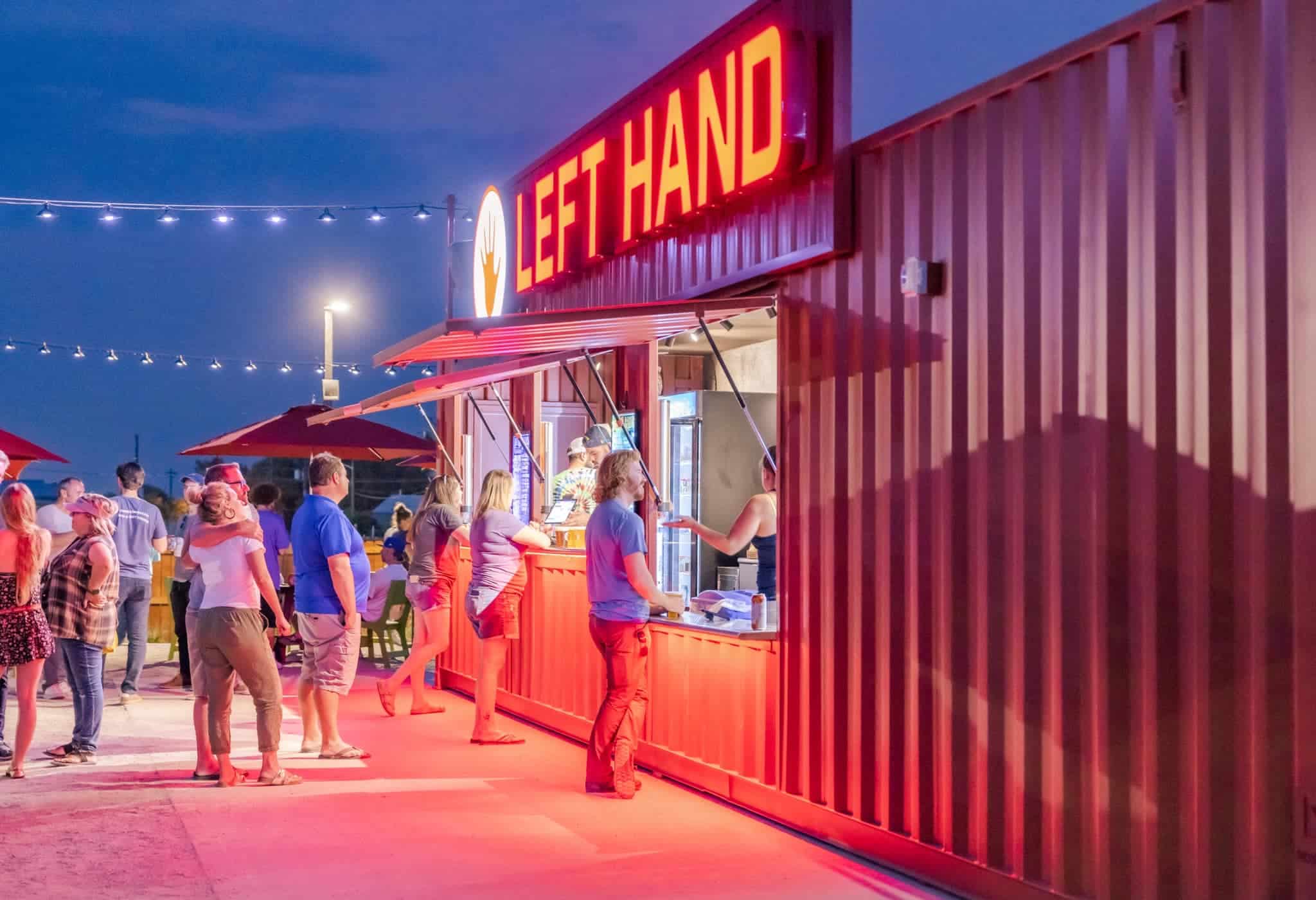 Beer garden bar at Left Hand Brewing in Longmont, CO. Photo by: facebook.com/lefthandbrewing
Left Hand Brewing Company has a tasting room and a large outdoor beer garden, each offering a unique experience. There is a large beer selection with mainstays as well as seasonal beers and limited releases.
Year-round favorites include Colorful Colorado Pale Ale, Flamingo Dreams Berry Blonde Ale and Sawtooth Amber Ale. Some of the seasonal beers are the Oktoberfest (available in Fall), Smore's Stout (available in Winter) and Key Lime Pie Nitro (available in Spring and Summer).
In the tasting room, you'll find 30 beers on tap, including pilot and cask-conditioned beers. The outdoor garden is dog-friendly and has six rotating taps, along with canned cider, wine and craft cocktails. The large lawn allows guests to bring blankets and chairs to enjoy live music and sunshine.
1265 Boston Avenue | 303-772-0258 |  lefthandbrewing.com
Pumphouse Brewery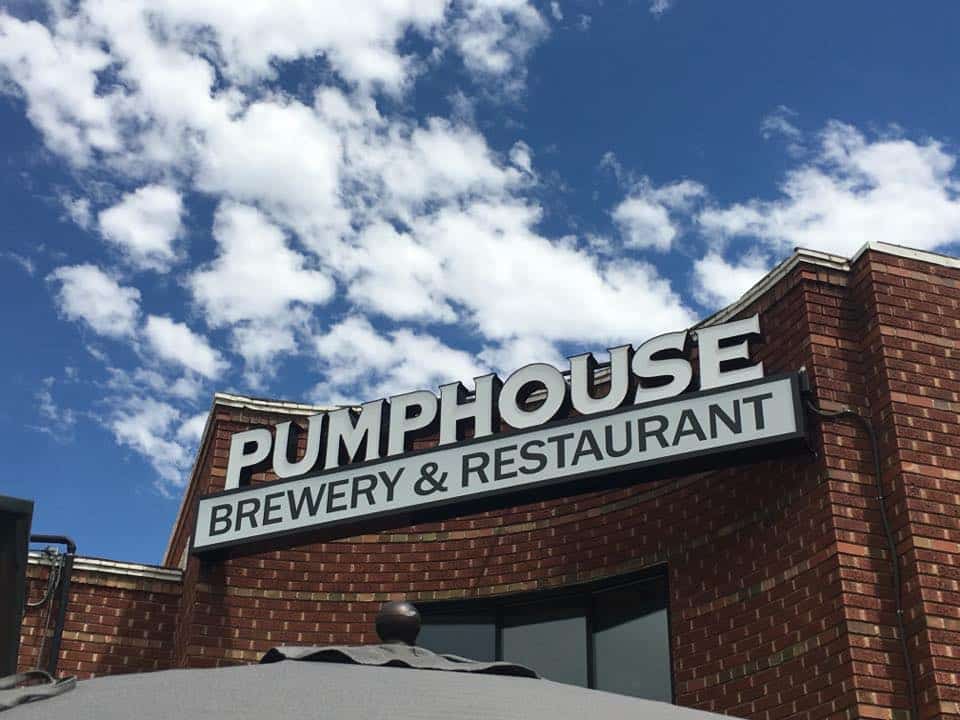 Blue skies over Pumphouse Brewery in Longmont, CO. Photo by: facebook.com/pumphousebrewery
Pumphouse Brewery offers indoor dining, a large bar and a pet-friendly outdoor dining area. The sports bar, known as Red Zone, has plenty of TVs to watch the game and a full bar. You'll find specials for happy hour, a late-night menu and daily deals.
House beers include Wildfire American-style Wheat, Flashpoint American IPA, Overflow New England-Style IPA and Red Alert Amber Ale. They also have guest taps, wine, margaritas, cocktails and martinis on the menu as well.
There is something for every taste when it comes to food, from wings and burgers to a seared tuna salad and Tuscan alfredo pasta. You'll find the beer incorporated in the food as with the Flashpoint IPA beer-battered fish and chips, beer mustard, Wildfire beer cheese fondue, and a Red Alert kraut on the Reuben sandwich.
540 Main Street | 303-702-0881 | pumphousebrewery.com
Wibby Brewing
Pool day at Wibby Brewing, a local favorite spot to cool down in the summer. Photo by: facebook.com/wibbybrewing
Wibby Brewing specializes in brewing Lagers specifically, combining German brewing traditions with the influence of American craft beer. A few of their award-winning beers include Volksbier Vienna, Moondoor Dunkel and the Lightshine Helles.
Wibby IPL is an IPA-style lager, and Double Dunkel is brewed with cacao nibs and is lagered on Madagascar vanilla beans. They offer free tours of their lagerhaus at specific times, and if you happen to miss one the "beertenders" are usually more than happy to show you around.
Wibby is home to a large outdoor area, which is both welcome to kids and leashed dogs. Here you'll find live music under the pavilion, a rotating selection of food trucks and a variety of other events, such as trivia and huge wading pools in the summer.
209 Emery Street | 303-776-4594 | wibbybrewing.com
Collision Brewing Company & Restaurant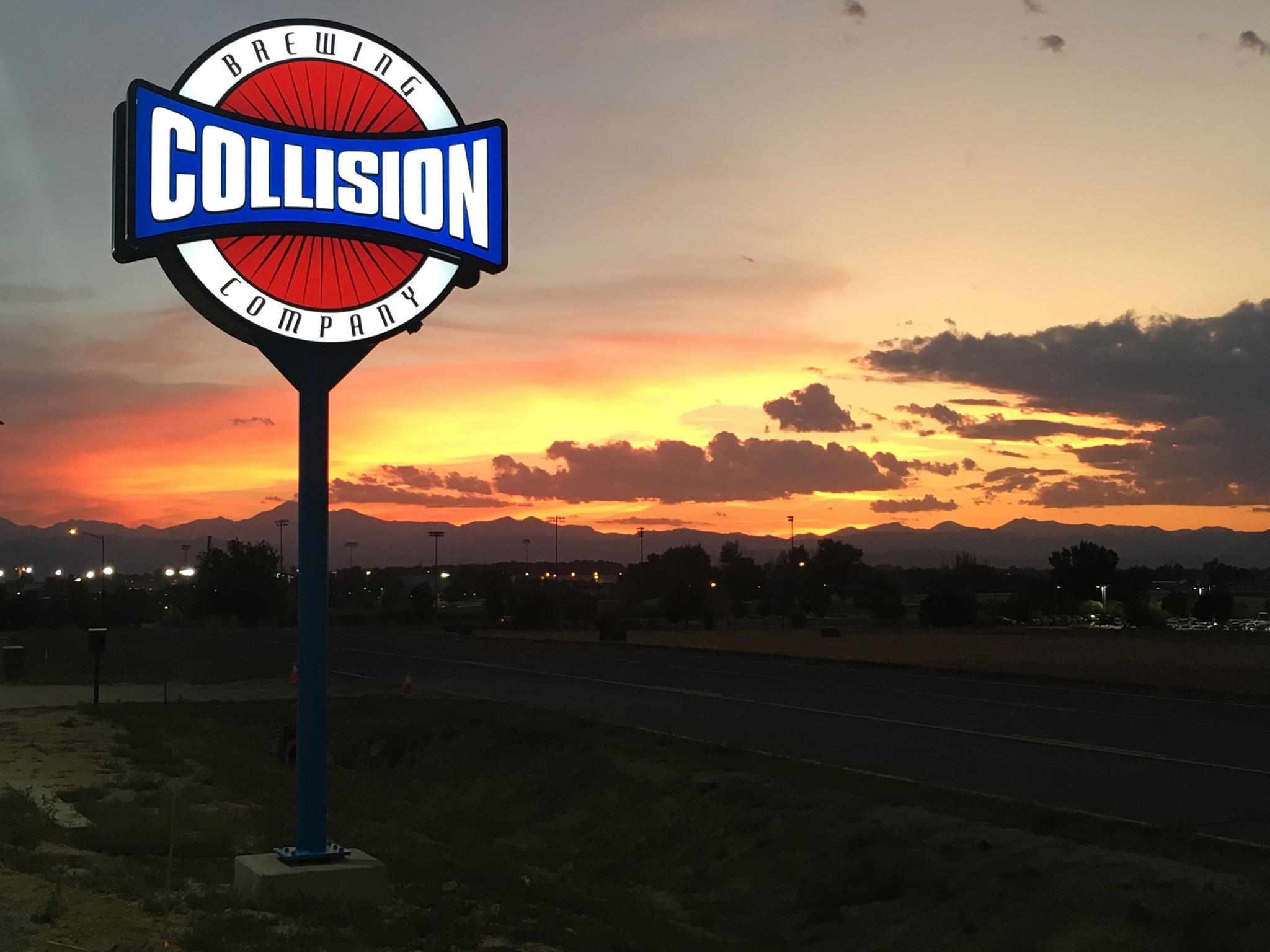 Sunset over Collision Brewing Company in Longmont, CO. Photo by: facebook.com/collision-brewing-company
Collision Brewing Company & Restaurant is a car-themed brewery from the décor throughout the restaurant to the names of the brewed beers. Vintage Citrus IPA, Road Rash IPA, Czech Point Lager and Blinker Fluid Kolsch are just a few options.
You'll find a variety of sandwiches, burgers, salads and rotating food specials. Many menu items can be made vegan, including spinach artichoke dip, crispy cauliflower, fried mushrooms, tacos, burgers and mac and cheese.
In addition to beer, cocktails and wines are available, too. The outdoor area offers views of the mountains and is dog-friendly. Keep an eye out for special events and daily deals they run for different drink options.
1436 Skyway Drive | 720-996-1850 | collisionbrewco.com
Shoes & Brews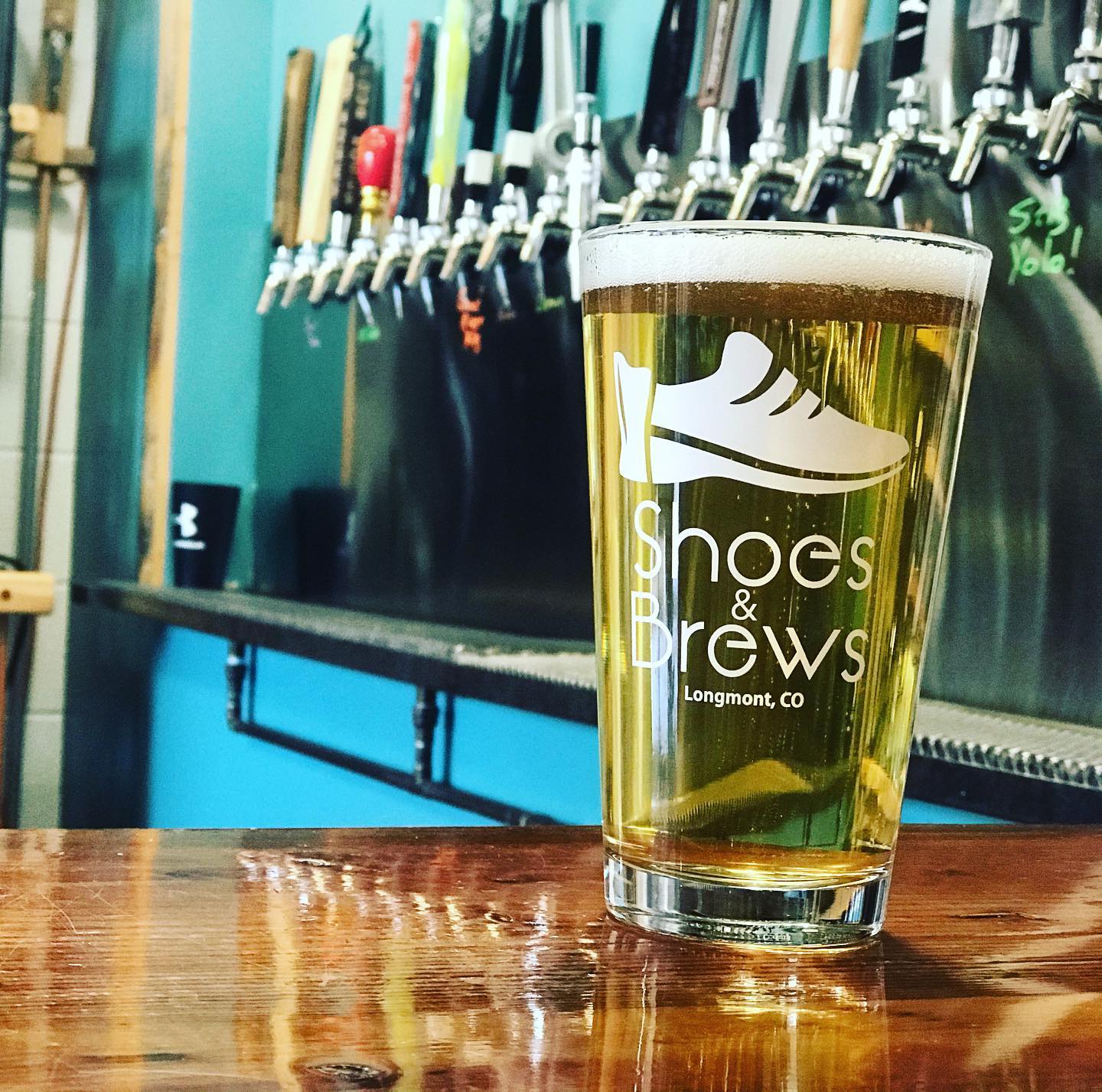 Shoes & Brews beer and on-tap options in Longmont, CO. Photo by: facebook.com/shoesandbrewslongmont
Shoes & Brews combines two favorite activities in Colorado, running and drinking craft beer. The Longmont spot is part specialty running store and part nano-brewery, also hosting various running events.
In the front, you'll find a big selection of essential running gear including shoes, apparel, accessories, watches, sunglasses and nutrition items. The team brews on a one-barrel system, and there are two to four of their own beers on tap along with guest taps to fill out their menu.
There are 20 rotating taps, with options for cider and wine as well. Enjoy lawn games, a basketball hoop, a patio, and weekly special events. The brewery is kid and dog-friendly too.
63 S. Pratt Parkway, Unit B | 720-340-4290 | shoesandbrews.com
The Post Chicken & Beer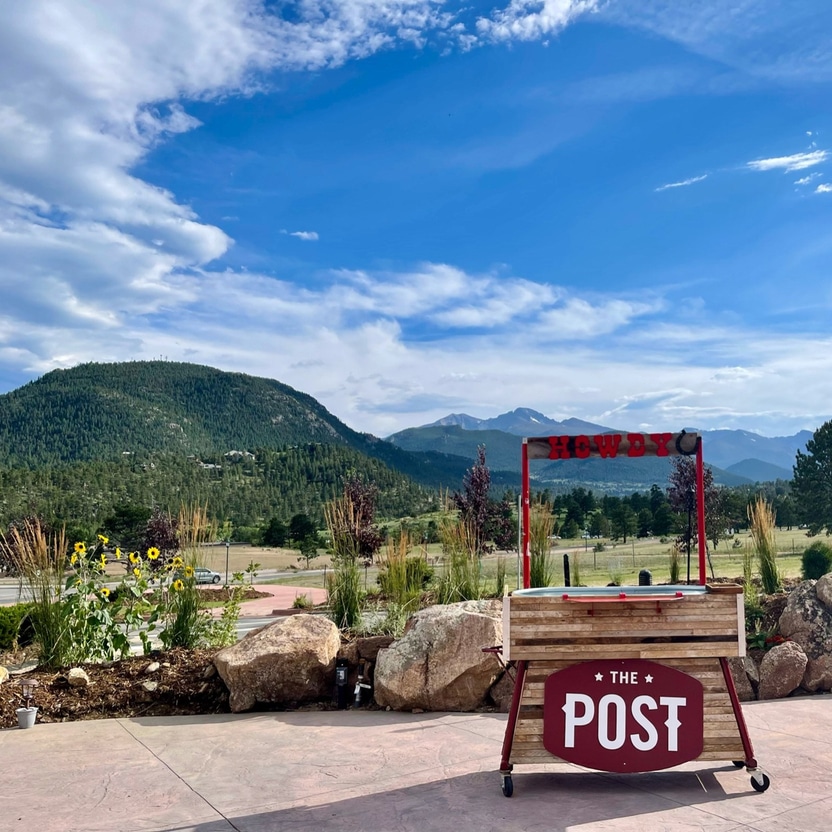 Gorgeous scenery at The Post Chicken & Brewery in Longmont, CO. Photo by: facebook.com/thepostchickenandbeer
The Post Chicken & Beer has locations in Lafayette, Boulder, Fort Collins, Estes Park, Denver and Longmont. Previously featured on The Food Network's Diners, Drive-Ins & Dives, this popular brewery features award-winning beers and hearty meals.
The beer here is specifically brewed to pair deliciously with the food. Howdy Pilsner, Townie Easy-Drinkin' IPA, Top Rope Mexican Lager and a Backyard Saison Farmhouse Ale are a few fan favorites. Wine, cocktails and non-alcoholic drink options are available as well.
Known for their fried chicken, the food is described as family-style comfort food. There's also pan-seared salmon, meatloaf and a roasted and fried portobello sandwich served with French fries. There is no shortage of side dishes with cheddar biscuits, collard greens, buttermilk waffles, green chile mac and cheese, mashed potatoes and gravy, deli slaw, garlic-style fries and beets with goat cheese.
1258 S. Hover Road | 720-588-2883 | postchickenandbeer.com
Knuckle Puck Brewing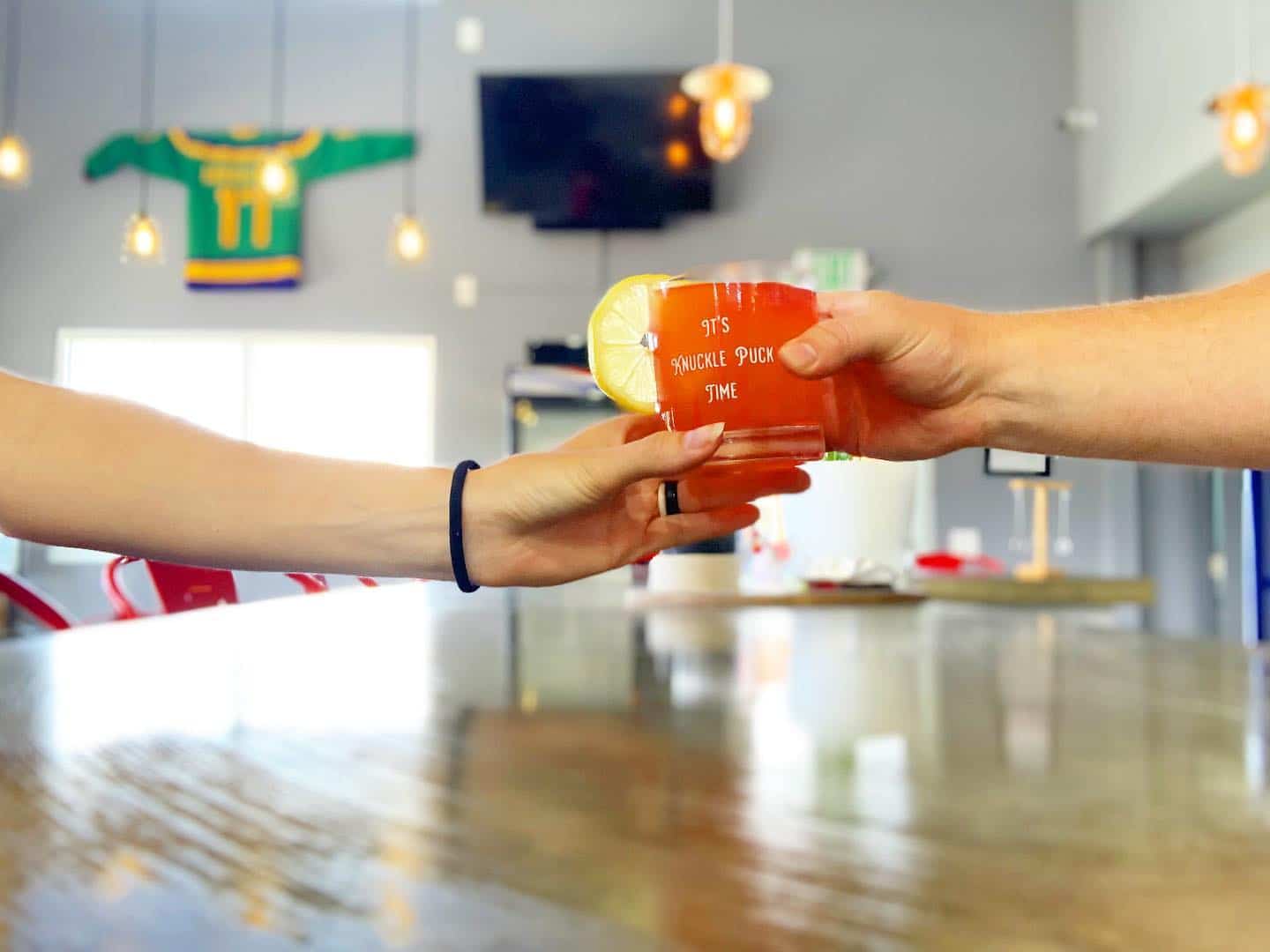 Fresh kombucha at Knuckle Puck Brewery in Longmont, CO. Photo by: facebook.com/knucklepuckbrewing
Knuckle Puck Brewing is located in Mead right along the Longmont border, giving the brewery a Longmont address. Besides brewing traditional beer, they also brew kombucha here, which is fermented sweet tea.
Some beer styles include an Imperial Brown Ale, Red Ale, Double IPA, American Pale Ale, Wheat, Fruit Beer, New England IPA and a Cream Ale. As for the kombucha, there's a cucumber mint, pineapple jalapeño, strawberry lime and raspberry lemon.
Well-behaved dogs are welcome on the patio. The brewery hosts yoga, food trucks, cornhole tournaments and trivia, along with other rotating community-focused events.
13782 East I-25 Frontage Road, Unit B-1 | knucklepuckbrewing.com
Oskar Blues Brewery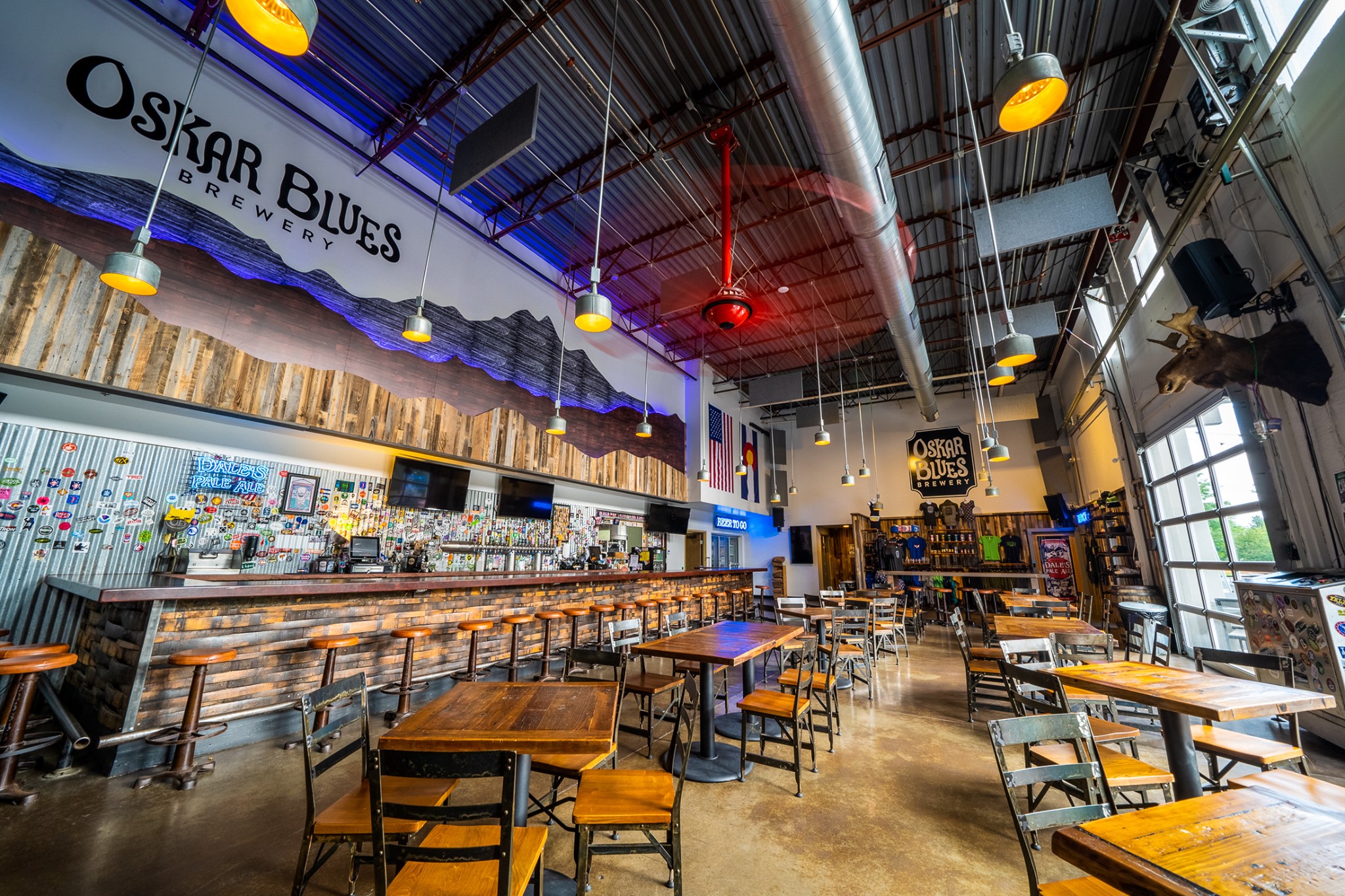 Indoor seating at Oskar Blues Brewery in Longmont, CO. Photo by: facebook.com/OBtastyweasel
Oskar Blues Brewery is home to an eclectic, ever-changing tap list. Known for being one of the first breweries to embrace canning, their most iconic beer is Dale's Pale Ale. They have locations in Austin, TX, Brevard, NC, and Longmont.
You can browse beer to-go inside the tap room or stick around for live music. Mama's Little Yella Pils, Unravel Coffee Kolsch and Old Chub are just a few of the brews you might find on tap. They also have some non-alcoholic soda options and a short snack menu if you get a little hungry.
Wild Basin is the name of the brewery's hard seltzer brand, which you can also find on tap. Melon Basil, Passion Orange Guava, Cucumber Peach and Blueberry Mango are a handful of flavors.
1640 South Sunset Street | 303-776-1914 | oskarblues.com
From lagers to stouts, there is no shortage of award-winning beer throughout the city. Whether it's great food, a scenic outdoor area or a unique theme, these Longmont breweries all have something to offer for beer lovers.