Millions of enthusiastic skiers flock to Colorado yearly because of its good elevation, bright skies, and breathtaking scenery. While it's hard to go wrong with any ski resort options in the state, a few are considered to be the top family-friendly choices.
Most ski resorts have a four- to six-month open season, with the average months of operation being mid to late November to early to mid April. Many ski towns and villages surrounding the slopes provide hotels and other places to stay close to the ski hills.
These particular ski resorts all offer terrain and learning programs for newer skiers, while still providing more advanced members of the family steeper trails to tackle. Some offer additional attractions such as tubing hills or outdoor ice skating rinks.
In no particular order, here are some of the best family-centric ski resorts in Colorado.
Keystone Resort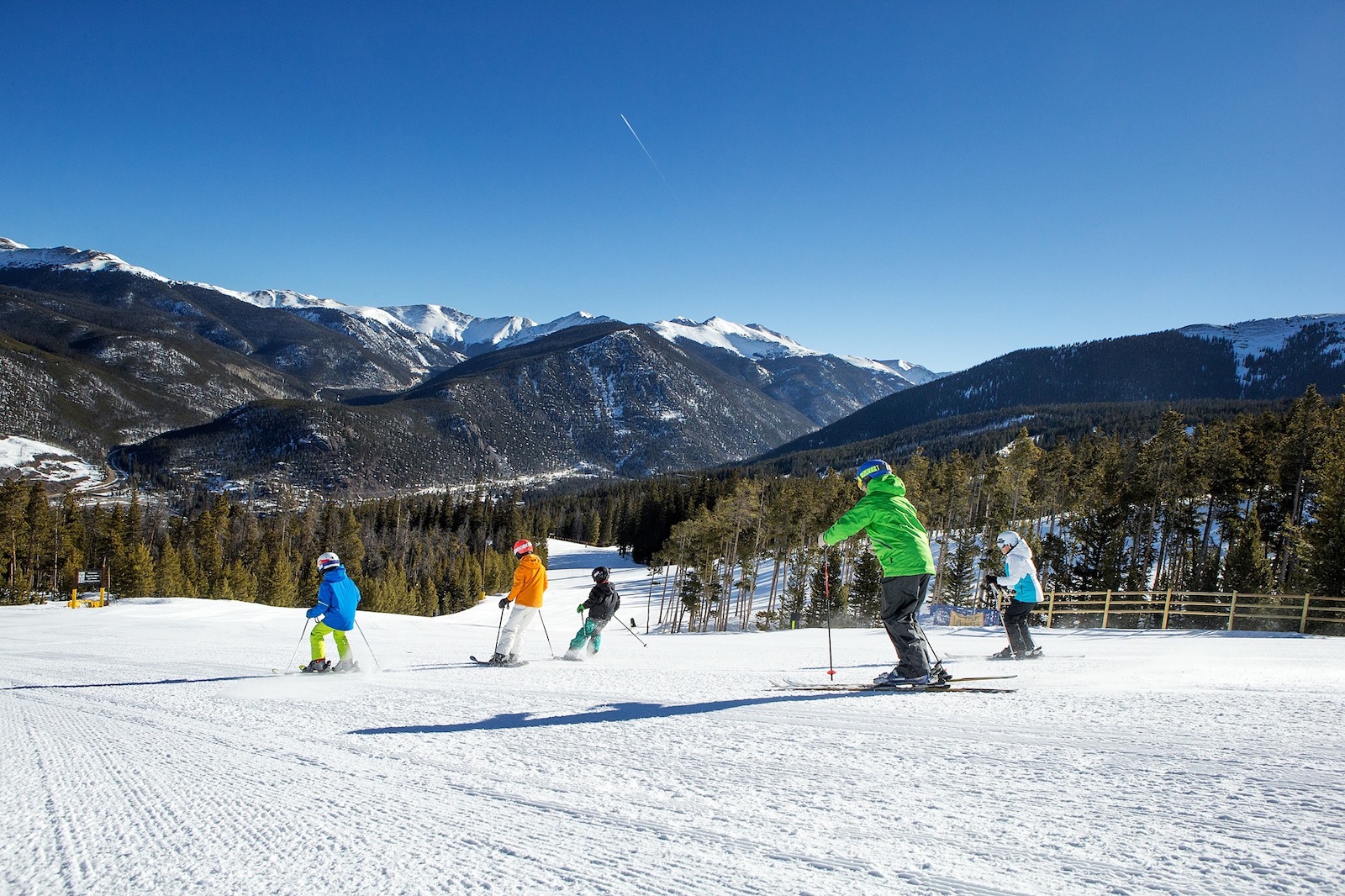 Keystone Resort, Colorado. Photo by: facebook.com/Keystone
Located in the town of Keystone, this massive ski resort has state-of-the-art lifts, a bustling village, and 288 acres of world-famous night skiing. Keystone Ski Resort is about 100 miles west of Denver International Airport and has three separate mountain peaks. Skiers and riders of all ages and skill levels enjoy it.
The official breakdown of the terrain difficulty scale places the easiest (green) at 12% of the resort's trails, with the more challenging at 39% (blue) and the most difficult at 41% (black). The vertical drop of Keystone Ski Resort is 3,128 feet, and the resort itself spans 3,148 acres. There are 128 runs, with 3.5 miles being the longest, and 20 lifts that service them.
If you or your child has never skied before, the resort has group and private lessons, seasonal programs, and equipment rentals available.
Snow tubing, ice skating, shopping, eating, sleigh rides, and even snow biking are just some exciting things to do in Keystone. Discover the enormous snow fort in the snow tubing area, which is equally fun for kids and grownups. Keystone also offers a free kids' program called Kidtopia, full of fun events and activities that families can enjoy together.
100 Dercum Square, Keystone, CO 80435 | 855-603-0049 | keystoneresort.com
Winter Park Resort
Winter Park Resort, Colorado. Photo by: facebook.com/WinterParkResortCO
Winter Park is just 60 miles from Denver's center, yet it seems like it's on another planet. Since it opened in 1939, the resort has been the best place for locals and tourists to go for a ski vacation that is good for the whole family.
This large ski resort has a summit of 12,060 feet and a vertical drop of 3,060 feet. It has 168 runs, with 50% of them being hard, 22% being moderate, 24% being easy, and 4% being double-diamond. The longest path is shy of five miles long, and with 3,081 skiable acres, there is plenty to do all day long. A total of 25 lifts service the property, with snowmaking capabilities on 313 acres.
The city of Denver built the resort as a "winter park" for its residents. It now hosts various events and activities, from group snowsports classes to private lessons. Snowshoeing and tubing are also offered on-site, and a unique tour using a snowcat machine. The resort has rentable gear for skiing and snowboarding by the slopes, but try snow biking and uphill skiing lessons for something new and exciting.
85 Parsenn Rd, Winter Park, CO 80482 | 970-726-5514 | winterparkresort.com
Purgatory Resort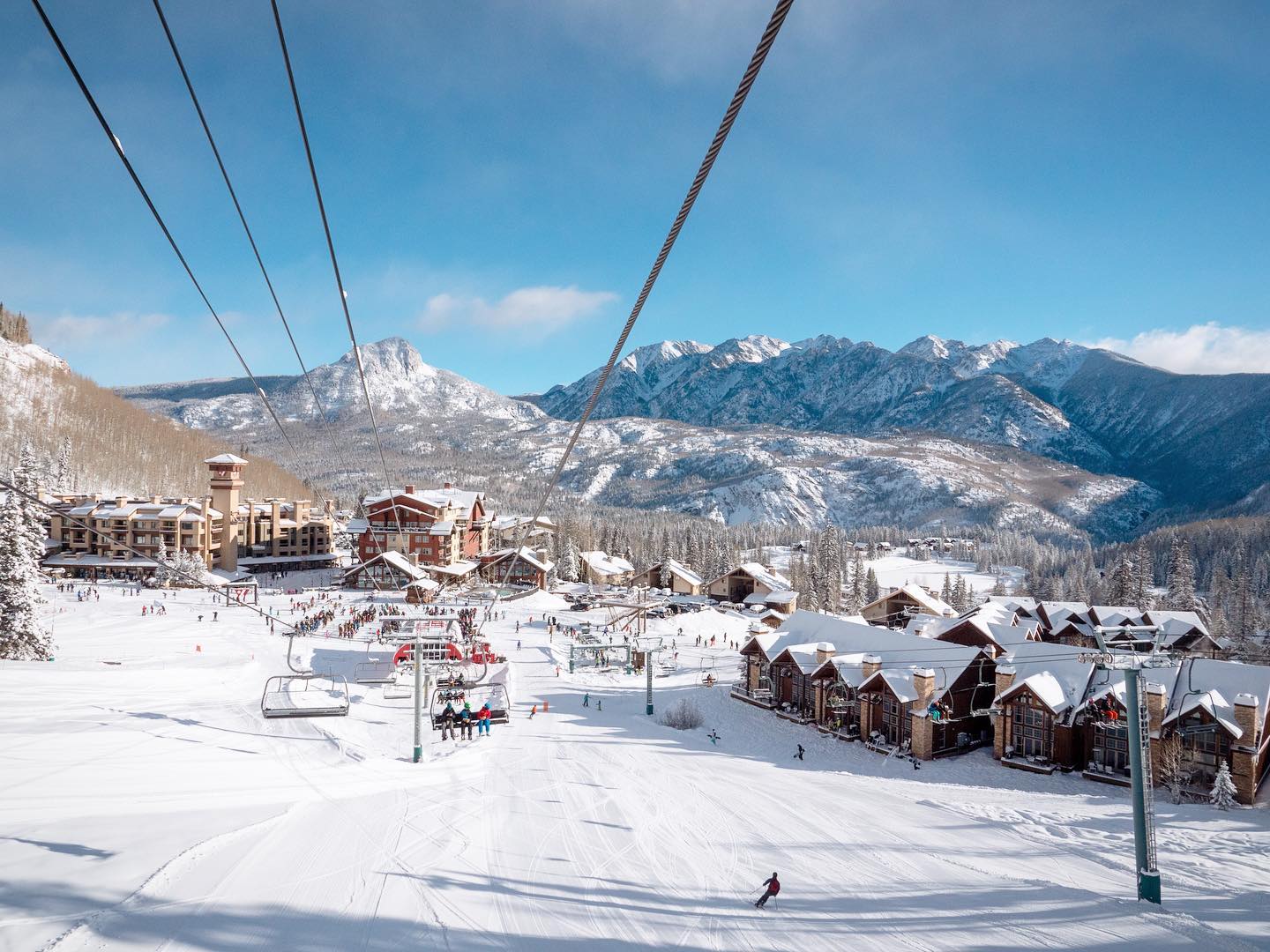 Purgatory Resort, Colorado. Photo by: facebook.com/skipurg
Purgatory Resort in Durango, Colorado, is a winter wonderland in the San Juan Mountains and an ideal holiday spot for families. The ski resort is on 1,605 acres and gets an average of 260 inches of snow every season.
Purgatory's 12 lifts provide access to the resort's 105 trails and seven terrain parks, spread out across the 10,822′ summit and 2,029′ vertical descent. The longest run is 1.3 miles long, and the trails are split into several difficulty categories: 23% for beginners, 35% for intermediates, 30% for advanced, and 12% for experts.
Kids under 12 who visit Purgatory can ski for free all season or book lessons at each difficulty level. In addition to downhill skiing and snowboarding, the resort has tubing, snowcat scenic tours, snowmobiling, cat skiing, Nordic skiing, mountain coastering, and snowshoeing.
After spending a day chilling out and shredding powder, adults can take advantage of the on-site lodging, hot pool, and dining options. Families with kids too young or uninterested in skiing the mountain can stay at the resort's daycare center, where activities and an engaging environment are provided.
When the snow has melted for the season, return to the lodge for summer fun, including mountain biking, hiking, spending time at the lake, or riding the Alpine Coaster.
1 Skier Pl, Durango, CO 81301 | 970-247-9000 | purgatory.ski
Breckenridge Resort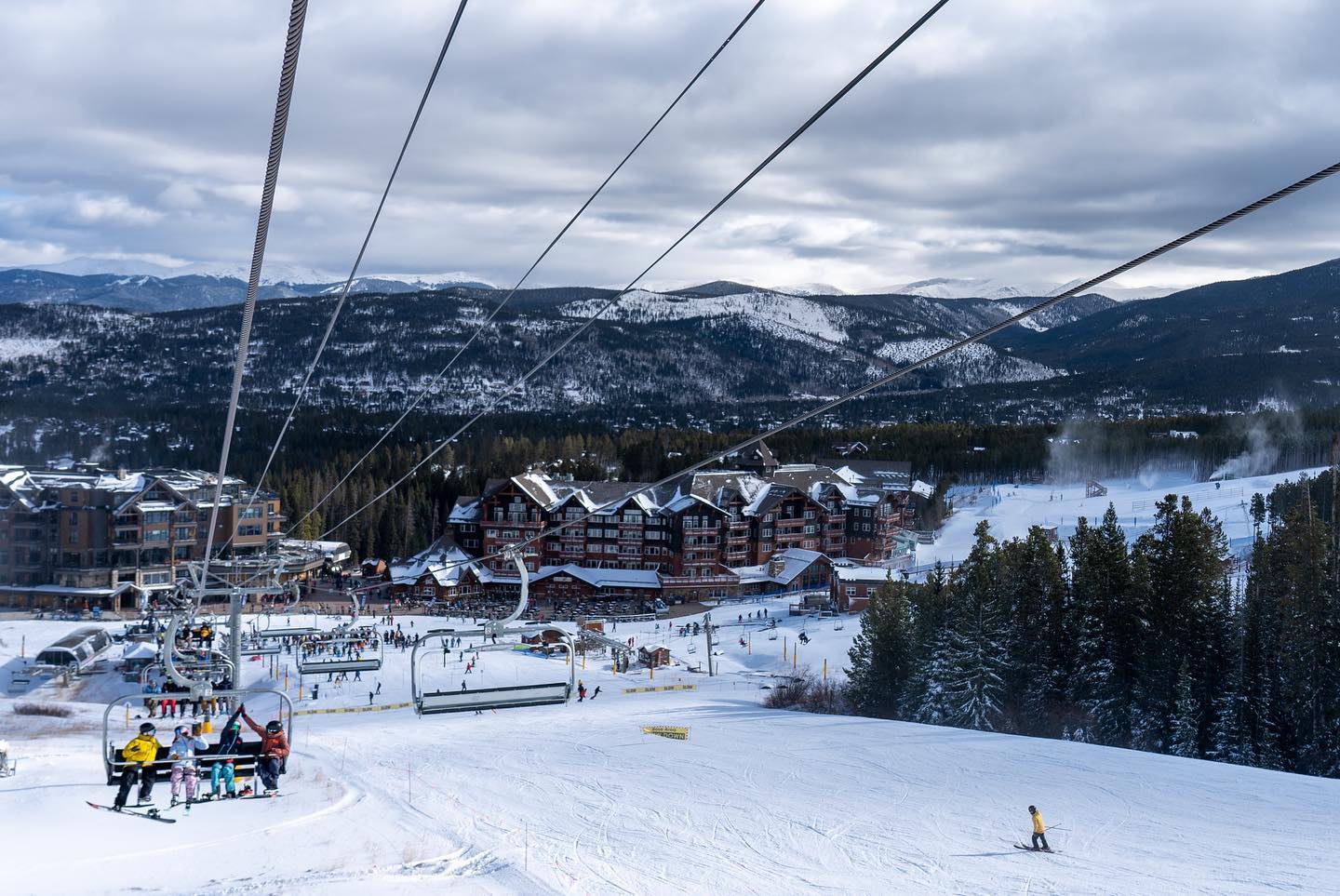 Breckenridge Resort, Colorado. Photo by: facebook.com/Breckenridge
About 100 miles west of DIA and less than two hours from downtown Denver, Breckenridge Ski Resort is one of Colorado's most popular ski resorts and family-friendly ski communities. Breck stands out from other ski resorts because of its five enormous peaks, 600 acres of snowmaking potential, and breathtaking vistas.
Breckenridge Ski Resort has 2,908 skiable acres, 187 trails, and North America's highest chairlift at 12,840 feet. This means that skiers and athletes of all skill levels can enjoy world-class skiing and ride there. The 3,398-foot vertical plunge at Breck is accessed from the peak, which stands at a lofty 12,998 feet and is among the tallest in the state.
Individual or small-group lessons are available for children and adults who are just learning the sport of skiing or want to improve their abilities. There are also four world-class terrain parks and a superpipe measuring 22 feet in Breckenridge.
This resort is one-of-a-kind, exuding the ambiance of an authentic Victorian hamlet, complete with more than 200 stores and eateries. Experience the Rocky Mountains from 2,500 feet up on the Gold Runner Alpine Coaster and browse over 156 independently owned shops.
There is a wide variety of places to stay in the area, from ski-in/ski-out hotels and condominiums to more traditional motels, so you can rest and refuel after a day on the slopes, in the shops, and at the restaurants.
1599 Ski Hill Rd, Breckenridge, CO 80424 | 970-453-5000 | breckenridge.com
Steamboat Ski Resort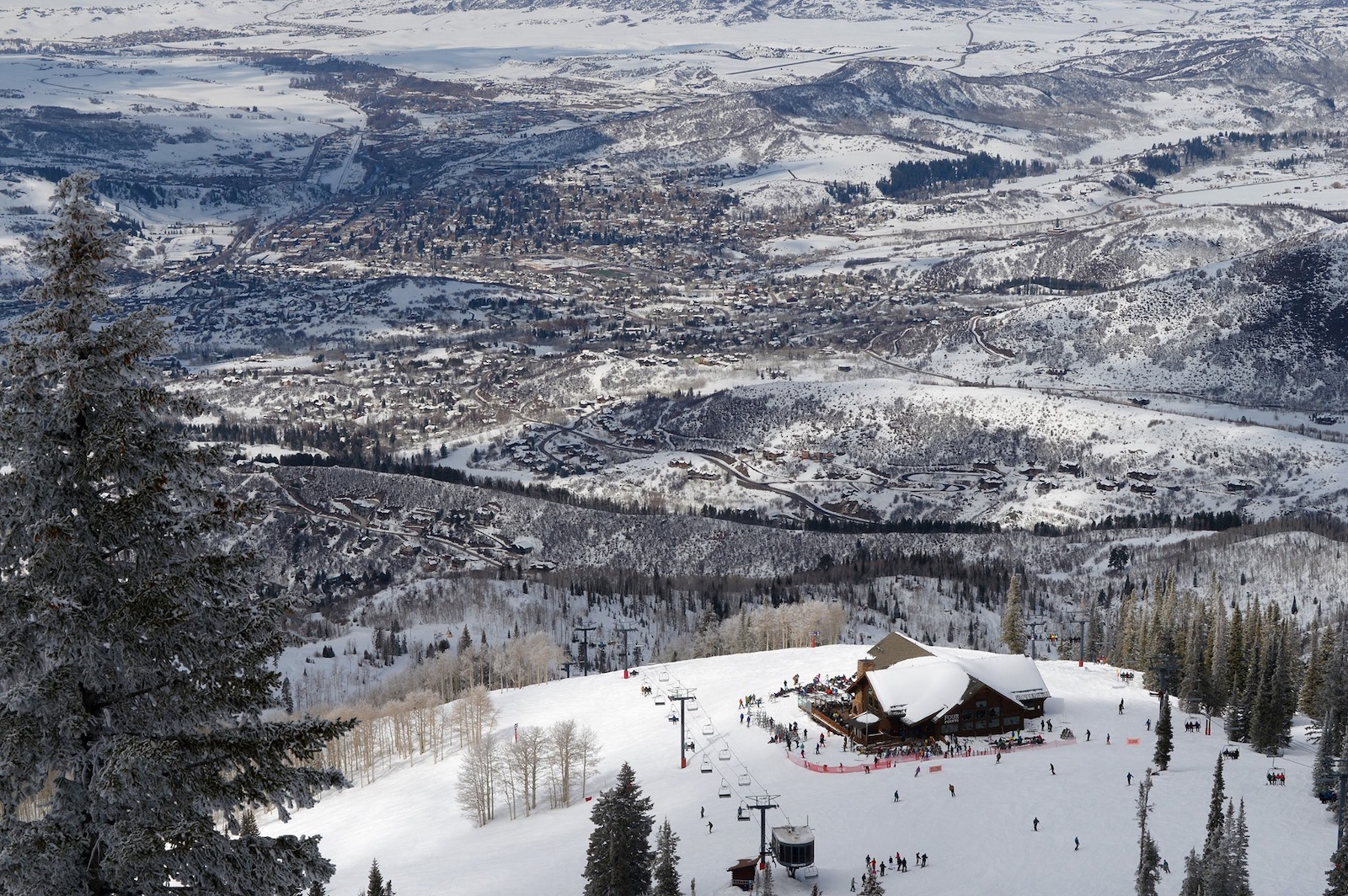 Steamboat Ski Resort, Colorado. Photo by: facebook.com/SteamboatResort
Steamboat Ski Resort in Steamboat Springs is a great place to go skiing because of its "Champagne Powder" and unique aspen glades, which offer some of the best tree skiing in North America. This place is one of the best ski resorts for families in Colorado and is called "Ski Town, U.S.A." because it has excellent snow conditions and many trails.
The uphill capacity of Steamboat Ski Resort's 18 lifts is 41,026 passengers per hour, and the resort's skiable terrain spans 2,965 acres. The trails are split into three difficulty levels: beginning (14%), intermediate (42%), and advanced (44%) runs. There is a 3,668-foot vertical ascent from the base level of 6,900 feet to the peak elevation of 10,568 feet. Snow school includes five surface lifts and offers lessons for children, teenagers, and adults.
Aside from shredding powder downhill, visitors can also enjoy wintertime with snowshoeing, cross-country skiing, night skiing, snowmobiling, scenic gondola, and even sleigh rides through the snowy backdrop. Snow buggy tours, tubing, and horseback riding are also possible in town.
2305 Mt. Werner Circle 80487 Steamboat Springs, Colorado | 970-879-6111 | steamboat.com
Crested Butte Mountain Resort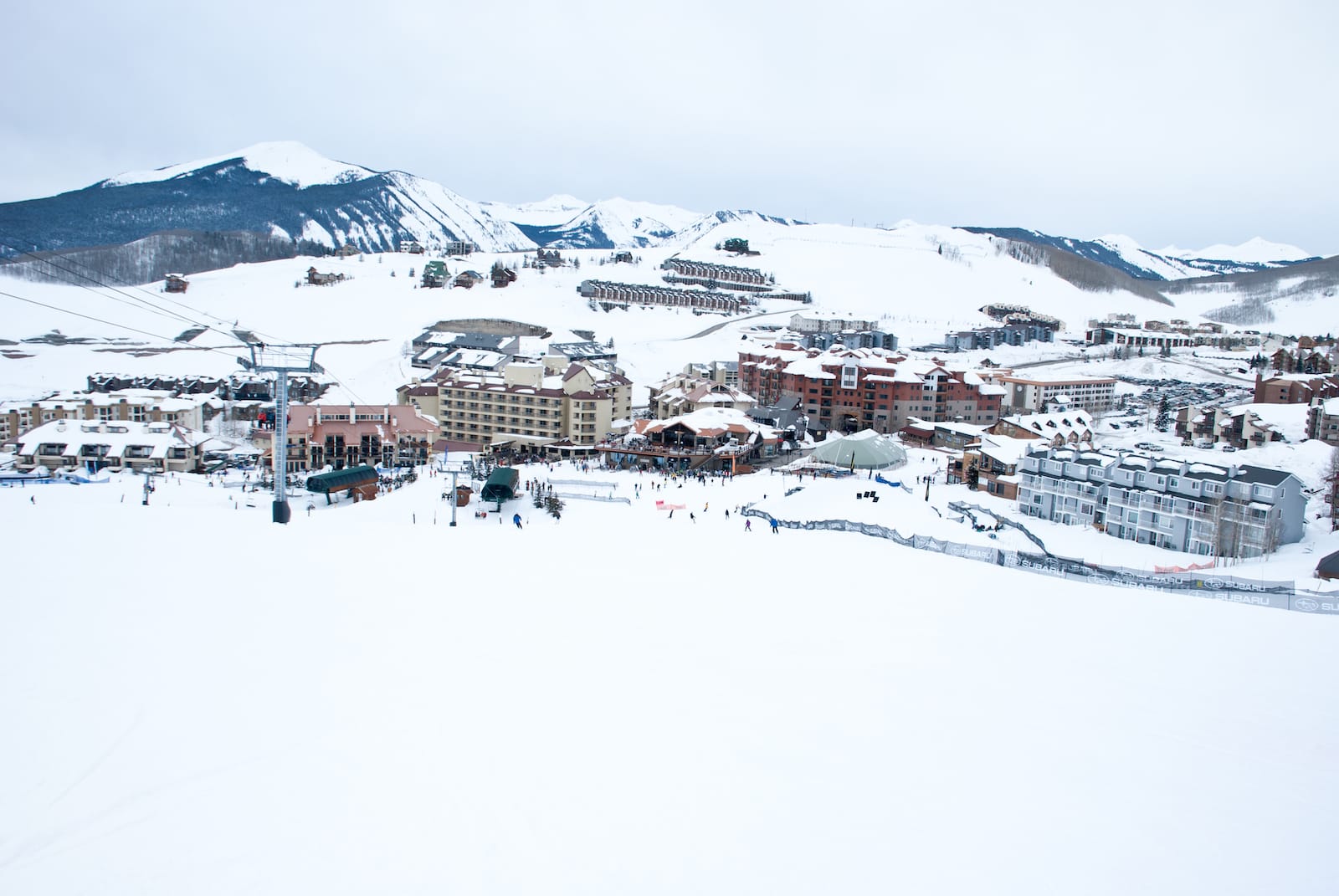 Crested Butte Mountain Village. Photo by: Rich Whitlow
Crested Butte Mountain Resort is a great wooded vacation spot for families any time of the year because of its beautiful scenery, fascinating history, and the low number of tourists. Still, the town's ski resort brings people from all over the world to enjoy snow sports on its more than 1,500 acres of slopes.
Crested Butte is known for its challenging double black diamond slopes, which are the hardest of the resort's 121 run routes (18% beginner, 29% intermediate, 21% advanced, and 32% expert). Rambo, a famous run at this ski area, has an average slope of 55 degrees and is thought by many to be the steepest tree-cut route with a lift in the Americas. With a base of 9,375 feet and a summit of 12,162 feet, the vertical drop is a thrilling 3,062 feet.
Ski and snowboard gear can be rented, and kids, teens, and adults can take lessons independently or in groups. The Mountain Sports Team is renowned for its "Ski with an Olympian," "Kid's Winter Programs," and other similar offerings. Snowmobiling, uphill skiing, Nordic skiing, snowshoeing, and sleigh rides are some other winter activities that can be done on-site or nearby.
12 Snowmass Rd, Crested Butte, CO 81225 | 970-251-7021  | skicb.com
Loveland Ski Area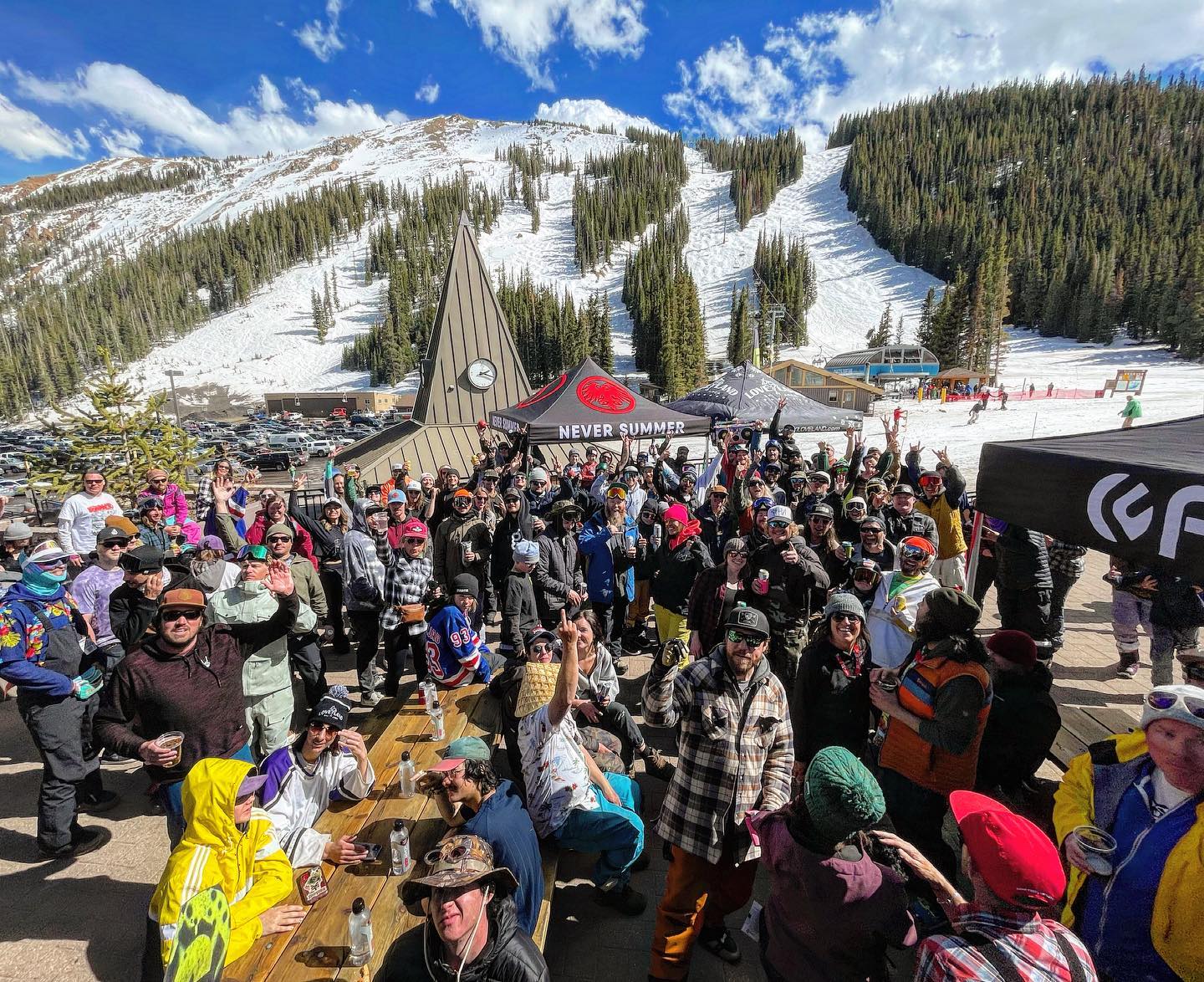 Loveland Ski Area, Colorado. Photo by: facebook.com/lovelandskiarea
Loveland Ski Area on the continental divide is a real winter paradise and one of the first to open each season, so Colorado skiers and riders have been going there for years. With a peak elevation of 13,010 feet, the Loveland Ski Area is one of the highest ski resorts in Colorado and is east of the Eisenhower Tunnel and over the Continental Divide.
The ski area is located about 53 miles west of Denver and has 1,800 acres of amazing terrain and another 100 acres of hike-to terrain. Skiers and riders can expect an average of 400 inches of snow each year at the resort's two base regions, Loveland Valley and Loveland Basin. Lift service is available up to 12,700 feet, and the mountain's 94 routes have a mix of beginner (13%), intermediate (21%), and advanced (46%) terrain.
Rent all your gear from the on-site store, or have your existing gear tuned up or repaired there too. Snowsports classes for kids and adults are offered and may be taken in a group environment or individually, including a private family session. There is a daycare center, hotels, and food, all right there on the mountain for your convenience.
I-70, Dillon, CO 80435 | 303-571-5580 | skiloveland.com
Beaver Creek Resort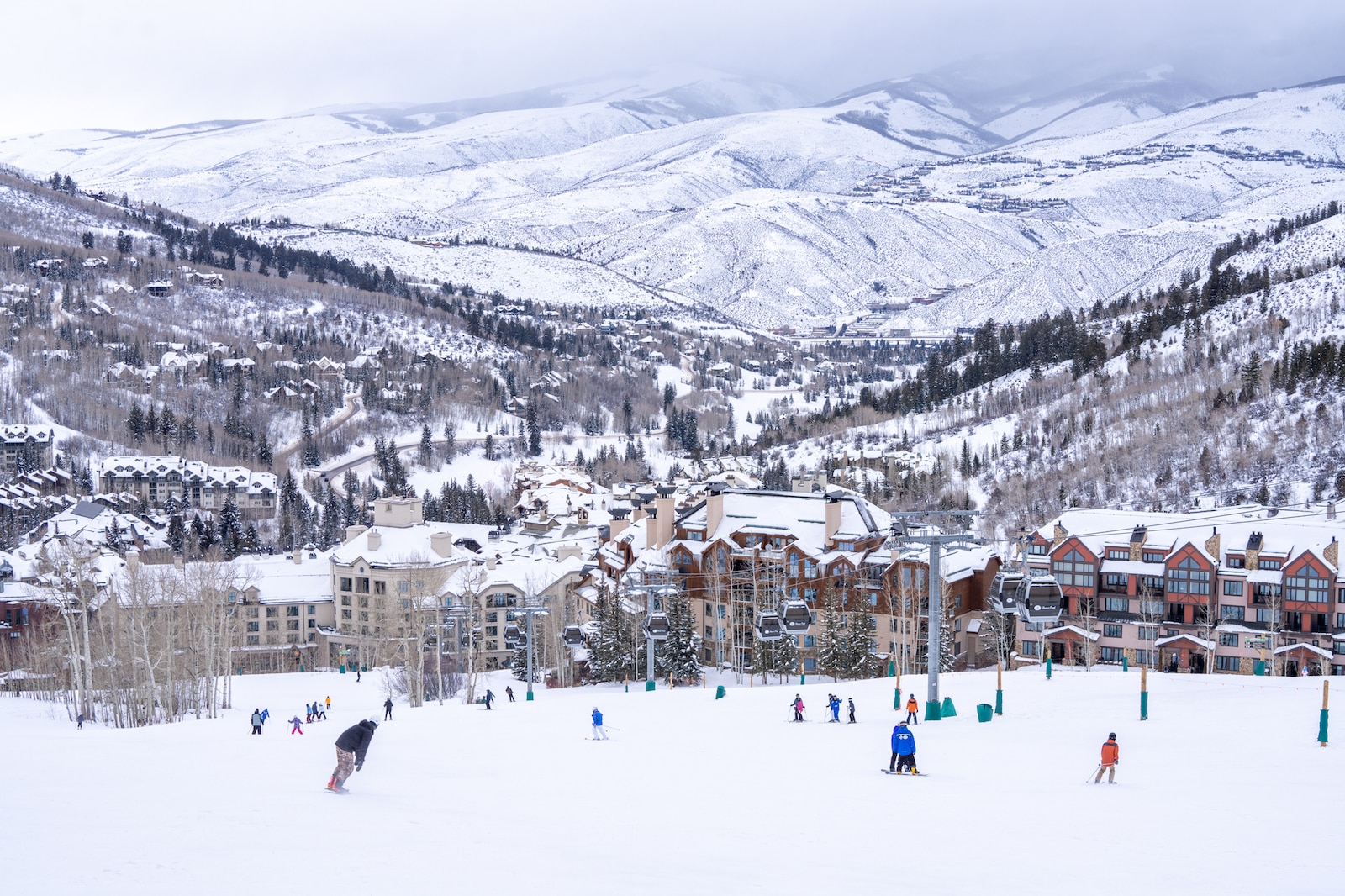 Beaver Creek Resort, Colorado. Photo by: facebook.com/beavercreek
The Beaver Creek Resort is close to Avon and has great slopes and excellent family facilities. Skiers and snowboarders may enjoy 3,340 feet of vertical drop, a peak height of 11,440 feet, and a base elevation of 8,100 feet over 1,815 acres.
There are 149 paths for skiers and riders to choose from, and 26 lifts to take them up the mountain. The annual average snowfall is 310 inches. Ski and snowboard lessons, a Nordic center, an ice rink, equipment rentals, and more are available on-site for guests' convenience. There are also childcare, dining, and shopping options on the mountain.
Beaver Creek resort is a major Colorado destination over the summer season as well, with mountain biking, golf, hiking, and the Summer Adventure Center. It's a site that families love to visit throughout the seasons.
210 Beaver Creek Plaza, Beaver Creek, CO 81620 | 970-754-4636 | beavercreek.com
Wolf Creek Ski Area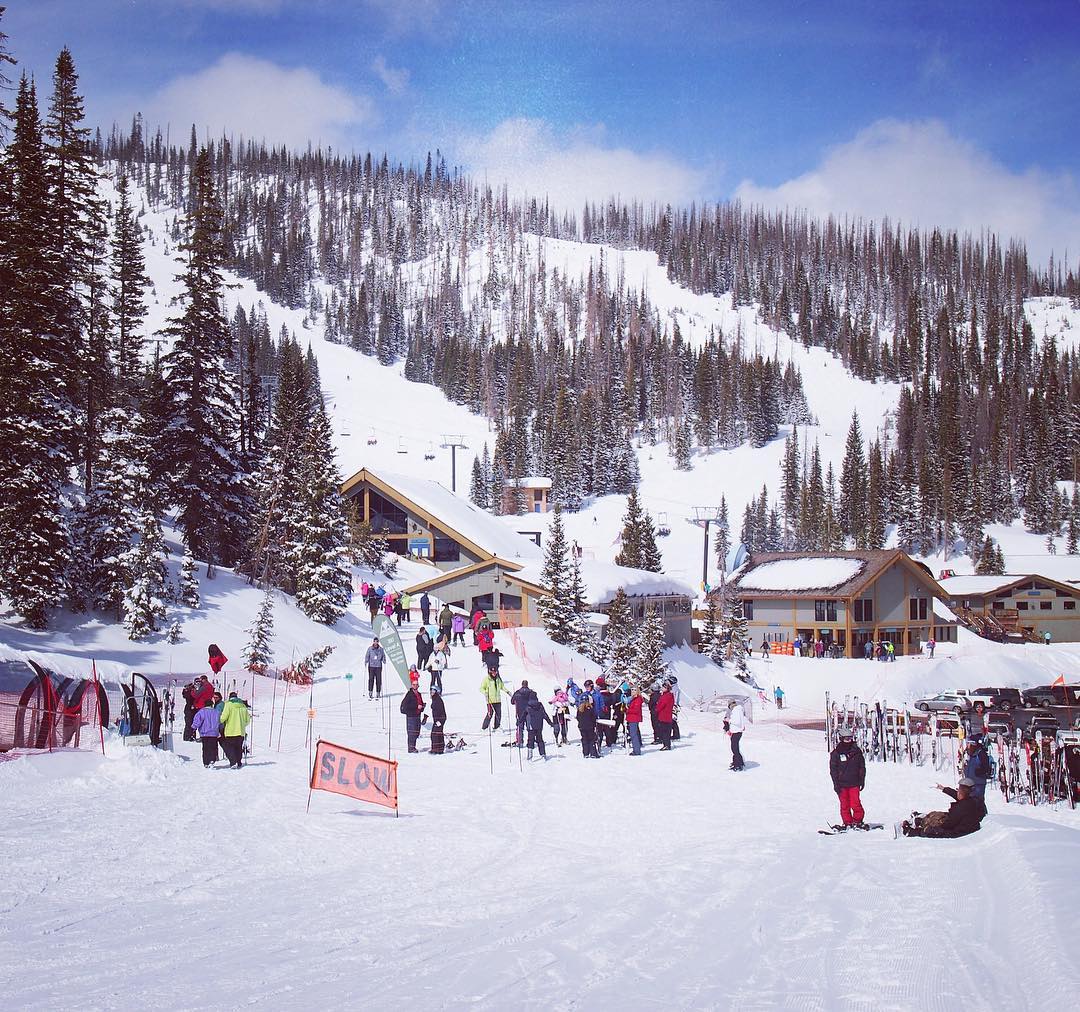 Wolf Creek Ski Area, Colorado. Photo by: facebook.com/wolfcreekski
Wolf Creek Ski Area, about 23 miles from Pagosa Springs, has an annual snowfall of more than 465 inches and is known for having the "most snow in Colorado." Make use of the several hot springs in the heart of Pagosa after a day on the slopes to help your body relax and heal.
While locals make up the bulk of Wolf Creek's visitors, the area is nonetheless enjoyable for families. There are 133 trails in total, and 20% are for beginners, 35% are for intermediates, 25% are for advanced athletes, and 20% are for experts. These slopes feature a 1,604-foot vertical drop from their starting point at 10,300 feet to the top at 11,904 feet. Ten lift chairs serve these paths.
Children as young as five may take advantage of the ski resort's group lessons, which are accessible to skiers and snowboarders of all levels. Lessons come with a full-day, all-mountain lift ticket. Private lessons are offered to children of all ages, so even if yours is a toddler, they may benefit from them.
E Hwy 160 E, Pagosa Springs, CO 81147 | 970-264-5639 | wolfcreekski.com
Telluride Ski Resort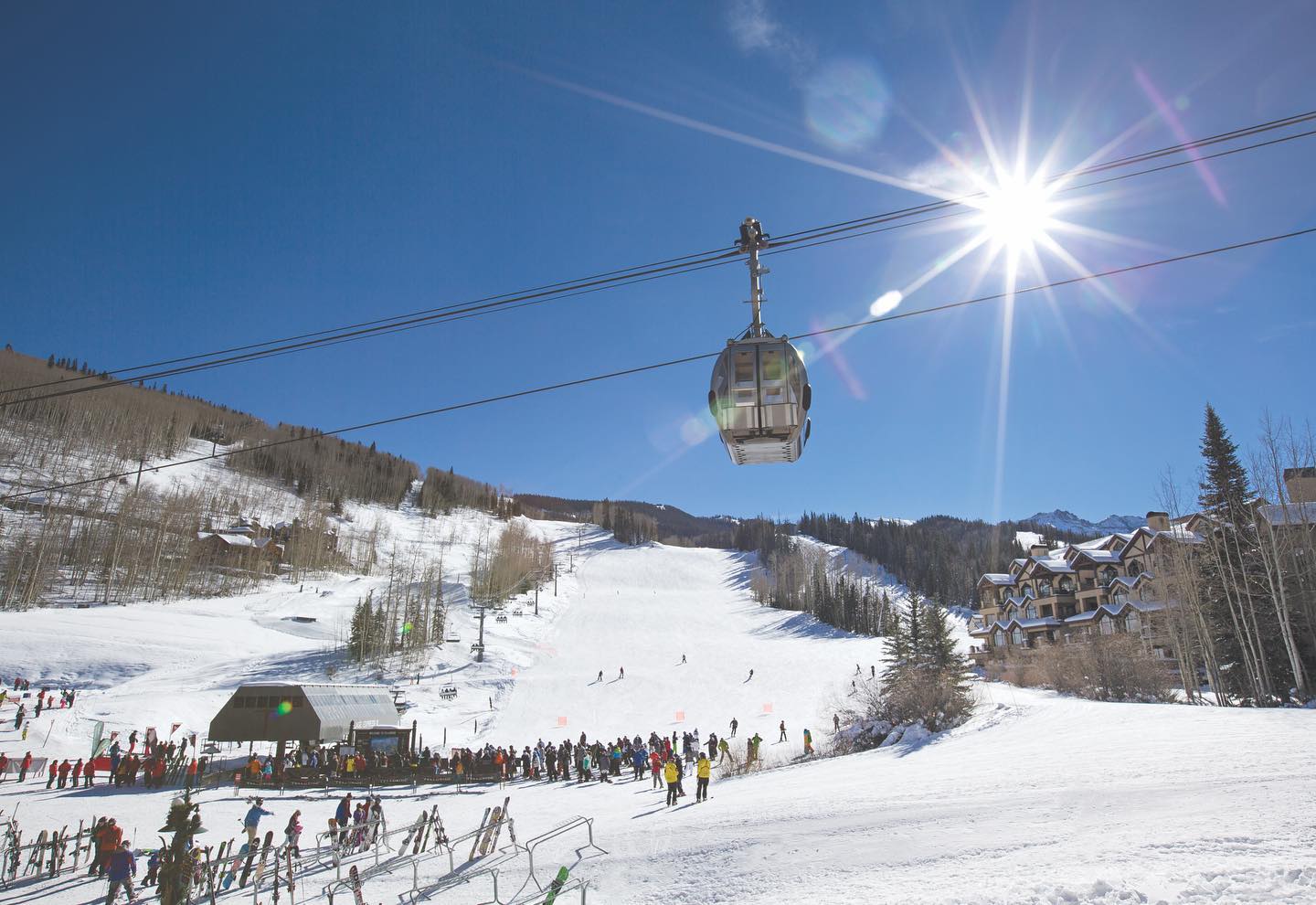 Telluride Ski Resort, Colorado. Photo by: facebook.com/telluride
Telluride Ski Resort in Colorado has a wide range of terrain, from easy to very hard. Advanced and expert skiers can hike to four terrain zones. The ski resort is suitable for families because it has 10 kilometers of Nordic skiing trails and several terrain parks for skiers of all levels.
Broad beginner lines, gladed tree skiing, open bowls, chutes, steeps, and some of the most challenging terrain in Colorado can all be found at this 2,000-acre resort. Telluride's 19 lifts and 148 trails provide you access to the resort's 4,425 feet of vertical. The mountain gets an average of 280 inches of snow every year. The highest point that can be reached by lift is 12,515 feet, while the highest point that matters is 13,150 feet.
The Telluride Ski & Snowboard School's mission is to provide a fun and secure environment for all students. You may take ski lessons, either in a group or privately, from the age of two up to your senior years. Children too little to go downhill may spend the day playing with entertaining toys and activities at the childcare center. There are also specialty camps for both adults and children, which are perfect for a weekend with the ladies, a team-building exercise at work, or a get-together of friends who all want to improve their skiing abilities.
565 Mountain Village Blvd, 81435 Telluride, Colorado | 800-778-8581 | tellurideskiresort.com
Monarch Mountain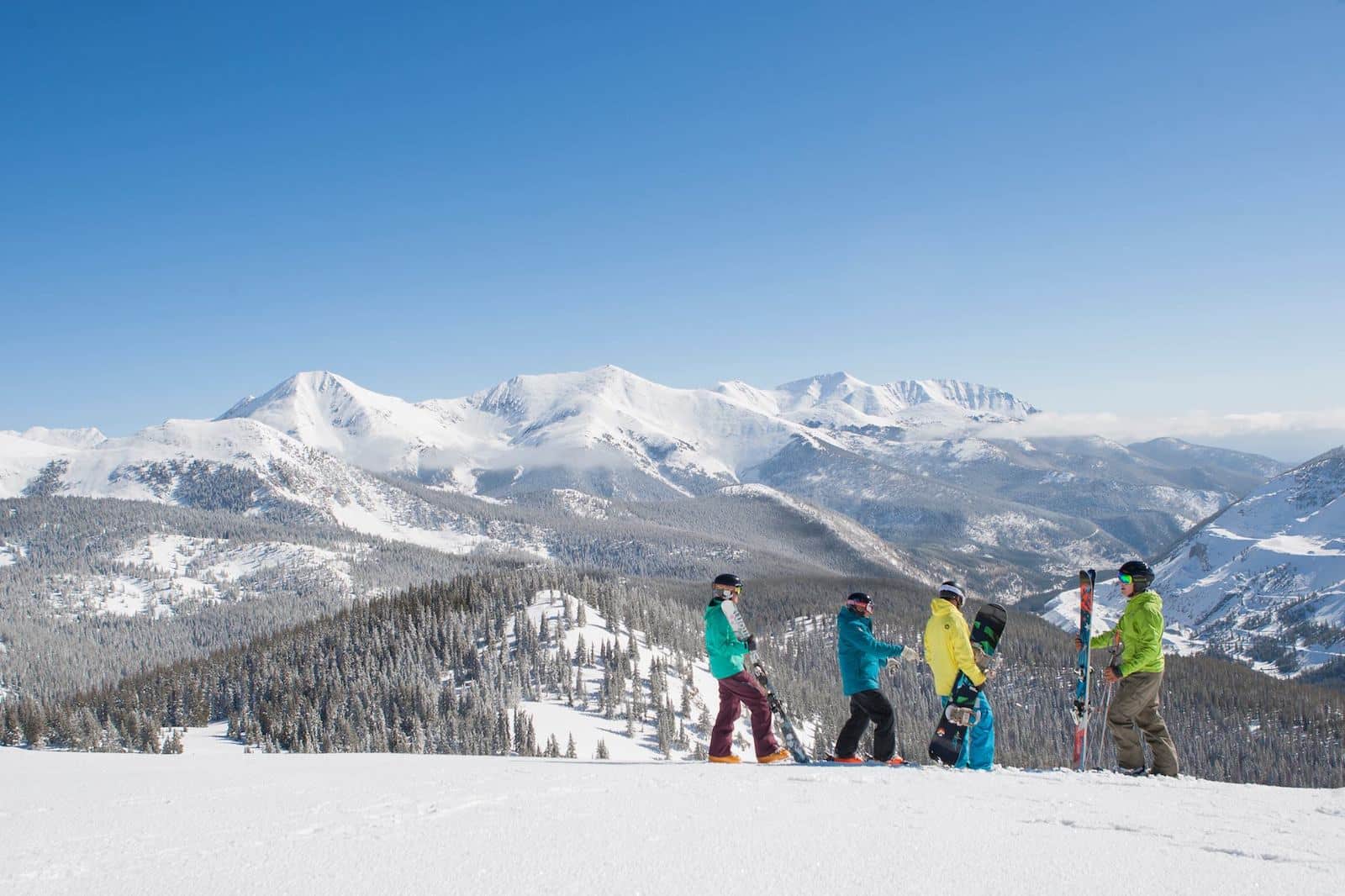 Monarch Mountain, Colorado. Photo by: facebook.com/MonarchMtn
Skiing at Salida's Monarch Mountain is like seeing the Rocky Mountains in all its glory, thanks to the resort's lofty altitude, regular snowfall, breathtaking views, and top-notch terrain. Monarch is an excellent choice for families because it has low prices and a lot of cheap hotels near Salida, Buena Vista, and Gunnison.
With 800 skiable acres and an average snowfall of about 350 inches, the 67 trail runs on the property get a lot of use during its open season. The course difficulty is divided into easy (22%), moderate (27%), difficult (36%), and expert (12%) levels, appealing to visitors of all skill capabilities. The resort's base elevation is 10,790,' and the summit is 11,952′, giving it a vertical of 1,162 feet. Tubing, uphill skiing, and cat skiing are also offered here.
At the mountain's foot, visitors can find a day lodge offering ski and snowboard lessons, equipment rental, and a kids' area. Teens and adults may also participate in clinics if they are above the age of 16, and programs are available for toddlers as young as three.
23715 US-50, Salida, CO 81201 | 719-530-5105 | skimonarch.com
If you and your family are searching for a great place to go skiing in the Centennial State, you can't go wrong with any of the sites on our list. These top Colorado family-friendly ski resorts each bring something to the table, from affordable prices to great ski schools and beautiful scenery.